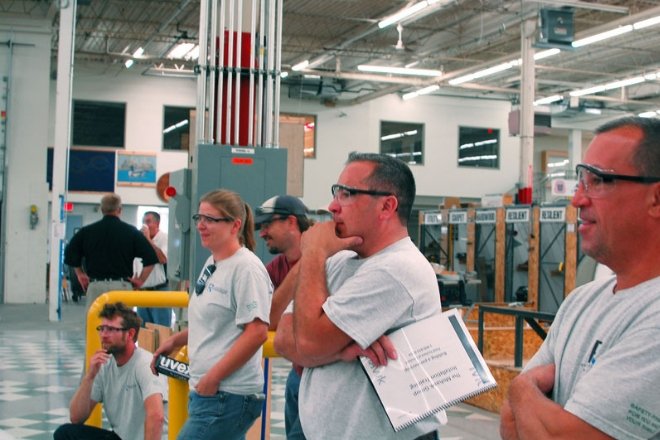 Ask any flooring contractor about their biggest challenge, and chances are they'll mention one of three things. First, they are struggling to fill the employee pipeline with fresh faces and skilled labor. Second, a tightening job market and 0% construction unemployment in some areas of the country means recruiting seasoned employees can be an impossible task. And finally, when faced with increasing competition for talent, retaining skilled employees is becoming increasingly tough.
The answer to overcoming these problems and more, is to put people first. It's a concept that seems almost too simple, but successful contractors big and small who have adopted a people-first approach to hiring, employee development, training and education know it's the key to their success. Here's a closer look at how they do it, and the important ramifications this concept has on the current and future state of the floorcovering industry.
Filling the Pipeline
For decades, high school guidance counselors, parents and the media have steered students towards a four-year bachelor's degree. It's no surprise to any of us who lived through the past fifty years that this shift in priorities has reduced interest in a variety of trades. As a result, the prospect of a vocational education is seen as an undesirable option for students who can't get into college or don't have the drive or motivation to pursue a traditional four-year degree in an academic program.
This couldn't be further from the truth. But while states like California are spending millions of dollars to revive the reputation of trade schools and vocational programs, the stigma still remains. This is making it increasingly difficult to fill the employment pipeline with talented young professionals and apprentices, unless that person knows someone in the industry.
"We find that our best new employees, including recent graduates from apprenticeship programs, are still coming from word of mouth," explained Kelly Taylor, owner and president of Ambassador Floor. "Since long-term employees are very loyal to the company they are actively helping to find and cultivate new talent. This includes encouraging friends and family members to learn about the apprenticeship program and get involved with a trade," he added.
Ron Komlos, president of Flooring Systems Inc. shares the same sentiments as Taylor. "We attend job fairs and work with local high schools and organizations in the area to spread the word about our trade," he explained. "Even though we use the example of a recently graduated apprentice who is working full-time and getting competitive benefits with no student loans, it's still a tough sell to students who are focused a paycheck. They aren't necessarily thinking long-term and if they don't know about the trade or have a personal relationship with a floorcovering professional then the chances of recruitment are low."
However, there is a silver lining to this situation. Since rising college costs and student loans can be stifling, high school students and their parents are increasingly looking for alternatives to expensive four-year college programs. In fact, according to the National Center for Education Statistics, the employment rate for people with occupational credentials is actually higher than the employment rate for those with academic credentials. This is a major advantage for recruiters and union reps looking to attract would-be apprentices.
In addition, the United States now has more than 30 million jobs that pay an average of $55,000 per year and don't require a bachelor's degree, according to Georgetown University's Center on Education and the Workforce. It's major selling point and one that cannot be stressed enough.
"The more contractors are out there actively recruiting young people who want a lifelong career, competitive pay and benefits, and a pension, the better our chances are for creating a pipeline of employment and a steady workforce," explained Mike Hart, vice president of Ambassador Floor. "Achieving this everywhere won't be easy, but it has helped us and is something that everyone should be dedicated to doing."
Recruiting Talent in an Era of Full Employment
While getting young people, especially high school students, interested in our industry is challenging enough, several markets throughout the country are at full employment in the construction industry and facing significant labor shortages for skilled, experienced installers, journeymen, estimators and other jobs.
"There are some very real traps in an economy and industry that is running on all cylinders," explained Taylor. "The greater St. Louis metropolitan area where we operate is at 0% unemployment in the construction industry. Typically, prospective employees aren't 'sitting on the books' anymore, so if someone is unemployed or can't land a job then there is typically an issue with that person," he added.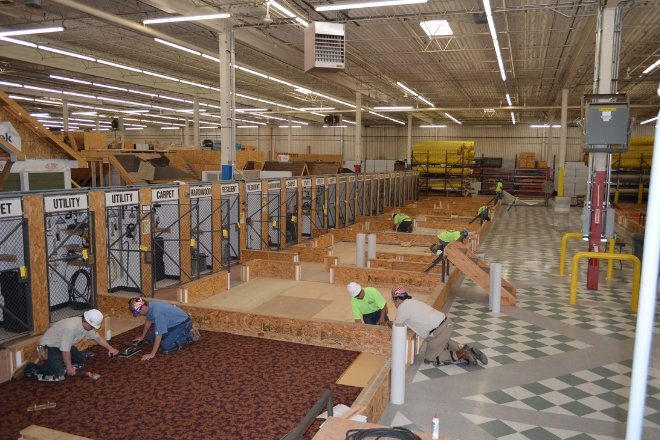 "While we are actively recruiting employees at all times, we still need more bodies," said Komlos. From attending job fairs to taking referrals from current employees, his goal is to create a constantly replenishing list of potential new hires. However, he has had to rely on a larger geographic area to achieve this.
Nearly 50% of Komlos' 250 installers commute 40+ miles to work. In fact, some of his team members live as far as 80 miles from the office. But, since the company tackles jobs throughout the region, this is a benefit because he has employees close to job sites. "INSTALL and local union reps are playing a major role in our hiring process as well," added Komlos. "I don't think we've ever turned someone down for an interview that the union has sent us. Have we hired 100%? No. But the number is extremely high."
Another way INSTALL, the International Standards and Training Alliance of floorcovering professionals, is helping contractors is by developing new and improved training and certification programs for installers. INSTALL Contractors offer their employees constant opportunities to improve their skills and become leaders within the industry. This not only helps create more efficient, knowledgeable and professional installers, it provides new career paths and development for those individuals. "Nearly 40% of our team is already INSTALL certified," said Komlos. "Our short-term goal is to be 100% certified, which will help make us a more attractive company to potential clients, customers and employees."
Komlos also rewards and incentivizes employees for completing INSTALL training and certification classes. "We've found gift cards and bonuses are a great way for encourage attendance and also boost employee morale," he said. "It's a win-win."
Investing in Skilled Employees Means Retaining Skilled Employees
Once a successful team of installers is in place, natural fluctuations are bound to happen. Employees leave for a variety of reasons, but they often find that the grass is rarely greener on the other side. "We've heard for years that a labor shortage was coming," said Hart. "So instead of resting on our laurels we started focusing on residential work, training team members on new skills and building a reputation on quality. Ultimately, we were able to fine-tune our labor needs and because of this, we haven't dealt with issues with retaining employees."
"As a large shop with a significant market share, we try to keep our team members busy," said Komlos. "Even if that means tackling a project outside of the state, we keep guys employed full-time and this helps them stay focused," he added. Without major ebbs and flows in workload, Komlos is able to avoid situations where employees schedule side jobs or seek more steady employment from rival companies.
Another way Hart and Taylor have kept employees loyal and engaged is by giving every single one of their mechanics a company cell phone. This logs their GPS location, tracks their time and includes work instructions and job information – just one of several systems in place to create and build a culture of hardworking, loyal and honest employees.
Putting People First
It may sound like a simple concept, but putting people first is one of the most important steps a contractor can take to combat common industry challenges. From creating a pipeline full of promising new talent to recruiting and retaining skilled installers, investing in people pays you and your company back in spades. The result is dedicated and happy employees, a nimbler and more experienced workforce and ultimately, happier clients.
*This article originally appeared in the November/December edition of ProInstaller Magazine.
Explore More News from INSTALL