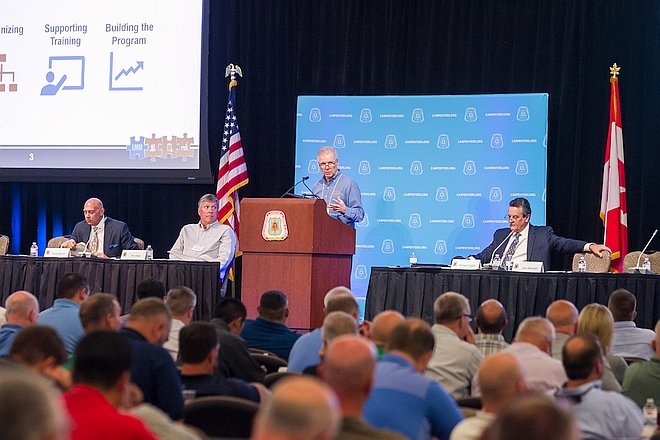 Tapping into new markets and recruiting new blood. Retention. Training the labor force in terms of both availability of training and the quality thereof. These are just a few of the major challenges the construction industry faces today. INSTALL, intent on solving these issues, recently spearheaded a leadership conference in conjunction with the United Brotherhood of Carpenters Interior/Exterior Systems division, from June 25-27. The conference entailed three days immersed in exploring how education, training and certification can make a difference with a focus on how labor, management and manufacturers can work together to eliminate industry issues.
Through workshops, events and thoughtful collaboration, INSTALL has identified key initiatives to combat the flooring industry's biggest challenges head on.
EXPANSION: Helping Contractors Expand into Untapped Markets
In 2018 and beyond, INSTALL is looking for contractor partners to open new offices in four target geographic areas of building construction growth – the Pacific Northwest, Southeast, Southwest, and Texas. Debuting at the conference, the INSTALL Expansion Partnership Program is a proven method of collaboration with flooring contractors to grow their business in new territories. INSTALL can help contractors expand business to growing construction markets by recruiting a local labor force, providing training and certification, and helping to gain market share through its network of INSTALL Partners.
Jim Wilkinson, vice president of Image Flooring, explains how INSTALL's network has impacted his business. "From tapping into qualified labor to the unmatched support we received to enter the largest market in the country, the partnership we have with INSTALL has helped our business reach new heights."
RECRUITMENT and RETENTION: Labor Recruitment on Steroids
Three unique programs were showcased at the conference, reinforcing INSTALL's strong resources for recruiting and retaining a diverse next-generation into the construction industry:
Career Connections is designed to help high school teachers introduce students to a career in construction. Students learn intermediate skills and the essentials of construction site safety. "Carpentry is a viable alternative to college, and our goal with this program is to give schools across North America the tools to present that option to their students," said Carole O'Keefe, coordinator of the program for the UBC.
Sisters in the Brotherhood (SIB) strives to bring more women into the industry through jobsite and leadership skills training. This program also advocates for women's issues— supporting and mentoring new members.
Helmets to Hardhats (H2H) has partnered with INSTALL since 2016 to bring more veterans on the job in the flooring industry. This partnership connects military veterans with INSTALL contractors with the goal of helping veterans and bringing new skilled workers into the floor covering industry.
QUALITY TRAINING: Demonstrated through the INSTALL Olympics
In a first-time event, champions from each of the Five Districts of the Carpenters Union in the United States and Canada competed in a timed skills installation. The resilient flooring competition required the installers to pattern-scribe a challenging flash cove linoleum installation. Additionally each installer had to heat weld a vinyl sheet seam. Independent industry experts served as judges – Mark Bischoff, Starnet, Geoff Gordon, Fuse Alliance and Don Styka, Tarkett. The judging criteria stressed speed and compliance to manufacturer's specifications.
Ryan Altic, a representative from the Florida Regional Council won the competition for his skill and expertise, which stem from his experience in INSTALL training and certification programs. Altic's win is especially meaningful because he represents the Southern District where INSTALL programs are relatively new, and the labor pool is smaller and still developing. His success demonstrates that the INSTALL program is highly capable in providing access to quality training and successful in developing new, qualified labor pools.
Explore More News from INSTALL