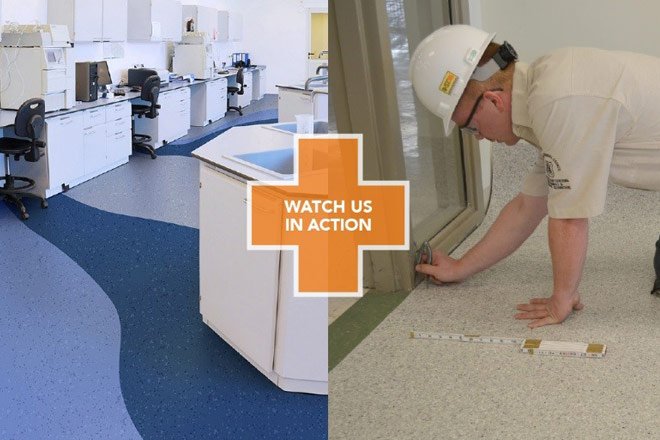 While the quality of floorcovering products is essential to longevity, even more important is the quality of the installation. At NeoCon 2017, INSTALL and Roppe will emphasize the value of certified installation through live, daily flooring demonstrations. As the largest commercial interiors show in North America, NeoCon will be held at Chicago's historic Merchandise Mart from June 12-14. The INSTALL and Roppe demonstrations will be located on the 7th floor at the Interiors + Sources Materials Pavilion.
This series of dynamic demonstrations will occur throughout the day Monday and Tuesday of the show. With INSTALL's floorcovering expertise, a fashion-forward design will be brought to life in an 8' x10' space.
INSTALL, the leading floorcovering training and certification program in North America, and Roppe, a leading floorcovering manufacturer, will showcase new and innovative installation techniques with Roppe's newest products.
Promoting flooring excellence from product to installation, the event will feature INSTALL certified installers working with innovative Roppe products:
Envire™ Rubber Sheet & Tile: designed for natural resilience, exceptional wear resistance and dimensional stability for high-traffic areas.
Contours Profiled Wall Based System™: combines a wood base look with resilient base advantages.
FlashCove™ Prefabricated Base: puncture-proof reinforced base for the longest life-cycle and easiest maintenance for sheet flooring installations.
INSTALL standards and expertise incorporate the knowledge and backing of the entire flooring industry, including input from manufacturers like Roppe. "INSTALL's mission is to train and educate for the purpose of quality flooring installations," said John McGrath, INSTALL executive director. "Roppe is a valued partner to INSTALL and with its focus on quality flooring materials, this collaboration allows us to highlight the need for both quality products and installation to ensure successful commercial flooring projects."
"Working alongside INSTALL to provide a quality flooring experience from start to finish has proven to be invaluable," explains Brent Fike, RHC General Manager of Technical and Installation. "INSTALL continues to be an important resource for us as we strive to partner with educated, skilled installers to deliver outstanding end results."
Explore More News from INSTALL