Our Installation Training Curriculum Is Built for You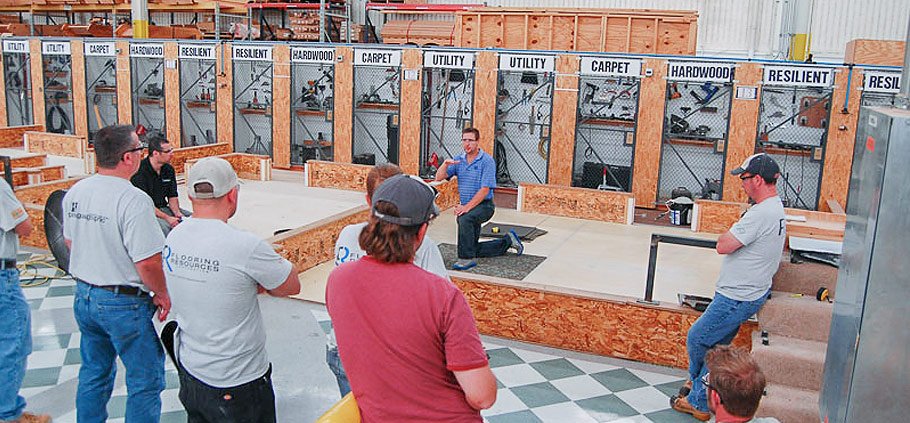 INSTALL's goal is to prepare you to tackle any flooring installation in the field. We do this through a comprehensive training program that is second to none. It was built by subject matter experts and is constantly updated to reflect current trends and best practices.
Standard Skills Training
You must understand the fundamental basics of floorcovering installation before mastering higher-level skills and techniques. Whether you are a rookie or an old pro, the Standard Skills section of the INSTALL curriculum is packed with useful information and skills training.
Here you will learn and master essential skills like floor prep, jobsite check procedures, general tools, and much more.
Standard Skills training details

Industry orientation
General hand and power tools
General layout
Job site check procedures
Material handling
Flooring and adhesive removal equipment and methods
Substrate preparation and repair
Self-leveling and wood underlayments
Adhesives and fundamentals of adhesives application
Substrate moisture and alkalinity awareness, testing and remediation
General and complex layout and installation
Diagonal tile layout
Sheet material layout and estimating
Pattern matching principles
Making scale drawings
Transitions
Safety Skills Training
The INSTALL program offers classes to teach the floorcovering professional safety and awareness on the jobsite. Courses include safety methods for working with flooring and power tools and proper handling procedures for maneuvering the different sizes and shapes of flooring materials throughout a jobsite.
Awareness training will teach hazards that can cause harm to the installer as well as others who may be in the general vicinity. These courses will also teach how to create a safe work environment.
Areas of floorcovering installations that require working above the substrate will require aerial lift and fall protection certifications. The goal is to return the floorcovering installer home in the same physical condition as they came to work.
Safety Skills training details

Aerial Lift Operator Qualification
Confined Space
Construction Fall Protection
Ergonomics
First Aid:
Automated External Defibrillation
Bloodborne Pathogens
CPR
Flooring and Adhesive Removal Methods
Green Building Awareness
Green Flooring
Hazard Communication and Chemical Safety
Material Handling
ICRA: Best Practices in Health-Care Construction
OSHA 10 Construction
OSHA 10 General Industry
OSHA 30 Construction
OSHA 30 General Industry
Personal Protective Equipment
Power Tools
Powered Industrial Truck Operator
Tool Safety for: Carpet, Resilient, Resinous, Wood
Productivity Skills Training
The relationship between the floorcovering installer and their employer is a partnership which benefits both when a project is installed correctly. Productivity is a large part in the success of every project, and some of the keys are how to clean and prepare a substrate and the care of placing rolled goods into the area to be installed.
Understanding the details in a print reading course leads to the layout and planning for each project. Correct layout procedures lead to products being installed accurately. Employability skills and the jobsite rules detail the reason to follow and work with complex time schedules. Productivity leads to jobsite success and builds a strong reputation with the design community for future projects.
Productivity Skills training details

Employability Skills
Diverse Working Environments
Safety
Cleaning a Substrate
Properly Preparing a Substrate
Spreading Adhesive
Snapping a Chalk Line
Material Handling
Staging of Materials
Positioning and Placement of Roll Materials
Layout
Installation Procedures
The Jobsite: Rules, Resources, and Documents
Housekeeping
Print Reading
Green Building Awareness Training
Healthy, sustainable buildings are no longer green, just smart. In our business, it is important to understand the basic concepts of sustainability.
We will teach you how to work in accordance with green building standards. In fact, our green building content has been reviewed by the Green Building Initiative (GBI).
Green Building Awareness training details

Understand the benefits of green building to the environment
Learning how to work in accordance with green building standards
Understand how to create less material waste
Gain knowledge of recycling
Be able to lead communications between the design team, construction team, and the client in a green building project
Carpet Training
Carpet is everywhere, and in the flooring business, it's important to know all about it. We'll make sure that you know carpet inside and out, and understand how to install it.
Our comprehensive carpet curriculum covers everything from soup to nuts. You'll understand how carpet is manufactured and learn all the different ways to handle and install it.
Carpet training details

Carpet history and construction
Carpet construction
Yarn to manufacturing
Carpet cushion
Carpet tools
Carpet and Rug Institute installation standards
Carpet layouts
Carpet seam methods
Hand sewing
Direct glue carpet installation
Carpet tile
Double glue carpet installation
Tackstrip and cushion installation
Stretch-in carpet installation
Pattern matching
Mechanical power stretch-in
Standard and specialty stairs
Carpet base
Flash cove carpet installation
Carpet repairs
Artificial turf
Resilient Flooring
Today's resilient flooring products are highly engineered combinations of polymer material. We will show you how to use them through hands-on instruction.
The INSTALL floorcovering training program will teach you everything from basic installation procedures to more advanced and complex methodologies.
Hardwoods
Hardwood floorcovering systems are also very popular and INSTALL has you covered. The National Wood Flooring Association (NWFA) partnered with the United Brotherhood of Carpenters (UBC) to build this part of the curriculum. Our training is focused on installation and sand-and-finish practices.
Resinous
Curriculum will discuss the differences between industrial, commercial, and residential specifications and applications for resinous installations. Descriptions of products include primers, resins, urethane resins, and Methyl Methacrylate Acrylics (MMA).
The various tools and equipment used for the preparation, installation, and cleaning of resinous floors will be discussed along with the safety procedures required for each.
Hazard communication standards will include OSHA (United States), WHMIS (Canada), and Safety Data Sheets (SDS) along with personal protective equipment needed to work with resinous products. The mixing, installation and repair of the various resinous products are covered in detail within the curriculum.
Resinous training details

Introduction to Resinous Flooring
Types and Characteristics of Products
Tools and Testing Equipment
Safety
Evaluating the Substrate
Profiling and Preparing Substrates
Self-Leveling Underlayment
Layout
Mixing of Resins for Cove and Floor
Installation of Resins for Cove and Floor
Wall and Specialty Installation
Repairs and Maintenance
Concrete Polishing
Concrete Polishing is the act of mechanically refining a concrete floor surface, with or without aggregate exposure, achieving the desired finished sheen level from satin to high-gloss. When the existing concrete is in such poor condition (cracks, spalling, pitted, out of level) that polishing would look undesirable, a polished overlay is the solution.
Polished overlays also offer distinct qualities that can't be achieved by polishing existing concrete, such as the ability to create a white polished concrete floor, a very uniform and predictable finish, and an even distribution of exposed aggregate.
Concrete Polishing training details

Understanding the chemistry of concrete
Equipment operation and maintenance
Wet vs. Dry polishing
Types of diamond tooling
Slab evaluation
Surface preparation and existing coating removal
Grit selection
Aggregate exposure from salt & pepper to coarse
Dust Containment
Crack and Joint treatments
Stains, dyes, and stencils
Applying densifiers and guard products
Distinction of Image Meter
Gloss Meter