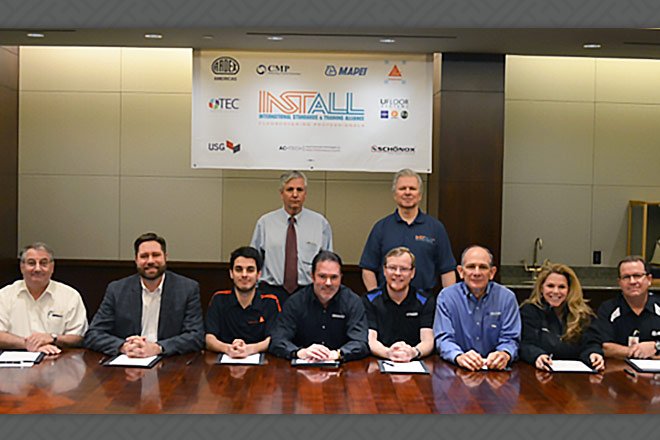 INSTALL, the International Standards and Training Alliance, collaborated with nine industry-leading substrate and underlayment manufacturers on a Memorandum of Understanding (MOU). The MOU, signed at a special event at the International Training Center in Las Vegas, NV, on January 12, 2017, signifies a collective industry endorsement of INSTALL's Substrate Prep Certification program.
The program is a collaborative effort between INSTALL and its manufacturer partners. It requires that each manufacturer specify that the installer of their underlayment products be an INSTALL – certified installer or equal. After this, and the successful completion of manufacturer proprietary testing, the installation will be eligible for an extended product warranty.
Manufacturers include:
AC Tech
Ardex Americas
CMP Specialty Products – CGM, Inc.
H.B. Fuller/Tec
MAPEI Corporation
Schönox
SIKA
UFloor Systems
USG
"This is the most important certification that INSTALL offers because it is the precursor to the installation of any floorcovering product," said Mark Olsen, INSTALL instructor and member of the North Central States Regional Council of Carpenters. "If the substrate is not evaluated and prepared correctly, the installation of the finished floor will fail. The implementation of the program will solve a number of problems in the industry," he added.
John T. McGrath Jr., INSTALL executive director, added, "The successful completion of this certification proves that the installer is a knowledgeable and dependable substrate prep expert. Every floorcovering installation requires awareness, knowledge and skill with substrate prep, and we believe that this will become our most popular INSTALL certification."
Finalized in early January, the INSTALL Substrate Prep Certification was developed using the same process adopted for INSTALL curriculum and other certifications – collaboration with industry subject matter experts representing installers, employers and manufacturers.
By leveraging existing resources, capabilities and tapping into its deep-seated commitment to strengthening floorcovering industry standards, the manufacturer partners agreed upon the following standards:
Four-hour orientation to ensure awareness of industry and the certification's standards
One hundred question written test requiring knowledge of substrate evaluation, products and the installation. (This test must be passed before proceeding to the hands-on skill set testing)
Multiple skill set demonstrations showing mastery of mixing, skim coating, ramping, self-leveling and proper use of tools

The MOU language will take effect immediately and reads as follows:
"Acceptable to the manufacturer – installers will be experienced in performing work of this section and specialized in work similar to that required for this project; INSTALL certified or equal."
By ensuring the proper installation of substrate materials in a variety of situations, the INSTALL Substrate Prep Certification program will help reduce flooring failure and callbacks, saving manufacturers, installers and end-users both time and money. Above all, it will enhance a critical set of skills that have been fine tuned through collaborative efforts.
UPDATE: In addition to the underlayment manufacturers noted above – those signing the MOU in January 2017 – INSTALL is proud to announce that Laticrete has also joined the memorandum of understanding to endorse specification of the Substrate Prep Certification. Get more details on Laticrete's endorsement here.
Explore More News from INSTALL