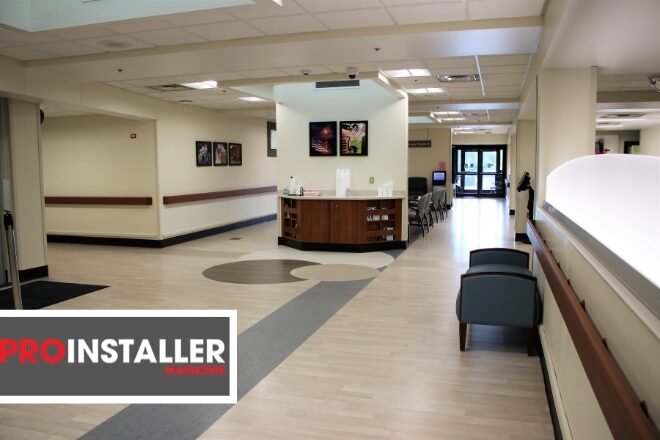 *This article by former INSTALL executive director John T. McGrath, Jr. was originally featured in the latest edition of ProInstaller Magazine.
Proper installation is essential for floorcovering to perform the way it's intended, but in the healthcare industry, there's much more at stake than long-term flooring performance. Here, poor installation can seriously threaten the health and safety of patients and staff, and installation errors can lead to infections and even death. As the healthcare industry continues to raise the bar on its health and safety standards, healthcare qualification and specialized training and certification in infection prevention are becoming increasingly important for installers and contractors who wish to remain competitive.
Why This is Essential
Healthcare floorcovering has always demanded a higher level of care and attention from installers to address special needs like noise reduction and cleanability that help create a healing environment. But in the past few years, these standards have been redefined, as the pandemic produced a new level of understanding about the spread of disease. Today, installers and contractors for healthcare projects are under greater scrutiny than ever, and healthcare certifications that were once "nice to have" are more frequently a requirement.
To understand why healthcare qualification and infection prevention training and certifications have become such important distinguishers, consider some of the most important skills required for successful installation in a residential or commercial setting, and then think about those same skills in the context of a healthcare facility.
For instance, in a residential or commercial setting, moisture mitigation is important to create healthy conditions within an occupied space and ensure the long-term performance of the floorcovering material. Likewise, installation materials and techniques must deliver the desired aesthetic and prevent issues like cracking and buckling that can lead to floor failure. Proper installation techniques also help avoid inconvenient, costly, and time-consuming rework that can delay occupation of the space.
Now, take these same skills and consider them in the context of a hospital where occupants are largely health-compromised. Some may have weakened immune systems. Others may have poor mobility and use a cane, walker, or wheelchair. Regardless of individual conditions, collectively, this population is much more vulnerable to the risks posed by poor installation.
Specifically, improper moisture mitigation can lead to mold, bacteria growth, and the spread of viruses that can cause serious respiratory issues and hospital acquired infections (HAI). And installation errors can create trip hazards, which can be catastrophic for those who struggle with mobility and for doctors and nurses who need to move quickly with gurneys and equipment.
Moreover, when healthcare installation errors require rework, that extra work can prolong the length of the project, or worse, cause the facility to close for repairs after the project has already been completed. Delaying project completion or closing a healthcare facility for rework is not just about lost time and profit. It's about denying the local community convenient access to a healthcare resource that they depend on.
The bottom line is that the stakes are higher for healthcare customers, and facility owners and their design teams are more likely to choose installers and contractors who are healthcare qualified and trained and certified in infection prevention safety. These credentials allow healthcare customers to easily identify more highly reliable labor and obtain additional assurances that the work will be done according to the flooring manufacturer's guidelines and industry standards.
The Benefits of Healthcare Certification and Training
Experienced installers and contractors know that certification and training contribute greatly to the mastery of their craft and their ability to distinguish themselves within the industries they serve. For the healthcare industry, this distinction is earned not just by obtaining healthcare qualifications and certifications, but also by participating in continuing education on topics specific to healthcare, such as infection prevention and onsite safety protocols.
For instance, general installation training instructs installers on how to prevent moisture issues to keep the indoor area safe and protect a floorcovering's long-term performance. Comparatively, healthcare training goes deeper by explaining how moisture mitigation protects human health and demonstrating the link between poor moisture mitigation and HAIs. Installers who are trained to recognize and mitigate these infection threats are not only an asset to healthcare clients; they are an asset to all clients, as everyone benefits from moisture mitigation and infection prevention.
Specialized healthcare training also introduces installers to the latest products and materials used in healthcare environments, along with the special skills, techniques and onsite safety protocols required for installation in these sensitive areas. By learning how floorcovering materials, installation, and workplace safety play a larger role in human health, installers become expert resources for all clients, not just those in healthcare.
Ultimately, healthcare qualification and infection prevention training and certifications are beneficial for all floorcovering installers and contractors, regardless of the industries they serve. With it, installers learn the safer, more meticulous installation skills required in a healthcare setting, and they stay up to date on the latest material innovations and worksite safety protocols. When applied, this knowledge helps create impeccable floorcovering performance and aesthetics, and, more importantly, it keeps the installation environment safe and healthy for occupants.
Types of Healthcare Training
Healthcare certification and training have been available from reputable organizations like the International Standards and Training Alliance (INSTALL) for decades, but demand for more specialized training in infection control has recently exploded as a result of the pandemic and new understandings about the spread of disease.
Now, new floorcovering materials and updated installation standards and safety protocols are leading many installers to obtain new training to improve their skills and make their businesses more competitive. Healthcare customers themselves are also driving the demand for training by seeking these credentials from their contractors and specifying specific types of training and certification as prerequisites for project consideration.
Three examples of this specialized training are the COVID-19 Preparedness Qualification, Pandemic/COVID-19 Preparedness and Response Supervisor, and the Infection Control Risk Assessment (ICRA). All three have been developed by the United Brotherhood of Carpenters (UBC), one of North America's largest building trades unions. As its name implies, the COVID-19 Preparedness Qualification course is timely and crucial training to help tradespeople continue working safely on essential healthcare jobsites. The second course—Pandemic/COVID-19 Preparedness and Response Supervisor Course—goes even further and helps participants in a supervisory position to review, assess, and implement standards to protect everyone on the jobsite. Lastly, the ICRA course instructs installers on awareness of specific indoor conditions, such as controlling airflow and containing pathogens, that can be used to protect patients while working in an occupied healthcare facility.
With the recent boom in healthcare renovations and retrofits, ICRA certification is fast becoming a standard for healthcare customers who want to ensure safe and healthy floorcovering installation while also minimizing disruption to adjacent operations.
When deciding what kind of healthcare training an installer needs, it helps to think first about the healthcare customer and the installation environment before making a choice. Doing this will help the installer identify the types of training that will yield the greatest number of benefits for both their customers and their business.
What to Look for in a Training Resource
Once an installer identifies a training need, the next important decision is choosing an organization to provide the training. Training resources that are guided by technical experts, manufacturers, and other industry leaders will help ensure the curriculum is based on practical experience and the most up to date information. It will also help guarantee that instruction follows a natural progression and is appropriate for the installer's skill level.
For novice installers, installation certification training should begin with the fundamental skills that will help them master the basics of floocovering installation. Training should then advance to higher-level skills and installation techniques such as healthcare certification, which can then be followed by more specialized training in areas like healthcare worksite safety protocols and infection prevention.
Remember, every new qualification, certification, or specialized training is an opportunity for you and your team to deliver higher quality workmanship and build a stronger reputation within your industry. In healthcare, training is also a surefire way to make certain you and your team are performing the safest and healthiest installations, and that benefits everyone.
About the Author
John T. McGrath, Jr. is the Executive Director of INSTALL – the International Standards and Training Alliance, which is the construction industry's best industry-endorsed floor covering installation training and certification program.
McGrath has helped to increase installation standards and expectations in the flooring industry by playing a leading role in facilitating communication and cooperation among mills, manufacturers, specifiers, contractors and installers. All of these groups regularly come together to review and revise the INSTALL curriculum and certification standards.
Explore More News from INSTALL