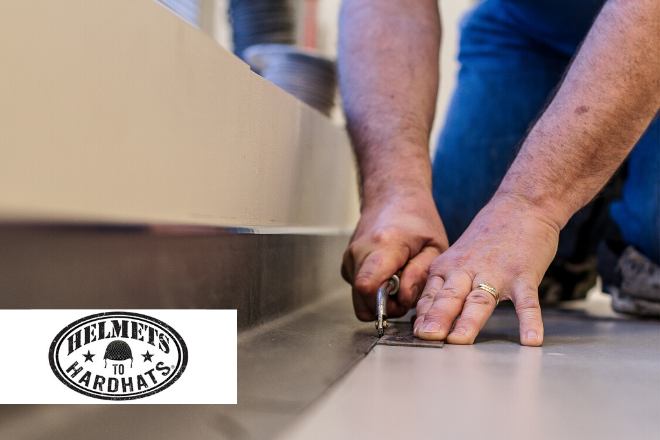 In 2016, INSTALL – the nation's leader in floorcovering installation training and certification – partnered with Helmets to Hardhats to help veterans transitioning from military to civilian life and work. INSTALL has assisted veterans in finding a career path that is stable and values the skillset developed within the military.
With the goal of bringing in additional skilled labor through apprenticeships, the partnership has been actively recruiting veterans through VA hospitals and other avenues. At the beginning of the partnership, INSTALL and H2H set a goal of enrolling at least one veteran into the program per month, but the results have tremendously exceeded these goals.
H2H connects veterans in active duty, reserves, as well as retired and transitioning from the military with opportunities in the construction industry, which has seen a steep decline in available skilled laborers. With the mental and physical skills learned while in the military, these individuals quickly become the most effective workers on the jobsite.
An Effective Transition
The differences between military and civilian life is drastic, and it can be difficult to acclimate. Often times, hiring employers do not have the knowledge of a military resume to understand how the skills acquired while in the military can carry over. INSTALL is committed to properly training these candidates for a successful future in the industry.
Dakotah Vanover was connected to the program in 2018 through the VA in Parma, Ohio. He was confident in working with his hands but was not aware of his possibilities for employment. After conducting an interview his counselor set up with a flooring company, he was hired on the spot.
"The teamwork, comradery and chain of command of the jobsite is similar to what I experienced in the military" said Vanover, "the program added consistency to my life that I needed during the transition to find a sense of purpose."
John T McrGrath, executive director of INSTALL, emphasized the benefits of the program for veterans. "Skills acquired while in the military, such as attention to detail, work ethic and time management equate to an efficient leader on the jobsite," McGrath said, adding "veterans learn the ability to adapt to different environments, which is a skill that is tough to learn but must be present in any working environment."
Veterans can apply to this program year-round and are given assistance by INSTALL from application to completion. After training, these INSTALL-certified veterans can install flooring correctly the first time.
Vanover used his opportunity to reacclimate himself to civilian life and is now working 40 hours a week while also going back to school for cyber security. Like Vanover, the veterans using this program can start the rest of their lives on the right foot.
Getting Involved
Veterans interested in pursuing a career in floorcovering through the INSTALL program should begin the process by contacting Helmets to Hardhats.
Explore More News from INSTALL