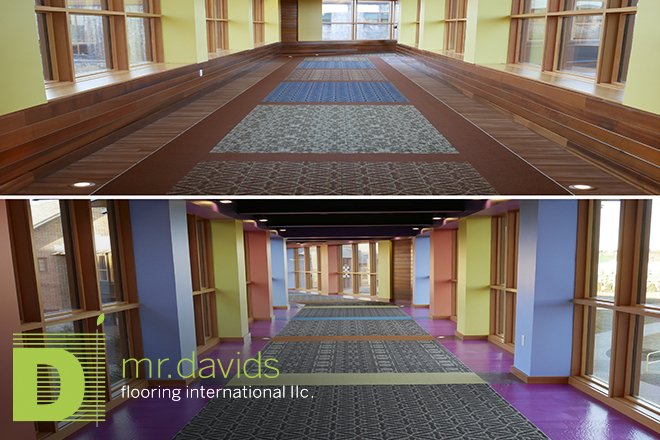 Mr. David's Flooring Plays Critical Role with New Tampa Office, Training and Outreach
INSTALL, a national organization of flooring installers, contractors, manufacturers, associations and consultants, has long played an important role in protecting the integrity of the floorcovering industry. A major initiative for 2018 and beyond is expanding its contractor base, comprehensive training program and growing its presence in the American South where booming construction markets have historically relied on low cost and independent subcontractors. A major contributor to this growth is national contractor Mr. David's Flooring SE LLC, which recently opened a third Florida location in the city of Tampa, with the help and collaboration of INSTALL.
Paired for Success in Florida
To increase its presence in key Southern markets like Florida, Texas and Oklahoma, INSTALL has established a successful model of partnering with member contractors to open new offices, train and/or relocate installers, and provide ongoing support in their expansion plans.
"As the most endorsed and specified training program in the industry, INSTALL is able to leverage long-standing manufacturer partnerships bringing together field know-how and in-depth product expertise," said John T. McGrath, Jr., executive director at INSTALL. "For new markets, this means contractors will now have access to trained and certified journeymen and will be able to train the next generation of expert installers."
Most recently, INSTALL supported Mr. David's Flooring International, LLC during its expansion into the southeast region. With multiple locations across the United States, the nationally recognized commercial flooring installer identified Florida as a key region for business expansion. INSTALL collaborated with Mr. David's on two new Florida locations within the past three years that allowed to company to take advantage of the booming Florida construction market.
The INSTALL collaboration on the first two offices was so successful, Mr. David's opened a third location this spring in Tampa, ensuring the company's future as a leader throughout the state. Situated on Florida's Gulf Coast, the Tampa metropolitan region is home to more than three million people (the largest in the state) with strong growth rates expected to contribute to higher construction and development spending in coming years.
"Pairing up with INSTALL to open a training facility in Florida was a match made in heaven for us," says Troehler. "Mr. David's is known for its high quality brand and INSTALL's entire program is based on producing quality people. The programs truly fit hand in hand."
An Important First Step
Because Florida lacked a trained and certified labor pool, the first step in Mr. David's Florida expansion three years ago was to work with INSTALL on plans for a training facility in the area where INSTALL curriculum and certification could train local labor to the exacting standards that Mr. David's required.
While some employees were sourced and trained locally, Mr. David's also brought talent with them from other markets. By relocating team leaders, trainers, installers and other key employees, they were able to quickly and efficiently set up shop in a new state.
The INSTALL Travelling Instructors Committee also played an important role in establishing Mr. David's in Florida. "When it comes to new markets, there needs to be a hand-in-hand process for building the labor pool," said McGrath. "Companies need to enter the market and be actively engaged before they can start training and apprenticeship initiatives. That's where INSTALL can help."
Winning Results
INSTALL and Mr. David's have now continued its expansion partnership through the opening of three new offices, a process that has been very positive and continues to meet business expectations. This includes winning multiple high-profile projects across the state.
"The Florida expansion has been a complete success so far," McGrath says, "We are winning work and providing legitimate, effective, industry endorsed and recommended training. This progress has been achieved by teamwork. Mr. David's provides insight and leadership that leverages the training and market development inherent to INSTALL."
This is just one step in a much larger plan for Southern expansion. INSTALL and the United Brotherhood of Carpenters (UBC) have teams in place to help new contractors expand into key markets and open locations throughout the South.
"Our goal is to help contractors commit to seven more new locations this year," said McGrath. "This is a monumental effort that is not going to happen overnight, but we are also trying to re-establish a trained and organized labor market that hasn't existed for decades," he added.
Learn More Today
As INSTALL continues to increase its presence in key markets across the country, it will maintain its focus on council-to-council and contractor support. This relationship provides contractors with the opportunity to enter viable construction markets and establish new offices, allowing for additional revenue streams. It is also an opportunity to bring additional training and certification to the Southern labor pool.
Contractors in the southern and western regions of the United States that would like to learn more about the benefits of INSTALL should contact Executive Director John McGrath.
Explore More News from INSTALL