The INSTALL Benefits to Contractors
By a conservative study, you are nine times more likely to have a flooring failure when you don't work with INSTALL installers. Having certified installers on your staff can reduce or even eliminate installation problems and minimize claims. Mistakes can shatter the margin on any job. Delivering error-free installations not only keeps your customers coming back, it saves you time and money in repairs and back charges.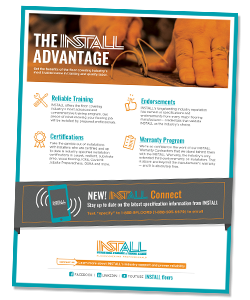 Let INSTALL Help do the Selling
One of the most valuable INSTALL Warranty Contractor benefits is the industry marketing support we offer. Use our exclusive IWC sell sheet to help market your business and win more bids with GCs, facility managers, developers and other floorcovering decision makers.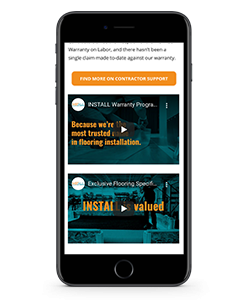 See the INSTALL Warranty Program in Action
Watch our short 4-video series on how the INSTALL Warranty Program can help your business grow by using the industry's only free, extended, third-party installation warranty, plus INSTALL specifications/endorsements, healthcare certifications and marketing support.