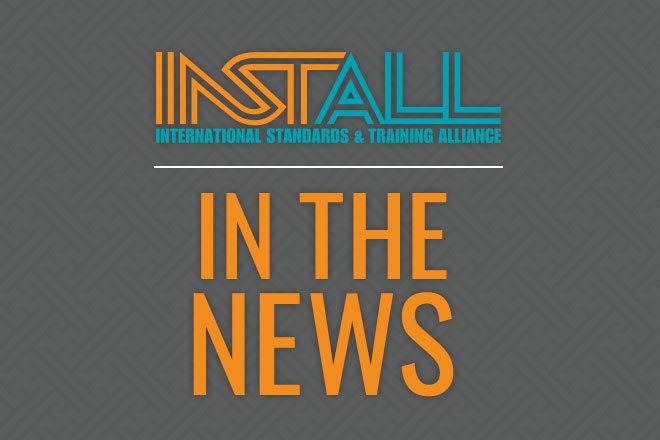 While Southern expansion has been a key initiative for INSTALL since 2016, with its growth and success to date, INSTALL has set a goal of establishing at least six new Southern INSTALL contractors in 2018. By growing its membership base in Texas and other South-Central states throughout the past year, INSTALL is now positioned to bring even more contractors into the fold.
As INSTALL continues to increase its presence in key markets across the country, it will maintain its focus on council-to-council and contractor support. This relationship provides contractors with the opportunity to enter viable construction markets and establish new offices, allowing for additional revenue streams. It is also an opportunity to bring additional training and certification to the Southern labor pool.
"As the most endorsed and specified training program in the industry, INSTALL is able to leverage long-standing manufacturer partnerships to bring together field know-how and in-depth product expertise," said John McGrath, executive director at INSTALL. "For newer markets like Texas, this means contractors will now have access to trained and certified journeymen and will be able to train the next generation of expert installers."
The Journey to Expansion through Council-to-Council and Contractor Support
Expanding into Southern states required significant support from a variety of industry players. This included local United Brotherhood of Carpenters (UBC) councils, contractors, manufacturers and individual installers.
INSTALL's expansion into the Texas market was spearheaded by a joint partnership that included:
St. Louis – Kansas City Regional Council of Carpenters
Central South Carpenters Regional Council
Image Flooring, INSTALL Warranty Contractor
Kansas City-based Image Flooring wanted to create a presence and workforce in Texas. The company already had a large presence throughout the Central US, but without certified installers in Texas they were unable to tap into the thriving construction market.
"It's the chicken and the egg scenario," said Jim Wilkinson, vice president of Image Flooring. "You need trained and certified installers to win bids and work on specific projects, but you also need to secure the projects and provide jobs to attract trained and certified installers."
"Image Flooring and INSTALL approached us to hold training sessions and open houses at several training centers," said Jason Engels, executive secretary treasurer of the Central South Carpenters Regional Council. "Thanks to their unique relationship with the St. Louis – Kansas City Regional Council of Carpenters, they were able to bring INSTALL certified instructors to Texas. This was an extremely important step as we did not have any instructors at the time," he added.
The Central South Carpenters Regional Council and Texas Carpenters and Millwrights Training Fund were fully supportive of the newly formed partnership and began recruiting from inside the flooring industry in the Dallas and Houston market to secure trainers and apprentices. "The individuals that stepped up have been instrumental in training and have been extremely receptive to the transitions," said Engels.
An Established and Growing Partnership
INSTALL training, apprentices to full journeypersons, started in July 2016. Additionally, Image Flooring is sending certified installers to supplement specific jobs depending on need, which cements the company's willingness to support INSTALL's expansion efforts.
"Everyone working together and towards a common goal is our biggest strength," said Wilkinson. "We have the collective tools, training and understanding to overcome any hurdle we face during this new and exciting time."
"It's been a true partnership with Image Flooring and INSTALL," added Engels. "Building a new workforce in a new state has been a monumental task. You need to provide a trained and skilled workforce to help create market share, and that's exactly what we've been able to accomplish."
Explore More News from INSTALL