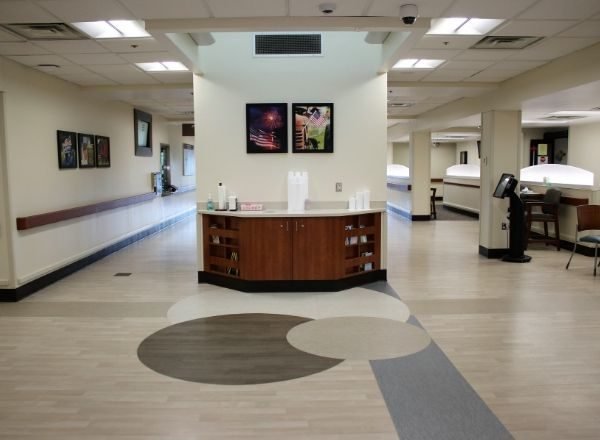 According to the Center for Disease Control, 1.7 million hospital-acquired infections (HAIs) occur each year, contributing to nearly 100,000 deaths. This is a staggering figure, one that outnumbers diabetes, pneumonia and suicide. In fact, HAIs rival Alzheimer's and stroke as the fifth leading cause of death of Americans.
While HAIs continue to threaten lives around the country, the healthcare industry is exploring new ways to prevent the spread of infectious agents and contaminants. This includes innovative building products, finishes and anti-microbial surfaces. With more than $40 billion spent annually on new hospital construction and renovations to existing facilities, it's clear that healthcare and hospital systems around the country have a major opportunity (and mandate) to provide patients with safe, modern care.
Despite expertise in the field, and very real concerns over spreading contaminants, many hospital administrators remain unaware that the floorcovering industry continues to lead the way in infection control training in the building and construction industry.
For the past decade, the United Brotherhood of Carpenters and Joiners of America (UBC) regional councils have been aggressively recruiting floorcovering and carpentry members to enroll in 24-hour Infection Control Risk Assessment (ICRA) classes. To educate infection control nurses and facility managers, the UBC has also developed an eight-hour, day-long training session. This course is also offered to members of building trades outside of the UBC.
This longstanding commitment to ICRA has only strengthened in recent years, highlighting the floorcovering industry as a pioneering force in preventing the spread of HAIs and saving lives in healthcare facilities around the United States and Canada.
The Importance of ICRA
One of the major causes of secondary infections is cross contamination, which can occur during hospital remodels. The removal of ceilings, walls and flooring releases agents that may be trapped beneath the surface.
If not handled properly, these infectious agents are transferred through HVAC systems, drafts, feet tracking, etc., to other areas of the hospital occupied by patients with compromised immune systems who are more likely to be susceptible to secondary infections.
As a result, hospitals are now looking for contractors and workers who have been trained to handle these environments during construction. This is where ICRA steps in. The 24-hour course teaches UBC members how to contain pathogens, control airflow, protect patients, and work without disrupting adjacent operations.
Installers also learn to classify work areas to minimize risks; understand and adhere to ICRA protocols; and communicate with a facility's ICRA team. The curriculum was developed by consulting with leading construction-related infection control experts and is reviewed regularly to keep materials relevant to industry needs.
"The great thing about the program is the level of standardization we've achieved," said Mike Bohan, IKORCC representative and ICRA team leader. "No matter where installers and contractors take the course, from Fort Lauderdale to Toronto, the training is exactly the same."
There is also flexibility for working installers who are making a transition to the healthcare side of the industry. Courses can be broken up into smaller units and weekend sessions are available. There is no excuse for installers in the floorcovering industry not to become ICRA certified. This is critical in light of tightening standards and new healthcare construction regulations.
"Due to oversight in the healthcare industry and regulatory agencies, the need for improved patient care environments has become well-recognized just as much as improvements in clinical procedures and other evolution in healthcare environments," said Rick Okraszewski, marketing director and head industry outreach for the Keystone Mountain Lakes Council of Carpenters (IKORCC).
As a leading voice for ICRA training in the Mid-Atlantic region and Northeast, Okraszewski continues to stress that patient safety must be a priority for any building trade working in a healthcare environment. "We have to see ourselves as caregivers doing construction work. When you look at it from this perspective it affects the work that you do," he said.
An Industry-Leading Joint Effort
"Healthcare has long been a strong point for INSTALL Warranty Contractors and the UBC," explained Kyle Smith, business representative with the Indiana Kentucky Ohio Regional Council of Carpenters. As the INSTALL lead in Northeast Ohio, Smith has worked tirelessly to bridge the gap between the two industries and create a mutually beneficial relationship.
"With more and more healthcare and hospital systems requiring ICRA certifications, it weeds out installers who lack the certification or other basic training and skills," added Smith. "Based on this expertise, ICRA-trained installers protect patients before and during installation. Plus, INSTALL specifications maintain patient safety long after installation is finished thanks to unparalleled installation quality and a lower risk for failure."
It's also important to know that this join effort is unique to the floorcovering industry. "We were first in the trades to establish our commitment to ICRA and develop awareness courses and secondary training," explained Okraszewski.
For example, the Association for Professionals of Infection Control and Epidemiology (APIC) invites the carpenters union to its national convention. "We are the only training provider for ICRA that demonstrates our commitment to this incredible organization," said Okraszewski.
Beyond APIC and other professional organizations, floorcovering professionals are now working directly for hospitals and healthcare organizations.
"Within the IKORCC council, for example, there are more than 500 facilities that require the 8-hour training for non-floorcovering trades and the 24-hour course for floorcovering installers to work in those facilities," added Bohan.
Bohan and his team have even started working with a school of architecture at a major university to train students specializing in healthcare. Each student will complete an 8-hour ICRA program prior to graduation, helping install a deeper understanding of applying infection and disease control prevention on the jobsite.
"In our region alone, more than 3,400 council members have completed the 24-hour course, and nearly 11,000 tradesmen, healthcare workers and other professionals have completed an 8-hour awareness course," said Bohan. "This is a living proof of our commitment to saving lives and putting patient safety first."
Lasting Implications
The true impact of our commitment to ICRA stretches far beyond INSTALL and the UBC. Our installers and industry leaders are able to help train the healthcare industry, higher education, and individuals working in commercial architecture and interior design on the importance of ICRA and hospital acquired infections.
We are proud to remain a pioneering force that will continue to lead the charge on ICRA and ensuring the safety of hospital patients for decades to come.
*This article originally appeared in the April edition of Floor Trends Magazine.
Explore More News from INSTALL