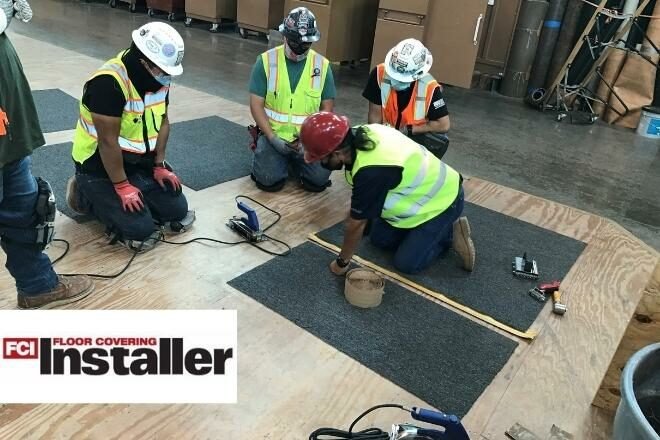 *This article by INSTALL executive director John T. McGrath, Jr. was originally featured in the Floor Covering Installer Magazine.
Good, formal training takes the gamble out of floor covering installation. Without adequate training, mistakes can lead to improperly installed flooring, resulting in disruptive flooring failures creating tripping hazards, small crevices for the growth of harmful pathogens, and other dangers to building occupants. This can damage the reputation of both flooring installers and their customers, resulting in costly rework to remediate the flooring failure.
Certified training regimens at quality floor covering training centers provide installers with the foundation to excel throughout their careers and provide contractors and property owners with the peace of mind that their floors will be installed to the utmost standards. Established training programs from reliable organizations provide opportunities for mistakes to occur within an instructional class—not on the jobsite—enabling installers to receive proper correction from a knowledgeable instructor and learn from any missteps.
Quality training provides installers with a heads-up on emerging trends and installation techniques as well as safe work practices. This ensures a safe environment for business owners and building occupants. Aligning with programs from quality training organizations are a valuable investment for any floor covering installation business to make.
Proper Training Addresses Real World Applications
The most comprehensive training programs address real-world applications and are designed for all skill levels, from apprentices to experienced installers who may need to hone their skills. Look for floor covering programs that re-examine best practices and offer career-long skill building and professional development, no matter where the installer is on their career path.
For instance, many commercial jobsites specify glue-down carpet installations. An expert training course will cover how to properly prepare the substrate, select the proper adhesive for the material, and apply the adhesive with the proper trowel notch, as well as address the appropriate open time for the adhesive. In addition to being attuned to industry trends, more advanced carpet installation curriculum will push installers to master higher-level skills in seaming and pattern-matching.
Expert Curriculum Advances Standards and Certifications
The industry is continually making strides in improved installation techniques and efficiencies to keep pace with manufacturers' product advancements. It's important to look for floor covering installation training programs offered by reputable organizations that are consistently updating and advancing standards and certifications.
There has been enormous growth in luxury vinyl tile (LVT) and luxury vinyl plank (LVP) installations. As a result, resilient flooring certification standards offered by a leading training organization—comprised of stakeholders at every level of floor covering installation—have been adjusted recently to include random pattern LVP and LVT installation—an increasingly common design aesthetic in commercial settings.
Before LVP or LVT patterns are laid—just as in any flooring material—the substrate must be examined and prepared to prevent failure. The potential for concrete moisture presence and mitigation is an integral concern that is included as part of substrate preparation certifications. Flooring contractors and installers should look for updated courses that address proper training in recognizing and mitigating sources of moisture. This is important knowledge to protect the flooring installation's integrity and occupant health.
Comprehensive courses will include training in health and safety. This is especially important in healthcare facility renovations; training should include the best methods for protecting installers, patients, and staff, keeping them safe during construction and long after. Particularly in the wake of Covid-19, it is critical for a floor covering installation curriculum to include important instruction on both personal protective equipment (PPE) and patient protective equipment. The knowledge and compliance of these practices are required to receive certification in many courses.
Career-Long Training is Invaluable
As stated earlier, technology and products are continuously changing. Keeping skills relevant with training is imperative. Even seasoned, skilled floor covering installers need to enroll in training courses to stay at the top of the industry. Neglecting to stay current on training can result in inefficient, unprepared installers and lead to flooring failures.
Training organizations that partner with flooring manufacturers can adapt their curriculum to ensure the training covers new product evolution, teaching floorcovering installers about new materials and ideal techniques for installing them. In addition, training organizations that regularly meet with industry leaders to discuss better installation methods and tools will ensure their training is ahead of the curve.
Because floorcovering installation requires career-long training, experts agree that training updates should be taken yearly. Regular enrollment in training courses guarantee that installers are retaining certifications and assures customers that their floor covering team is a safe bet.
Quality Training Increases Productivity
With a vast number of training opportunities across North America, choosing a program can seem overwhelming. Installers should select courses held at state-of-the-art facilities that focus on the theory and practice of proper installation, covering a comprehensive selection of flooring materials. Expert training programs will focus on fundamental and advanced skills, working efficiently, and include lessons on safety.
By focusing on quality floorcovering installation training, installers can take important steps to further their careers and contractors can help keep their crews and their businesses at the forefront of the trade. Plus, they're reducing the likelihood of costly rework and safety hazards, all while increasing their productivity and quality of work—ensuring beautiful installations that will perform as intended over the long haul.
About the Author
John T. McGrath, Jr. is the Executive Director of INSTALL – the International Standards and Training Alliance, which is the construction industry's best industry-endorsed floor covering installation training and certification program.
McGrath has helped to increase installation standards and expectations in the flooring industry by playing a leading role in facilitating communication and cooperation among mills, manufacturers, specifiers, contractors and installers. All of these groups regularly come together to review and revise the INSTALL curriculum and certification standards.
Explore More News from INSTALL