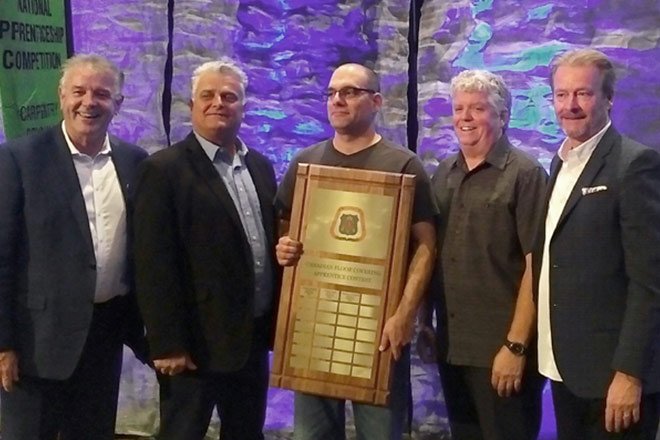 The best floorcovering apprentices in Canada recently convened in historic Charlottetown, Prince Edward Island for a unique installation competition. Marking its 25th anniversary, the United Brotherhood of Carpenters (UBC) National Apprenticeship Competition (NAC) attracted dozens of participants to the port city, where they took part in two days of installation competitions and events.
Apprentice Mike McLaughlin, Local 27 Ontario, was named the winner of the flooring installation competition, showcasing his expertise.
Held from August 25-26, the 2017 NAC was hosted by:
Atlantic Canada Regional Council of Carpenters, Millwrights and Allied Workers
Carpenter Millwright Colleges and Trust Funds of Atlantic Canada
INSTALL, the North American alliance of flooring mills, manufacturers, consultants, associations and contractors
"INSTALL's mission is to train and educate for the purpose of quality flooring installations throughout North America," said John McGrath, INSTALL executive director. "By supporting this important Canadian event we are able to expand our profile in the country and show prospective floorcovering installers and contractors that INSTALL is committed to building their future."
Len Bryden, executive director of training and programs for the Atlantic Canada Regional Council of Carpenters, Millwrights and Allied Workers, was pleased to see the continued relationship between the NAC and INSTALL.
"The NAC has promoted apprenticeships and highlighted UBC for contractors and installers throughout Canada," said Bryden. "The event brings together people from across Canada and allows them to meet, network, share successes and failures, and showcase their talent. It creates a stronger industry and shows off the programs that put us at the forefront in training."
Floorcovering apprentices were joined by carpentry, drywall, millwright, and scaffolding trainees at the event. Each apprentice was subject to written exams and practical competitions putting their installation skills to the test.
The competition judges were Stewart Cormack of Centaur Flooring, Buddy Lewis of the Atlantic Flooring Association and INSTALL's John McGrath. Ontario INSTALL Coordinator Dean Marsh and lead instructor Steve Zizek developed, designed and supervised the flooring portion of the competition.
Explore More News from INSTALL