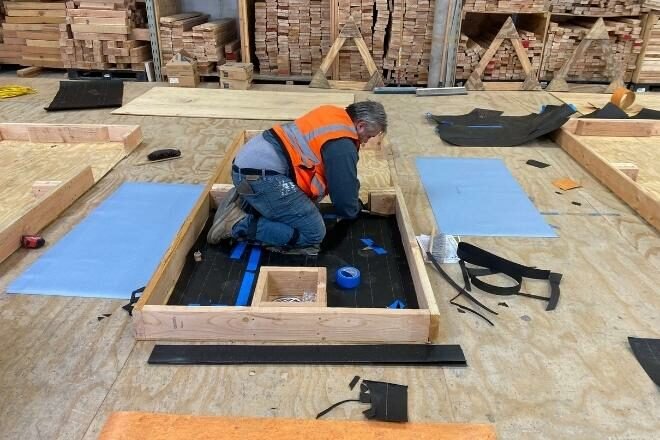 As the North American leader in floorcovering installation training and certification, INSTALL announces recent updates and improvements to its resilient flooring and carpet certification standards.
"As the leading training resource providing unmatched knowledge and expertise in the floorcovering industry, it's imperative for INSTALL to stay on the cutting edge of installation progressions," says John T. McGrath Jr., executive director of INSTALL. "We keep our fingers on the pulse of the industry to ensure that we stay ahead of the flooring trend curves. Our certification standards leaders and trainers are always following materials and techniques evolutions, enabling them to pass along new skills to installers focused on offering long-term value to their customers."
Resilient Flooring Certifications Add Challenges
One of the most significant changes to INSTALL's resilient flooring certification standards is the mock-up sizing. To accommodate for the enormous growth in LVT and LVP installations, INSTALL resilient certifications have doubled the size of the space for the tile and plank installations. This allows installers more space to focus on a large component of their resilient flooring certification—random pattern LVP or LVT installation, which is common in commercial settings.
Another important component to the new resilient flooring certification standards focuses on providing installers with a greater depth of knowledge for sheet vinyl welding transitions, in particular seaming transitions. Installers now perform an east to west welding transition meeting a north to south welding transition, in addition to accent seam welding.
Other critical updates to the course include training that incorporates millwork base, which is more challenging, replacing the previous vinyl cove base installation. Instructors have doubled the drain cut outs and three more pipe intrusions for installers to learn precise cutting skills—addressing projects that will accommodate plumbing fixtures in commercial or bathroom installations. Also, Personal Protective Equipment (PPE) knowledge and compliance is a part of course certification requirements now, due to COVID-19.
In all, INSTALL believes the updates to its resilient flooring certification standards provide installers with challenging scenarios that warrant confidence in the installer. These standards are evaluated regularly and can be expected to be updated again in a few years.
New Carpet Installation Certification Equals In-Depth Knowledge
INSTALL carpet installation certification gives employers piece of mind—knowing that the installer has the most up-to-date, in-depth knowledge about current carpet installation standards. Most commercial jobsites specify glue-down installations. While INSTALL's mock-up for tackless and pad certification has maintained its size, the new glue-down certification mock-up has doubled in size and added additional seaming and border inserts around the carpet field.
The glue-down certification standards also include evaluation on preparing the substrate, cutting, fitting, and seaming. In-depth standards focus on selecting the proper adhesive for the material, glue application with a proper trowel notch, and the appropriate open time for the adhesive. The evaluation finishes with testing on correct installation and rolling techniques to ensure the carpet is secure.
INSTALL also updated certification evaluation for stairs. Installers previously worked on two steps but has increased to that number to four, for increased repetition. Participants learn and become adept at working with the riser, the tread, and the nose of each step. The final change to carpet installation standards reflects a particularly difficult challenge. Installers must learn to complete a 90-degree, mitered, metal transition. Once mastered, this high-level challenge reflects the expertise and skill possessed by proven and dependable professional installers.
"It's more important than ever to ensure that everyone on your installation crew has the proper certification," says McGrath. "The expense of flooring failures is 10-times the cost of the initial installation. Protect your flooring selections and specifications with proven, INSTALL certified installers."
Explore More News from INSTALL