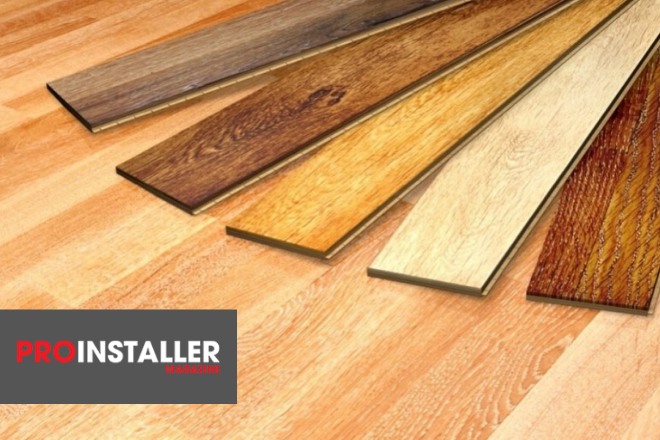 Keeping Up With the Times
The floorcovering industry continues to evolve at breakneck speed. From new products to innovative installation techniques, revised underlayment and adhesive formulas to advances in moisture mitigation and testing, installers and contractors have more opportunities for success.
However, these changes also mean contractors, estimators and installers also need more education, training and certification than ever before. Here's why.
New Product Trends Bring New Opportunities
It's no secret that durable, environmentally-friendly floorcovering products that provide designers and specifiers with a wide range of aesthetics for today's modern commercial buildings continue to drive the market. But times are changing, and time is exactly what a recent onslaught of products seek to address.
"Click floors and floating floors are an increasingly popular product thanks to the enduring popularity of luxury vinyl tile and a serious time crunch for project timelines," explained Kathleen Cloud, president of M. Frank Higgins & Company, Inc. As a third-generation member of the floorcovering industry, Cloud has seen major shifts in the industry over the past few decades. As a response, her company invests heavily in training and retraining installers as product trends and installation methods evolve – placing a major emphasis on education and CEUs.
In the education and healthcare sectors, for example, Cloud's team is working more frequently with glue down products which take more skill to install. This is especially true for rooms and spaces that see high foot traffic and rolling loads. "The value of our labor is that our team is educated, trained and certified. Just about anyone can install click and floating floor products, but the success is in the preparation, underlayment and long-term maintenance – all things we pride ourselves on."
Another major trend and opportunity for the industry comes in the form of oversized area rugs for commercial spaces that feature polished concrete and epoxy floors. "Masland, Bentley, Shaw and other major brands are working hard to produce exciting large-format options to their product repertoires" added Cloud. "While designers and occupants love the look of polished concrete, they are asking for products that can warm up the space and aid in acoustics."
Manufacturers are also bringing labor-saving products to the market that are helping safeguard building occupants while benefiting the bottom line of contractors.
"Johnsonite and Tarkett have committed to bringing efficiencies to the jobsite while helping promote safety for building occupants and meeting ADA compliance," explained Adam Williams, instructor at the Indiana/Kentucky/Ohio Regional Council of Carpenters (IKORCC).
These brands have developed innovative stair treads and nosing that have removed the need for installer to scribe the riser material to the nosing material to give a flush net application – and helping to eliminate tripping hazards.
"The amount of labor required for installers to scribe to each nosing is incredible," explained Williams. "If you remove this need you can save 4-5 minutes per riser. If the average stairway features 20 to 25 risers, time adds up quickly and can save thousands of dollars in labor for large projects," he added.
Like Cloud, Williams is seeing an increase in glue down products – especially innovative new products that can be cold welded in healthcare facilities. "By avoiding heat-welding, installation teams can turn operating rooms and other healthcare spaces around in as little as 24 hours," he said. "You simply fill in the voids and let it dry. Plus, many of these products are water-based which is better for the environment, installer and occupant."
Other exciting new products that are trending across the country include liquid linoleum and silica-free products.
Floor Preparation & Moisture Mitigation
One area that straddles the divide between product trends and formula changes is the world of moisture mitigation, floor preparation products, epoxies and glues. Considering polished concrete shows no sign of slowing down anytime soon, this is a big deal for installers around the country that are investing resources in new machinery, labor practices and training.
"Epoxy flooring and polished concrete are hot," said Cloud. "However, there are some challenges with these surfaces. We always recommend a mockup for projects, but it's really challenging to match the final products with the mockup concrete. We have to manage expectations. Another issue is noise and acoustics. This is a problem for clients and something we work to educate people on prior to final flooring selection."
While these issues persist, Cloud believes that manufacturers are doing a good job in responding to issues her team is finding in the field. "The number one area they are helping us, by far, is with moisture mitigation. Mapei, Ardex and others are all developing adhesives and moisture resistant tape that address the needs of installers and building owners."
"Another product that appears to change the game for installers is Surface Prep EXT™ from S3 Surface Solutions," added Williams. This innovation in concrete preparation, moisture barrier engineering and breakthrough adhesive technology features a simple application and eliminates abrasive shot blasting, grinding and caustic chemicals. It's also biodegradable and saves installers time and money.
Asbestos awareness also continues to play an important role. "Companies like Shaw and S3 Surface Solutions and others have new products than can isolate asbestos," remarked Williams. "This two-part product is similar to an epoxy but has a longer shelf life and is water-activated. It promises to be a real time saver and is helping installers in the field tremendously."
A Holistic Approach to Training and Education
Regardless of the product, underlayment material or moisture mitigation process, successful contractors and installers have taken a holistic approach to training and education. By partnering with manufacturers for CEUs and training sessions, Cloud and Williams have leveraged the expertise and knowledge of product experts and technical specialists to keep employees and apprentices up to speed and ahead of the curve.
It's important to note, however, that the outreach goes both ways. "One thing we are skilled at is healthcare work," said Cloud. "Because of this, our installers need to know the latest in product innovations and installation techniques to remain competitive. Instead of waiting to hear from manufacturers, we are proactive in contacting them and sending them out to training sessions.
Williams agrees with Cloud, adding, "You can no longer expect to work with a product unless you know how to use it and are up with the latest and greatest. Contractors and installers need updated education and training to keep up with innovations as well as re-engineered products."
Cloud also brings in manufacturers to the M. Frank Higgins & Company, Inc. warehouse and corporate offices for in-person training. This helps encourage attendance and boosts morale as installers see this as the company's commitment to their success.
This dedication to training has also paid off for the company's dozens of apprentices. "We take in a large number of novice installers and apprentices – especially in the summertime," she said. "We are always trying to develop new ways to attract and retain labor, and education and training is a key component. We've even developed an incentive program for installers as a result."
Cloud also practices what she preaches, teaching a variety of CEUs throughout the year – including moisture mitigation courses from Armstrong, Ardex, Uzin and Mapei. She also teaches classes on sustainability, hosts dozens of lunch-and-learns each year and has teamed up with with IIDA, an interior design organization, along with vendors, to host a CEU on floor preparation in her company's warehouse.
Moving Forward as a United Front
As the industry continues to evolve at breakneck speed, it's up to all of us to stay on top of our collective game and devote resources to education, training and certification. These three components will help the industry keep up with the times instead of missing the mark.
Explore More News from INSTALL