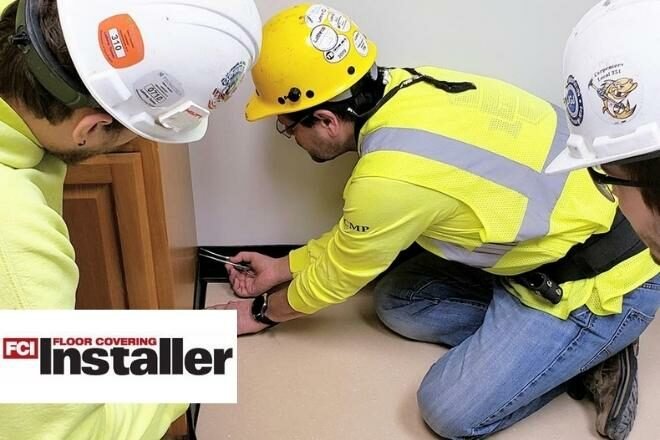 *This article by INSTALL executive director John T. McGrath, Jr. was originally featured in Floor Covering Installer.
Even highly successful flooring contractors can find it challenging to grow their business across the country. Gaining access to more competitive markets, especially in large cities, requires skilled workers with verifiable, quality training. With certifications through leading industry organizations such as the International Standards and Training Alliance (INSTALL), flooring contractors improve their prospects of being chosen in more selective areas.
However, quality workmanship provided by knowledgeable installers that are on the cutting edge of standards and practices is just one key to breaking into new markets. Building relationships with general contractors, facility owners and local decision-makers is also an important factor. Let's take a closer look at how one established flooring contractor is expanding into highly competitive regions and making an impact on the industry.
Building Trust
Flooring Systems Inc. (FSI), based in St. Louis, Missouri recently gained traction in growing its presence in key areas of the southeast, including Atlanta, Georgia and Charlotte, North Carolina. The 26-year-old company has leveraged essential contacts that it established by being a trades expert and providing reliable, quality workmanship.
Of the company's 300 installers, all of which are INSTALL certified, over 10%, or 30 to 40 workers, are located on out-of-town jobsites each day. And while FSI is well-known throughout its own region, the company has completed six commercial jobs within the Atlanta area in the past 18 months—an impressive feat as most flooring contractors limit their pursuits to their own region.
This is largely due to the fact that they have established a solid working relationship with a well-known general contractor, Brahms Construction, LLC, which has completed numerous projects in the southeastern region. In total, FSI has been selected as a flooring contractor for Brahms Construction, which is also based in St. Louis, on 12 buildings across several regions.
"We've proven to them that we are expertly trained, skilled flooring installers, who excel in professionalism," said Darren Schnurbusch, business development, FSI.
In fact, FSI was asked to join a job to correct an installation failure that had occurred earlier in a project as the result of a previous contractor's oversight. With FSI's skillset concentrated on hospitals, multi-family and senior living facilities, Brahms Construction knew the company would be able to easily step in and correct the issue at Renaissance on Peachtree, an upscale senior living residence in Atlanta. FSI renovated 28,000 square feet of flooring in the common spaces, including corridors and elevator lobbies, while keeping open lines of communication with the building owners, Healthcare Trust Inc. (HTI), to ensure that work areas were restricted and residents were kept safe. This clear communication meant that FSI was able to move efficiently, completing the installation of custom carpet and luxury vinyl plank (LVP) flooring in eight weeks with only three installers.
"As one of the largest flooring contractors with INSTALL training, general contractors and building owners are confident that we will step in, complete the job correctly, meet tight timelines and exceed expectations," says Schnurbusch. "One of our strongest assets, beyond skilled installation, is our ability to set and manage expectations. Excellent communication shortens the length of time we are on the job and eases the disruption to residents' lifestyles."
Expanding Relationships
This strong communication translates to more work, as well, and has steadily increased FSI's presence in other areas of the southeastern region, including Charlotte, North Carolina. Through discussions with regional decision makers, the company has been fortunate to add several local flooring installers to its workforce on locations that require more extensive travel and are a greater distance from the company's St. Louis office. This is especially beneficial in a highly competitive industry with a nagging labor shortage.
"It is exciting to see an 'outside' flooring contractor become more established in cities within our region that are experiencing substantial growth," said Daniel Hicks, business representative for the Southeastern Carpenters Regional Council (SECRC). "Especially a contractor like FSI that is well-known and respected for their expertise, quality of work and outstanding industry certifications through organizations such as INSTALL."
Schnurbusch states that employing workers from the job's region are also a benefit to FSI. "These workers know the area well and often have established relationships that are invaluable to our business. They help the project run more smoothly," he said.
While regional installers are part of the FSI team, they are given the opportunity to train and receive industry certifications—if they don't hold them already—that will further their careers. "This raises the skill level of our regional workforce and presents local installers with an opportunity to reach higher levels within the industry," said Hicks.
Now, FSI is utilizing the company's established relationships, communication skills and expertly trained installers to gain a greater presence and win jobs in the central south region. The company recently was awarded large projects in Oklahoma, where FSI is installing new flooring for an interactive children's museum in Tulsa and renovating flooring for living quarters at Altus Air Force Base. "We're in the immediate stages of these projects with expected completion in February 2022," said Schnurbusch. "And we're excited to see what the new year holds for more opportunities in the expanding central south region."
Scaling for the Future
Hicks, too, is enthusiastic for the future. His region looks forward to additional expertly trained flooring contractors following in FSI's footsteps and establishing a greater presence in the southeast. "There isn't a huge INSTALL presence in the SECRC's area," said Hicks. "Our Council is hoping to welcome other flooring contractors with superior standards and comprehensive training that are looking to grow in our region."
Indeed, flooring contractors that put a greater emphasis on communicating with local decision makers will discover valuable opportunities. By establishing relationships with these key contacts—often through leading industry organizations—flooring contractors will gain footholds in ever-expanding areas throughout the country.
However, receiving proper training and accreditations should not be overlooked, as that heightens important business relationships with general contractors and building owners. These essential decision makers have the ability to unlock doors and open flooring contractors to a wealth of business growth opportunities.
About the Author
John T. McGrath, Jr. is the Executive Director of INSTALL – the International Standards and Training Alliance, which is the construction industry's best industry-endorsed floor covering installation training and certification program.
McGrath has helped to increase installation standards and expectations in the flooring industry by playing a leading role in facilitating communication and cooperation among mills, manufacturers, specifiers, contractors and installers. All of these groups regularly come together to review and revise the INSTALL curriculum and certification standards. He was a significant contributor in creating the ANSI S600 Carpet Installation Standards and has served as a returning judge in the Starnet Awards, Canadian Apprenticeship Contest and the Schonox Worst Subfloor in North America Contest.
Explore More News from INSTALL