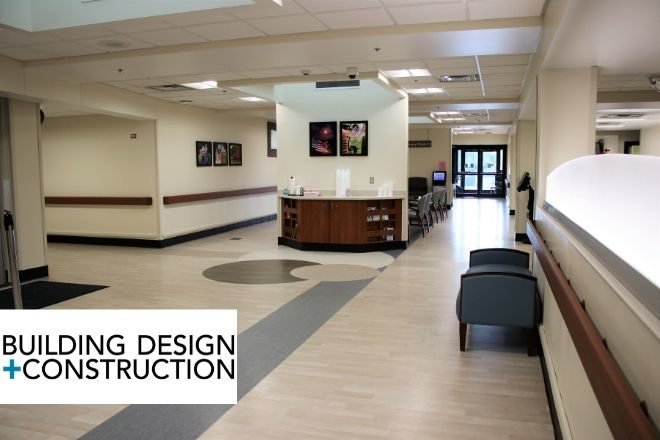 *This article by INSTALL executive director John T. McGrath, Jr. was featured in Building Design+Construction.
Floorcovering professionals are keeping workers safe and helping the construction industry navigate the current pandemic through advanced ICRA standards and protocols, industry-leading education and training programs, and established safety guidelines.
As the construction industry continues to adapt to COVID-19 restrictions, including finding new ways to work safely and responsibly to protect employees on the jobsite, one profession is rising to the occasion and leading the charge against this deadly pandemic – trained and certified floorcovering professionals.
After all, this group of contractors, project managers and installers have long understood the importance of health and safety on the jobsite, especially when it comes to mastering Infection Control Risk Assessment (ICRA) standards and protocols. In light of the COVID-19 pandemic, floorcovering professionals across North America are taking additional measures to ensure the health and wellness of men and women in the field.
Below are some of the steps subject matter experts are suggesting trades across the industry take to prevent the spread of the virus and maintain safe working conditions for construction jobsites. They include everything from expanding existing ICRA standards and protocols beyond healthcare to taking advantage of industry-leading education and training programs and establishing advanced new safety guidelines.
The Use of ICRA Standards and Protocols to Fight the Spread of COVID-19
Long before COVID-19 became part of the public lexicon, healthcare providers were dealing with another invisible crisis. According to the Center for Disease Control (CDC), nearly two million healthcare-associated infections (HAIs) occur each year in the United States, contributing to nearly 100,000 deaths.
Spread through hand transmission from contaminated surfaces, HAIs are spread in some of the same ways as COVID-19 and can result in illness. Each year roughly one in 25 hospital patients is diagnosed with an infection related to hospital care – costing the U.S. healthcare system billions of dollars on an annual basis. While the government and healthcare organizations have invested in research and resources to curtail the spread of HAIs, the floorcovering installation industry was actively contributing to the fight in major ways. This included adopting ICRA standards and protocols that help safeguard patients from potential contaminants during renovations and construction projects. While these protocols were developed before the pandemic, they are now more important than ever for all construction trades to adopt.
The United Brotherhood of Carpenters (UBC) ICRA course teaches techniques for containing pathogens, controlling airflow, protecting patients, and completing work without disrupting adjacent operations. INSTALL, the floorcovering arm of the UBC, works with its contractors to employ ICRA so construction teams can classify work areas to minimize risks, understand and adhere to protocols, and communicate with the facility's team. Other important aspects include project risk evaluation, the proper use of soft-wall systems, understanding blood borne pathogens, and working in unique environments such as pharmacies, laboratories, and testing areas.
ICRA isn't just a checklist that installers use during a project, it's a holistic approach to construction that considers multiple points of infection and involves a wide variety of professionals. In addition, the same practices and learning outcomes that help contractors make efficiency and productivity gains in healthcare environments, are allowing them to construct makeshift hospitals, convert hospital wings to COVID-19 treatment facilities and create Airborne Infectious Isolation (aka negative pressure) rooms. That's why as COVID-19 began to spread throughout North America in February and March, the UBC worked with ICRA to expedite an online short course for contractors working in the field. "ICRA: Best Practices in Health-Care Construction" and "COVID-19 Preparedness Qualification" provide much needed expertise in this crisis to ensure that proper protocols are followed, and proper containment measures are being taken.
Plus, the ICRA program provides training to more than just the building trade and floorcovering professionals, expanding education opportunities to healthcare professionals and other construction related professionals, to ensure that they are familiar with all the proper protocols and procedures. During the pandemic, COVID-19 related training and information is open to everyone- UBC members and non-members alike.
Covid-19 Related Priorities for Contractors and Employees
During the time period in which this article was written, construction was still listed as an essential business in many areas of the country. While some states like Pennsylvania, New York and New Jersey made clear distinctions between essential and non-essential construction, essentially limiting work to small independent crews, other states like Wisconsin made no clear rules.
"Unless they are asked by their client to suspend operations, contractors and flooring installers are going to work in Wisconsin," said DeAnn Richards, Infection Preventionist and ICRA Consultant, North Central States Regional Council of Carpenters. "While some hospitals are suspending general construction projects and major expansions, others are busy converting individual patient rooms and entire wings to COVID-19 spaces," added Richards. "ICRA certification has played a major role in helping healthcare systems find and specify trained contractors in our region."
Similar to Wisconsin, other North Central states including Iowa, Minnesota, Nebraska, North Dakota and South Dakota were business as usual for construction and floorcovering installations during the first two months of the COVID-19 outbreak.
While there were no state government restrictions placed on the size of teams working in the field, there were other safety issues facing contractors. "Some floorcovering contractors have sent out smaller crews or staggered schedules to assist with physical distancing," said Jayson Karas, ICRA Facilitator, North Central States Regional Council of Carpenters. Karas also noted that many major contractors with ICRA training and healthcare experience have stepped up to create a roundtable and discussion forum within the six-state region. "They were preparing ahead of time for this crisis by working with hospital networks to take stock of PPE and necessary equipment like HEPA filters, while fielding questions and concerns about jobsite safety during the pandemic," he said.
Richards and Karas have also actively encouraged contractors outside of the healthcare vertical to sign up for ICRA training and certification. This includes the new COVID-19 preparedness course prepared by the UBC.
"This is really critical for the floorcovering industry," added Rick Okraszewski, Industry Outreach / ICRA (retired), Eastern Atlantic States Regional Council of Carpenters. "While construction crews aren't on the front lines in the same way as doctors or nurses, they are still putting themselves in danger by working in healthcare environments, and other jobsites," he added. "We have provided ICRA training for more than twelve years now, the new curriculum adds nuances surrounding COVID-19," said Okraszewski. "This not only helps protect the lives of installers, it helps other trades on the jobs as well as building occupants and patients in healthcare environments," he added.
Jobsite Safety Practices for Contractors, Project Managers and Foremen
In addition to completing online ICRA training surrounding COVID-19, there are a number of other simple steps and procedures construction industry professionals can follow to help curtail the spread of the disease – and future outbreaks.
The first step is to develop a COVID-19 response team with representation from all levels of the organization. Next, contractors should create a company specific COVID-19 response plan and ensure each jobsite has a safety committee. This includes having the means to contact all members at the site to relay important information and collect concerns. Contractors should also support foremen and project managers to address safety committee concerns by developing an emergency action plan.
Another simple yet important step contractors and companies should take is to prohibit large gatherings over 10 individuals and provide all necessary supplies at the job site. This includes hand hygiene stations, cleaning/disinfectant solutions, portable toilets, paper towels and barrier-free trash receptacles.
One of the most important things for foremen and project managers to do is to monitor employee health and send any ill appearing workers home. They should also ensure cleaning and disinfection occurs of common areas and items, including the job trailer, break room, hygiene stations, bathrooms, portable, toilets, doorknobs, rails and two-way radio twice a day, or more often if there is visible dirt and grime. They should also eliminate community food, water coolers, and devices to keep or re-heat food, keep hand hygiene stations and restrooms clean and stocked, and provide ready access to supplies to clean and disinfect.
Contractors should also employ job hazard analysis worksheets, daily assessment flow charts, worksite scenario recommendation forms and posters that remind employees to avoid touching their face, practice physical distancing, use hygiene stations, avoid using other people's equipment and to stay home if they aren't feeling well.
Moving Forward Together
COVID-19 isn't going to go away overnight. While physical distancing and gathering restrictions won't be the new normal forever, the building and construction industry will have to deal with this for months or perhaps years to come.
But there is a silver lining in the training, certification and standards that are being developed in response to COVID-19. By finding new ways to work in safe, responsible ways that protect employee and building occupant health, the construction industry will only get stronger, smarter and nimbler.
These are difficult times, but they once again prove that education, certification and training are key to ensuring safety on the jobsite.
Explore More News from INSTALL