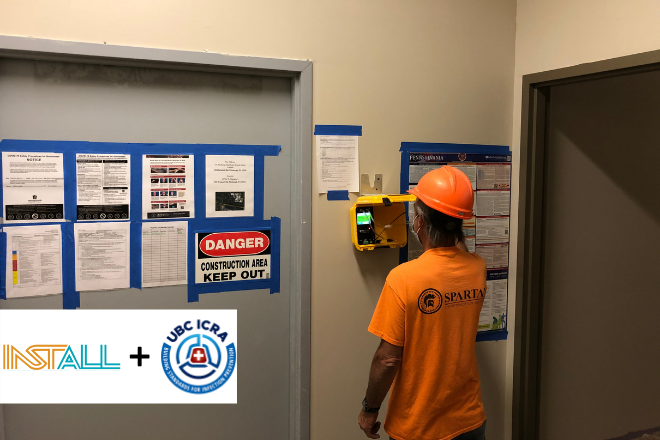 *This article by INSTALL executive director John T. McGrath, Jr. was originally featured in Commercial Construction in Healthcare.
How implementing ICRA standards are helping healthcare professionals around the country reduce HAIs while addressing the ongoing coronavirus pandemic.
Construction projects in occupied healthcare facilities create dust, dirt and release potentially harmful pathogens into the air. Exposure to these elements can put patients at risk for developing other diseases known as healthcare acquired infections (HAIs). These infections can cause greater harm to the patient, jeopardizing their recovery and wellbeing.
As healthcare systems around the country continue to grapple with increases in HAIs, they have also been forced to address another deadly threat—the outbreak of Covid-19. Hospitals were pushed to the brink and forced to create temporary negative pressure wings for coronavirus patients. Other major construction projects were put on hold as attention was diverted to the pandemic. But construction work never stopped completely.
Since the initial outbreak of Covid-19, healthcare construction has slowly ramped up as contractors learn to work in this challenging new environment. And infection control specialists are working harder than ever to create safe environments that not only mitigate the spread of Covid-19 but address other common sources of HAIs. One ally throughout this challenging time is the floorcovering industry. On top of ongoing flooring projects, like renovations and expansions, healthcare systems have turned to Infection Control Risk Assessment (ICRA) professionals for training and support. The results highlight the importance of specifying ICRA-certified labor.
Addressing the Danger of Healthcare Construction
When an occupied healthcare facility begins an upgrade, expansion, or renovation project, construction activities can introduce debris and contaminants such as mold, asbestos, lead, and bacteria into an environment where immune-compromised people come to heal.
One of the primary places where these contaminants collect is on the floor. When floorcovering materials, adhesives and wall bases are removed, the process releases years (sometimes decades) of buildup into the air. These fine particles are not only dangerous to trades on the job, they are potentially deadly to patients in adjacent spaces. As a result, ICRA professionals have worked for decades to develop procedures and equipment to control the spread of contaminants. Containment walls, negative airflow, walk-off mats and advanced filtration devices are now used to protect patients from potential exposure. But while these safeguards exist, they are useless if floorcovering and other construction professionals working in the field are not trained in the proper techniques.
That's why the United Brotherhood of Carpenters (UBC) and INSTALL recommend ICRA certification as a critical part in the fight against both HAIs and Covid-19. UBC ICRA teaches members how to contain pathogens, control airflow, protect patients, and work without disrupting adjacent operations. Members also learn to classify work areas to minimize risks, understand and adhere to ICRA protocol and communicate with a facility's ICRA team. The result is an increase in efficiency and productivity as teams are able to construct necessary areas and systems correctly the first time.
The UBC has also offered these training programs to designers, architects, infection control specialists, engineers, project managers and hospital staff since they all play a special role in containing contaminants and infectious agents during construction in occupied healthcare facilities.
8-Hour vs. 24-Hour ICRA Training
In recognition of the truly collaborative nature of infection control, two ICRA training programs were developed to address the needs of all construction-related professionals and healthcare professionals that could benefit from the knowledge of ICRA protocols and procedures.
The 24-Hour ICRA training program is tailored for floorcovering and carpentry professionals that will be responsible for building and maintaining the construction-containment walls. The training consists of 16 hours of in-class instruction and eight hours of hands-on learning in the shop. Participants learn how to select and construct effective containment barriers, create and maintain negative airflow environments, and practice using several other pieces of infection-containment equipment before it is necessary on the project site.
The 8-Hour Awareness ICRA training program is tailored for all building trades and healthcare professionals. The one-day class explains the potential issues that can occur during occupied construction jobs and the fundamental rules of infection control. After attending the course, participants are able to engage in conversations with a facility's infection control team in a more meaningful and informed way. This includes helping the construction team achieve compliance with ICRA protocols through improved planning in the design and construction phases of the project.
The Impact of ICRA Training on Healthcare ConstructionThe Ultimate Goal is Saving Lives
This unique relationship between healthcare professionals, contractors and the ICRA professionals at the UBC is all about saving lives. Everyone is focused on the safety and wellbeing of patients with a goal of reducing the number of patients who become ill or die of HAIs while helping to keep everyone safe from the spread of COVID-19. Drummond, Ferrelli and Wilkinson plan to expand training and certification in the coming months. While Covid-19 has had an impact on class sizes and offerings, the program remains an important part of their infection prevention goals.
About the Author
John T. McGrath, Jr. is the Executive Director of INSTALL – the International Standards and Training Alliance, which is the construction industry's best industry-endorsed floor covering installation training and certification program.
McGrath has helped to increase installation standards and expectations in the flooring industry by playing a leading role in facilitating communication and cooperation among mills, manufacturers, specifiers, contractors and installers. All of these groups regularly come together to review and revise the INSTALL curriculum and certification standards. He was a significant contributor in creating the ANSI S600 Carpet Installation Standards and has served as a returning judge in the Starnet Awards, Canadian Apprenticeship Contest and the Schonox Worst Subfloor in North America Contest.
Explore More News from INSTALL