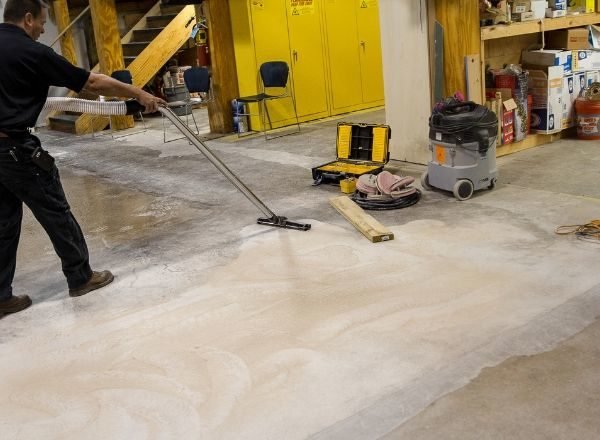 As commercial real estate developers, building owners and big box brands search for new flooring solutions, concrete polishing is becoming a popular alternative to traditional hard surfaces. While polished concrete floors have been around for decades, this unique option has seen a huge increase in demand during the past few years.
There are many reasons for the increase, including improved sustainability, durability and ease-of maintenance. In addition, new and more efficient polishing techniques, coupled with advances in graphics and color options, make it easier than ever for interior designers to create modern, aesthetically pleasing installations that will stand the test of time for their clients.
While these benefits are attractive to a host of potential clients, there are some limitations to polished concrete floors. Furthermore, it's critical for contractors and installers to become trained, educated and certified on best practices and techniques.
Polished concrete flooring is here. Now it's time for the industry to step up to the plate and get the job done right.
Why is Polished Concrete So Popular?
While flooring options like LVT have seen explosive sales growth, polished concrete is a seemingly simple alternative that is beginning to replace traditional floorcovering products. As a result, numerous large retailers such as Wal-Mart, Albertsons and Safeway have moved to polished concrete as the standard flooring material for both their new and existing stores. The same rings true for smaller boutique stores, office buildings, institutional facilities and more. But why?
From an aesthetic standpoint, polished concrete offers a modern and sophisticated look. A number of stains, colors and topping materials can be added to the floor, along with inset logos and etching. The result is an installation with a varied, natural look that is highly light reflective, slip resistant and visually impactful.
The thermal properties of concrete also help reduce heating and cooling loads for buildings. This translates to significant energy savings when spread across hundreds of thousands of square feet in warehouse stores and large commercial spaces. For large chains and companies like Amazon that operate massive fulfillment centers around the country, this is a serious consideration.
Since concrete is already used as a subfloor in most new buildings, polishing it cuts back on material usage, waste and adds to LEED credits. Similarly, since polished concrete is reflective, it helps architects and designers earn electric credits. And because there is limited maintenance and no replacement materials, polished concrete flooring also lessens water use and construction waste.
Altogether, polished concrete flooring can contribute to nearly 40 different LEED point categories. These include points for materials and reuse, indoor environmental air quality, along with energy and atmosphere. Beyond achieving LEED points, the other reason facility managers, interior architects and designers are gravitating towards polished concrete is maintenance and cost-savings.
The Importance of Education, Training & Certification
While polishing concrete might look like an easy task, organizations like INSTALL, the International Standards and Training Alliance, have recognized its complexities and are working to produce dedicated training.
INSTALL, exclusively, has created non-proprietary hands-on and theoretical training delivered by accredited instructors. The curriculum covers everything from the chemistry of concrete to equipment operation and maintenance to applying densifiers and guard products.
"We have been working for several years to develop classroom and hands-on curriculum specifically geared towards polished concrete flooring," said Mark Olsen, INSTALL subject matter expert and instructor for the North Central States Regional Council of Carpenters. "From dying concrete to creating insets with logos, INSTALL is on the cutting edge as the only organization with a formal training manual for concrete polishing and resinous flooring."
The curriculum and training address poor surface conditions regarding existing flooring, including cracks, spalling, pitting and leveling. It also incorporates polished overlays, which offer distinct qualities that can't be achieved by polishing existing concrete. This includes the ability to create a white polished concrete floor, a very uniform and predictable finish, and an even distribution of exposed aggregate.
However, it's not just INSTALL leading the charge with new curriculum. "Industry partners like HTC, Diamatic USA, Runyon Surface Prep, Niagara Machines, APE Company and Substrate Technologies have brought decades of insight into the learning process," added Olsen. "Their knowledge and technical prowess are helping us better educate and train our installers – giving them a leg up on the competition."
Best Practices Aren't Just for Installation
While polished concrete is a fundamentally green product, with no replacement costs and a long lifespan, it doesn't come without compromise. One of the most critical decisions a building owner or operator can do is to develop and implement a long-term maintenance program that will ensure the success of the installation.
The key to success, therefore, is to not sell clients on polished concrete flooring, but sell a flooring solution complete with a long-term commitment to maintenance. The slab needs to be maintained properly over time.
For example, grocery stores contain many products that contain acid (like pickles). If those items leak on the floor they can damage the surface. Other products can leave similar marks and stains and can compromise the floor. If left untreated, this can eventually lead to major problems like gouges, holes and cracks.
Repairing issues like this can leave a concrete floor covered in patches. Overlays might be a viable solution for a damaged slab, but unless the work is done correctly the patch and the subfloor will eventually succumb to more cracking.
"It's incredibly important that building owners and operators maintain their flooring," stressed Olsen. "This not only benefits the facility and its users/occupants, but provides a steady income for contractors and installers who provide long-term maintenance programs."
Ensuring the Future of Concrete Polishing
It's impossible to deny the rise of polished concrete flooring in commercial and industrial interior design. While the aesthetic of this contemporary surface is unique, it comes with its own installation and maintenance challenges. Therefore, it's time for the industry to step up to the plate and get the job done right.
*This article originally appeared in the March/April edition of ProInstaller Magazine.
Explore More News from INSTALL