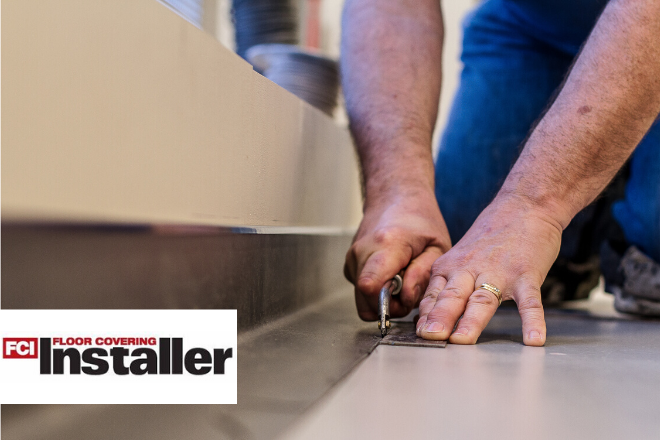 *This article by INSTALL executive director John T. McGrath, Jr. was featured in Floor Covering Installer.
In recent years, fast-track construction has made floorcovering installers experts in concrete restoration. Whether facing tight timelines, improper substrates or concerns over moisture mitigation, flooring contractors have been left to deal with subpar concrete subfloors.
In order to ensure proper flooring installation, contractors are often forced to grind, shot blast or chip away at these existing concrete substrates. The problem here is not necessarily the labor involved, but the toxic byproduct that is created in the process; respirable crystalline silica.
While silica is one of the most common substances in earth's crust, it poses a deadly threat to floorcovering installers and other construction trades. When workers cut, grind, drill, or crush materials that contain crystalline silica, very small dust particles are created. These materials include concrete, rock, block and mortar, and brick – common building products here in the US.
The tiny particles released during this process can travel deep into the lungs of workers. This can ultimately cause silicosis, an incurable and sometimes deadly lung disease. Respirable crystalline silica also causes lung cancer, other potentially debilitating respiratory diseases such as chronic obstructive pulmonary disease, and kidney disease. In most cases, these diseases occur after years of exposure to respirable crystalline silica. Some, however, are more acute.
While steps have been made to curb silica dust on the jobsite, nearly two million construction workers are exposed to respirable crystalline silica in over 600,000 workplaces each year. Of those two million workers, 30% of them are exposed to levels greater than the Occupational Safety and Health Act (OSHA) standard set in 2017.
That's why it is so important for the floorcovering industry to take every possible step to curb silica dust exposure for our men and women in the field. New technology, best practices and training courses can help address these problems – but only if people are willing to put them into action on the job site.
An Ancient Disease with New Repercussions
The earliest reports of silicosis date back to ancient Greece, where Hippocrates referenced diseases such as grinders rot, miners phthisis, potters consumption and stone cutters consumption in his writings. Throughout the 16th, 17th and 18th centuries, physicians continued to document "wasting" diseases for laborers throughout Europe.
In 1870, British physicians began diagnosing chronic silicosis and encouraged labor industries to use wet drilling as a means of controlling airborne dust. This process was an unwelcome change as it slowed production, resulted in slurry and added cleanup time. It therefore proved very unpopular among business owners.
Here in the United States, the first widespread public knowledge of silica came shortly after the Hawk's Nest Tunnel disaster in West Virginia. As many as 1,500 workers were killed from 1930-1935 in what is now known as one of the worst industrial disasters in American history.
Workers were not given any masks or breathing equipment to use while mining, although management wore such equipment during inspection visits. As a result of the exposure, many workers developed acute silicosis and died on site. Many more eventually died within a year.
As a result, the United States Department of Labor released a film in 1938 titled "Stop Silicosis." The result of a year-long study by more than 60 experts, the film addressed new protections that were developed to protect working people from silica exposure. By the 1950s, silicosis was generally considered a disease of the past and forgotten by many industries.
A Resurgence in Silica Awareness
While silica and silicosis gave way to other major occupational safety concerns like asbestos, there has been a recent focus on its destructive affects due to fast-track construction and general lack of knowledge of respiratory diseases on the jobsite.
One trade that has come under scrutiny is the floorcovering industry. Since many contractors are tasked with surface preparation and preparing concrete substrates for installation, they are exposed to a large amount of silica dust through grinding, cutting, shot blasting and polishing.
In a 2012 survey by the United Brotherhood of Carpenters, only 29% of workers wore a respirator when preparing concrete substrates, while 33% wore safety glasses and 27% wore gloves. A shocking 51% of respondents wore no safety items at all when performing these tasks.
"Installers really need to understand how small the particles are that pose a danger to them on a jobsite," said David Milano, instructor with the UBC Albany Training Center, North Atlantic States Carpenters Training Fund. "All it takes is a tiny spec of silica to exceed safe limits. While it's amazing how much damage silica and silicosis can do, it's even more amazing how few people protect themselves against it."
This misunderstanding, along with a number of other factors from trades throughout the construction industry eventually led OSHA to introduce its Respirable Crystalline Silica Standard for Construction in 2017. The standard requires employers to limit worker exposures to respirable crystalline silica and to take other steps to protect workers. It also partnered with other organizations, such as the National Institute for Occupational Safety and Health (NIOSH), that highlight engineering controls and safe work practices to reduce silica exposure.
NIOSH, for example, found that exposure could be reduced through the use of a variety of different controls, including the use of local exhaust ventilation to capture dust at its source and the use of water sprays to suppress dust where it is produced. They also recommend using remote controlled tools and grinders, sanders and shot blasters equipped with a shroud and HEPA vacuum.
"While engineering controls are essential and help reduce the amount of silica dust that escapes, it's still important for contractors to place individual HEPA filters in contained environments," said Nick Mooren, instructor at the Wisconsin Carpenters Training Institute, North Central States Regional Council of Carpenters.
"It's also important to know how HEPA filters work and what they can and can't do," he added. "For example, when the machine fills up you have to tie off the self-containment bag and dispose of it safely, otherwise you risk contaminating the space all over again."
It's also important for floorcovering installers to use NIOSH-approved N95 Particulate Filtering Facepiece Respirators. These respirators are made to seal tightly around the nose and mouth and are certified to block 95% of particles 0.3 m (microns) or larger in diameter.
While these are extremely beneficial, there are limits to how well they work. For example, facial hair is enough to break the seal and let in particles. And people with chronic respiratory, cardiac or other medical conditions that make breathing difficult may not be able to use an N95 respirator. Still, the fact that this technology exists, but is underused (or not used at all) is a problem.
Silica Awareness Courses Help Address OSHA Standards
This is why it is so critical for floorcovering installers of all ages to take part in silica awareness courses. Classes cover where and how respirable crystalline silica exposure occurs, how it affects the body, how workers can protect themselves, and what employers must do to protect their employees.
Courses like these also help companies meet OSHA's silica standards. All construction employers – not just floorcovering installers – covered by the standard are required to first establish and implement a written exposure control plan that identifies tasks that involve exposure and methods used to protect workers, including procedures to restrict access to work areas where high exposures may occur.
Contractors are also required to designate an employee to implement written exposure control plans. This includes restricting housekeeping practices that expose workers to silica, such as using compressed air without a ventilation system to capture dust and dry sweeping.
In addition, they must offer medical exams — including chest X-rays and lung function tests — every three years for workers who are required by the standard to wear a respirator for 30 or more days per year. Finally, they must train workers on the health effects of silica exposure, workplace tasks that can expose them to silica, ways to limit exposure, and keep records of workers' silica exposure and medical exams.
Learn More and Save Lives Today
For business owners and installers that want more information on OSHA's silica standard, a good place to start is the organization's website. OSHA can also provide compliance assistance through a variety of programs, including technical assistance about effective safety and health programs, workplace consultations, and training and education.
The United Brotherhood of Carpenters also provides floorcovering installers and members several awareness classes on silica and other hazardous materials. Held at the International Training Center in Las Vegas, NV, and regional councils around the country, these courses truly help save lives and protect workers.
Explore More News from INSTALL