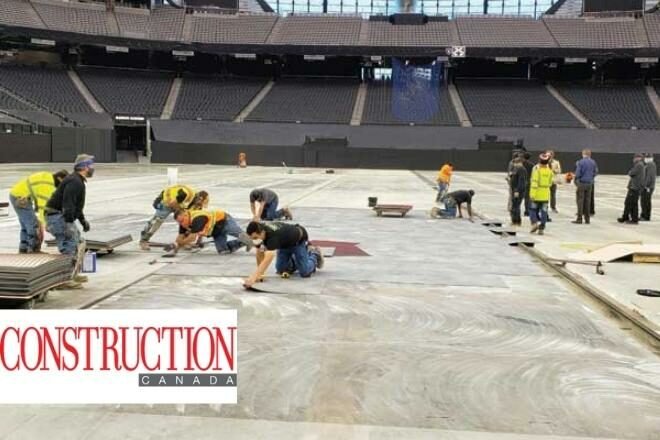 *This article by INSTALL executive director John T. McGrath, Jr. was originally featured in Construction Canada.
When it comes to flooring specification, understanding appropriate moisture measurement, mitigation, and proper floor prep will protect against costly pitfalls in commercial construction. Specifying industry-recognized practices will guard against disruptive remediation. Aside from the cost, moisture related flooring failures cause significant enough disruptions to shut down building operations—resulting in lost revenue, health and safety hazards, and unhappy clients.
While floor preparation and moisture testing (including ASTM F1869-16a, ASTM F2170-19a, and ASTM F710-19e1) have become standard practice, these critical steps can be overlooked due to tight timelines, limited budgets, inexperienced contractors, uninformed specifiers, or installation teams who lack adequate training. The result can be a plethora of flooring problems appearing as early as days or weeks after a floor has been installed, including adhesive degradation, bubbling, cupping, gaps between tiles or planks, and moldy conditions.
For these reasons and more, it is critical for architects, designers, and other specifiers to understand the root causes of moisture-related flooring failure, the importance of ordering standardized moisture testing, and the roles jobsite preparedness evaluation reports and pre-construction meetings play in the flooring preparation process. It could mean the difference between their next success story or a black mark on a firm's reputation.
Advanced Testing Standards
Most resilient commercial flooring product designs install over a concrete slab subfloor. Newly poured concrete slabs often take weeks or months to cure, slowly releasing moisture as they dry. When resilient and other non-permeable flooring systems go in place prematurely, they will fail due to the evaporating moisture rising to the surface of the slab.
These moisture problems are only exacerbated by extreme cold, high humidity and other environmental conditions. In many Canadian provinces, daily high temperatures rarely get above freezing from November through April. Coupled with heavy snowfall and high humidity, concrete slabs in unconditioned spaces can be quick to freeze, affecting the strength of the concrete.
As a result, the American Society for Testing and Materials (ASTM) developed standardized moisture testing and mitigation practices, and well-trained and certified floorcovering contractors put them into practice around the country.
ASTM F1869-16a is an anhydrous calcium chloride test covering the quantitative determination of the rate of moisture vapor emitted from the concrete substrate over time. The relatively simple test involves sealing a small dish of calcium chloride on a clean section of concrete under a plastic dome. The salt absorbs the moisture in the localized environment and the weight gain after three days plugs in to calculate the moisture vapor emission rate (MVER).
While ASTM F1869-16a tests the surface of a concrete slab, ASTM F2170-19a goes a step further. This in-situ relative humidity (RH) test provides the quantitative determination of present RH inside a concrete substrate. It formally recognizes the use of in-situ probes as a means of conducting relative humidity testing, and at the time of its adoption, represented a fundamental change in how moisture was measured in subfloors, as well as the degree of accuracy of information testers could obtain through RH meters.
In-situ probes measure the moisture content deeper within the concrete matrix, whereas calcium chloride tests only the surface of the slab. Each probe or sensor requires a hole measuring 19.05 mm (0.75 in.) in diameter and at a depth equaling 40 per cent of the slab's thickness for slabs drying from one side, or 20 per cent depth for a slab drying from two sides. The probes can also stay in place for weeks at a time to determine if there is a change in moisture levels.
When testing, it is also crucial for installers to consult floor covering product manufacturers, since surface preparation requirements and methods vary depending on the type of substrate, subfloor, underlayment, and floor covering specified.
For example, when applying floor finishes over concrete substrates, some floor coverings require a light grind or shot blast to a specific concrete surface profile while others require a more aggressive mechanical surface preparation in order to achieve a tenacious bond. Slab moisture conditions such as RH, MVER, and the level of alkalinity (pH) also require consideration by installers.
In addition to ASTM F1869-16a and F2170-19a, ASTM F710-19e1 supports the acceptability of a concrete subfloor readiness for the installation of a finished resilient flooring product, ensuring concerns with substrate profiling and potential bond breakage resolve. This assures conditions are acceptable for the installation of the resilient flooring in a timely manner.
Despite the general adoption of these testing methods, there remains an alarming amount of flooring failures. From hospitals to office buildings, hotels to university campuses, fast-track construction, tight budgets and a lack of awareness of these testing standards have resulted $2.4 billion spent annually in the U.S. on remediating moisture and repairing or replacing damaged flooring, according to data from Independent Floor Testing & Inspection.
Barriers to Proper Prep and Testing
Perceived costs and timeline restrictions are, unsurprisingly, major barriers to proper moisture testing and mitigation. General contractors often bid a project at one price and then negotiate lower costs with subcontractors once they secure the project. And since material science education is not a common practice in the industry, there can also be a lack of material literacy among contractors and sub-contractors. If the involved trades feel no need to prepare the floor, they will simply not pay to do it.
"Flooring contractors can feel pressured by general contractors to install a floor without proper flooring prep and moisture testing," said Steve Poniatowski, vice president of sales at ReSource New Jersey. "If they're green and not experienced enough to stand up for themselves, they will likely cave to the pressure. However, this can come back to bite them and literally put them out of business if flooring failures add up."
Another barrier is the increasing use of power troweling by concrete contractors. Power trowelers allow concrete professionals to install and finish large swaths of flooring in a short amount of time. This helps them stay on schedule and within budget in a world of ever-tightening construction deadlines. While the finished floor looks great and is moisture-free at the surface, power trowel machines create a non-porous finish which locks moisture deep within the slab. Moisture will eventually make its way to the surface, and if resilient flooring is installed on top it will fail months or years down the road. Power trowelers also create a surface that is difficult to adhere floorcovering materials to, resulting in a poor bond.
The Importance of Awareness, Training, and Consistent Practices
Unfortunately, there is another root cause of flooring failure. "The lack of understanding surrounding proper flooring prep and moisture testing is often a case of not knowing what you don't know," said Jane Rohde, principal, JSR Associates, Inc., AIA, FIIDA, ASID, ACHA, CHID, LEED AP BD+C, GGA – EB, GGF. "There has been a shift in recent years, with architecture and design students missing out on material sciences courses. This directly ties into material literacy and results in an imbalance, leading to a generational gap where younger designers come out of college with a technical mastery of AutoCAD and other programs but a distinct lack of training in materials and installation processes."
While young specifiers understand product trends and the importance of sustainability, they do not understand the appropriate materials to use in different commercial settings and built environments. This barrier is not easily overcome, but exposing it provides new opportunities for learning and growth—especially among the next generation of building and construction professionals.
"Young designers and architects are not looking at ASTM and other performance standards for guidance," said Rohde. "This isn't entirely their fault—it comes with time and training—but it can lead to mistakes in the specification process."
Another challenge is a breakdown in the chain of communication—a theme echoed by professionals throughout the building and construction industry. Specification writers are often not the same individuals who actually design the space. Their prime responsibility is to develop specifications to accompany architectural drawings to help with the installation of various aspects of the project. At large firms, teams can become fragmented with multiple sets of hands designing and specifying for multiple projects.
"This lack of continuity means that things fall through the cracks," noted Rohde. "To mitigate this, architecture and design firms can rely on manufacturer technical departments for assistance and expertise to educate their team members on site prep, product installation requirements and ongoing maintenance. This should also be shared with the general contractor, client and building operations team members who are responsible for the structure."
Poniatowski echoes this sentiment. During his time at ReSource New Jersey, he has spent two decades educating his team and the greater industry on the importance of moisture mitigation and testing.
"Architects, designers and general contractors should always reach out to their trusted flooring contractors," he said. "Along with manufacturer reps, trained and certified floorcovering professionals can provide a huge amount of insight into the testing and mitigation process. While lunch-and-learns are not as common anymore, there are other opportunities that should be explored since communication is at the core here."
Pre- and Post-Construction Best Practices
Another issue contributing to the lack of moisture testing is a growing lack of pre-construction communication and post-occupancy evaluation. Whether you look at small shops or large global firms, architects and designers may never know what failures occur once they sign off on a project and the space is occupied.
The lack of communication between the various parties involved in the project after its completion is to blame here. That's why experts recommend specifiers prioritize pre-construction meetings with all finish subcontractors prior to installation. This helps to build relationships and allows the specifier to verify conditions meet the specifications and requirements for successful building product solutions.
General contractors should also play a part in these conversations and take responsibility for setting up regular moisture testing during the construction period. By working together, specifiers and general contractors can coordinate with all necessary trades.
"Even in major healthcare facilities that rely on perfectly executed surface installation for the health and wellness of occupants, there is a lack of transparency and accountability," said Rohde.
"A sub-contractor may be called back to fix a problem or flooring failure, but the contractor never hears about it. Similarly, the specifier never hears about the specification error or installation mistake. This leads to a dangerous reality where folks are replicating material selection and installation mistakes over and over. They think the project was a success but there were lessons to be learned."
"Knowledge is power, and with the right tools and understanding, specifiers can guide this process and ensure their designs in the built environment will last for years to come," added Rohde.
The same advice works on the back end. There is no universal or standardized post-construction evaluation process.
"With LEED, Green Globes, or other green building certification systems, you are required to collect data over a twelve-month period to commission a building," said Rohde. "For flooring, finishes, and other interior components, we recommend a 12-month evaluation timeline and incorporating the report in with other measurable performance aspects. The building needs to be occupied to understand what works and what doesn't, although flooring failure may happen before the first employee, student, patient or guest enters the space, the first 12 months of occupancy will provide feedback on any issues or concerns."
Working Smarter Together
As Rohde and Poniatowski both noted, specifiers need to request jobsite preparedness evaluation reports come in prior to installers arriving on the jobsite and maintain open communication with informed and experienced contractors. They always recommend for the specifier to have pre-construction meetings with all finish subcontractors prior to installation to verify conditions meet the specifications and requirements for successful solutions.
"It's important for information regarding moisture testing and mitigation to be shared and discussed long before the flooring installation is even a thought," said Poniatowksi. "Flooring contractors need to be part of the specification and planning process, and contractors should be onsite to test new slabs as soon as the concrete is poured and cured."
For this reason, Poniatowksi includes critical conversations on moisture testing and surface prep during the bidding process for new jobs.
"We always list moisture testing and mitigation in our proposal prices," he said. "Recommended floor prep is itemized, along with additional services like self-leveling products and two-part epoxy moisture mitigation systems, where necessary."
His company has also developed techniques to address power troweled concrete subfloors, including shot blasting and scarifying.
"If we see there is elevated slab moisture and the surface is power troweled, we can go in and shot blast the surface and allow the slab to breathe," said Poniatowski. "We keep the RH probes in from anywhere from a few weeks to a few months with an installation supervisor checking weekly to watch for drops in numbers. If it gets to the right percentage, we can skim coat the surface and install the product with regular adhesives."
However, these solutions are not foolproof. In a world of fast-paced construction this is a time-consuming process which can put flooring installers and projects behind schedule.
"Even when you shot blast the surface, the slab still has a high level of moisture," said Poniatowski. "We end up recommending a moisture mitigation system and use a self-leveler to correct any imperfections. This puts us further behind but is necessary to ensure the integrity of the installation."
When using self-leveling products like these, installers need to also address moving joints and cracks present in the substrate to avoid the transference of cracks in the finish. Installers must evaluate and isolate the area around walls, columns, penetrations, and other building elements where movement may be anticipated.
While these installation techniques and services are handled by trained floorcovering experts, it is important for architects, designers, and other trades to be looped into the process since testing and mitigation may affect installation timelines and project completion dates. Specifiers might only be in charge of "what is required," but boots on the ground are in charge of "how to get it done."
By working together, specifiers, installers and other trades can make the job run more efficiently. For example, if there is an existing subfloor in another part of the space, how long does patching take to dry while a new slab is curing somewhere else? How long will the surface prep really take across multiple spaces? If there are new slabs and existing floors, can the general contractor work with the flooring installer to stagger the installation?
"Working smarter together is the answer to this challenge," concluded Rhode. "Floor preparation and moisture testing education should be common practice across the A&D industry, and the more educated specifiers and contractors are, the less flooring failures we will see in the future."
Knowledge is Power
This discussion demonstrates a gap between specifiers, contractors, and floorcovering installers. Together, their work can yield huge success. Working apart is a recipe for failure. Moisture testing and concrete slab performance are not typically part of the interiors team and the specification process, yet these subjects directly affect the performance of specified floorcovering products.
This is where education, training, and certification comes into play. There are organizations which offer comprehensive floor covering training to flooring professionals, who can, in turn, educate architects and designers to better understand moisture testing and floor prep.
Knowledge is power, and with the right tools and understanding, specifiers can guide this process and ensure their designs in the built environment will last for years to come.
About the Author
John T. McGrath, Jr. is the Executive Director of INSTALL – the International Standards and Training Alliance, which is the construction industry's best industry-endorsed floor covering installation training and certification program.
McGrath has helped to increase installation standards and expectations in the flooring industry by playing a leading role in facilitating communication and cooperation among mills, manufacturers, specifiers, contractors and installers. All of these groups regularly come together to review and revise the INSTALL curriculum and certification standards. He was a significant contributor in creating the ANSI S600 Carpet Installation Standards and has served as a returning judge in the Starnet Awards, Canadian Apprenticeship Contest and the Schonox Worst Subfloor in North America Contest.
Explore More News from INSTALL