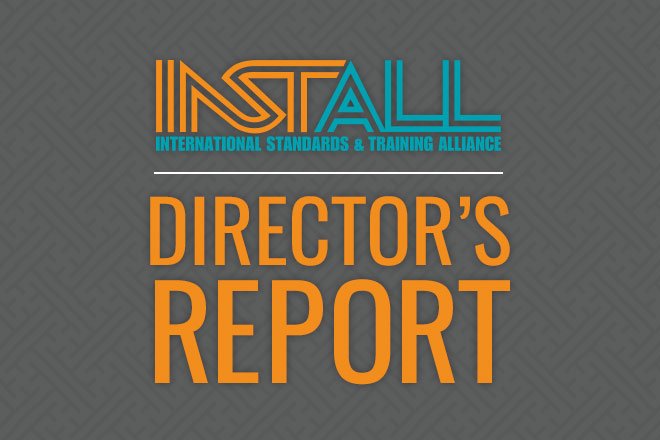 The 2018 UBC Interior/Exterior Systems & INSTALL Leadership Conference was recently hosted at the International Training Center from June 24th to 27th. It was an impressive gathering and I would like to thank and congratulate the UBC leadership, staff, the speakers and all of the attendees. In total, there were nearly 600 attendees from all the UBC crafts. We had a full house!
From day one, General President Doug McCarron and General Secretary Treasurer Andy Silins made it clear that this would be a working conference. INSTALL's primary goals were to recruit more of our contractors to expand across the United States and Canada, and to increase Labor/Management/Manufacturers (LMM) collaboration everywhere.
During an industry breakout, Southern District Vice President Dennis Donahou walked-through a compelling presentation on the UBC's efforts to support market share growth across North America. Donahou also led a panel on the successful INSTALL collaborative programs in Florida and the Central South.
These cases serve as a proven game plan to grow and improve INSTALL market share in other regions, as well. Western DVP Phil Newkirk brought expansion to lucrative markets that include Seattle, San Francisco, Southern California and Las Vegas. Another telling sign of the capabilities and promise of INSTALL's expansion efforts was found with the Southern District's INSTALL Olympics representative, Ryan Altic, who went on to win the event at the conference.
VP of the Chicago Regional Council, Keith Jutkins, Tom Sheridan, President of The Professional Flooring Installers Association, and Tarkett's Don Styka gave an insightful presentation on an LMM pilot program conducted in Chicago. With this, INSTALL, our contractors and Tarkett partnered to engage and educate the design community on the importance of specifying quality products that are installed by certified professionals. Stemming from the success of this initial work, it was decided that this program will continue in Chicago. We are also in the planning stages of leveraging the curriculum throughout other areas of the U.S., with collaboration from Midwest DVP David Tharp, while soliciting the USDVA to specify UBC ICRA certifications.
Concrete polishing is the market's fastest growing hard surface flooring, with millions of work-hours slated to be performed in the next three years. This is a significant opportunity for UBC floorcoverers and we are positioning our members for success in the arena. We are committed to train and grow our workforce, and we will not forfeit our future within this category. Chair of the conference, Eastern District VP Mike Capelli, provided a platform for the audience to learn about the effective collaborative concrete polishing organizing that is taking place in the Eastern District.
Lastly, we are growing in presence, capability and acceptance. Recognition of INSTALL as our industry's leader in professional floorcovering installation continues to grow as more of our peers throughout the market interact with our members and see the quality of work our program delivers. Please continue this upward trajectory and look to identify yourself as an INSTALL contractor or representative through your business cards, clothing, website, and other promotional materials. A unified approach will help us all deliver on the INSTALL Promise – to deliver work we can ALL take pride in.
Explore More News from INSTALL