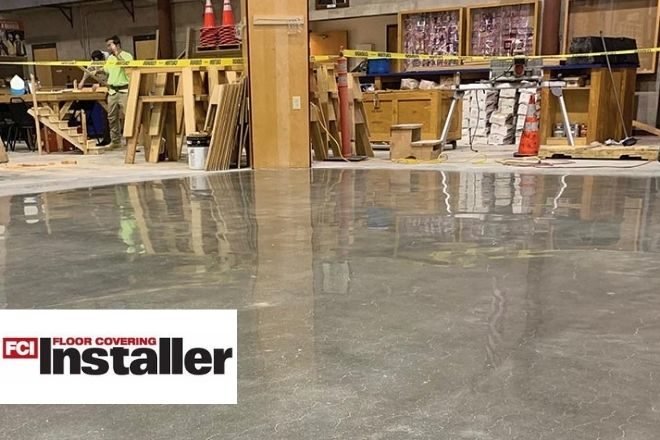 *This article by INSTALL executive director John T. McGrath, Jr. was originally featured in FCI Magazine.
With a unique combination of performance, durability and aesthetics, the polished concrete market continues to shine, taking market share from other hard surface floor coverings. As a result, contractors and industry experts are increasing their focus on installing and maintaining polished concrete, along with complementary finishes like pourable wear toppings.
However, without the proper training and education, contractors can do more harm than good when it comes to selling and installing this popular new player, drying up potential revenue streams and souring client relationships. In order to avoid this, organizations like INSTALL are investing in education and training while promoting safe working practices during COVID-19.
Polished Concrete Takes Center Stage with a Little Help from the Experts
While polished concrete has been around for years, it has recently seen a dramatic increase in popularity among specifiers working in commercial and industrial spaces. The growth in demand can be attributed to its durability, sustainable selling points, and improved technology and grinding techniques.
Yet as polished concrete continues to rise in prominence, flooring contractors and installers must also rise to the occasion in order to complete projects on time, on budget and without callbacks. That's why organizations like INSTALL have partnered with top manufacturers to develop training sessions that are designed for specific types of machines and product lines.
A typical polished concrete INSTALL training session with manufacturer input spans three to five days and includes a combination of in-class time and on the floor time. Since there is a need to comply with the manufacturer's standards, INSTALL continues to ramp up its dedication to concrete polishing training and is working to develop an official curriculum.
This commitment has been demonstrated by INSTALL and the United Brotherhood of Carpenters through several collaboration and curriculum development sessions with industry experts and third-party players over the past three years.
"Our new and improved polished concrete and pourable wear toppings curriculum has proven popular among apprentices," said Eric Martinez, Instructor with the North Atlantic States Carpenters Training Fund (NASCTF) in Millbury, MA. "They see this as the future of flooring, and manufacturer partners are constantly bringing in new and improved products that provide a wide variety of finish options. It's really impressive what they are doing to push the design envelope," he added.
Martinez spent more than a decade in the installation industry before joining the NASCTF as an instructor in 2018. During his time at Allegheny Contract, polished concrete was growing upwards of 20% per year, signaling a major shift in the market.
"We knew something was up when new machinery started arriving at the shop," said Martinez. "This equipment is expensive, so this was a clear sign that the team was making a major investment in the polished concrete driven by the needs of commercial interior designers, specifiers and facility owners," he added.
New Revenue Streams for Contractors Come with a Price
Due to its increased popularity, concrete and pourable wear toppings are leading to new revenue streams and opportunities for flooring contractors around the country. In addition to traditional floorcovering materials like carpet tile and LVT, these trained and certified shops can offer the ease and convenience of non-porous surfaces backed by an industry-exclusive warranty from INSTALL.
Nobody knows this better than Vince Buttari, owner of INSTALL Warranty Contractor Heritage Flooring of West Berlin, N.J. Specializing in a variety of commercial flooring applications, Buttari's team bids both public and government work, and installs flooring in some of the state's largest casinos, event facilities, schools, hospitals and retailers.
As poured concrete and pourable wear topping began to increase in popularity in the early 2010s, he recognized that it would be an excellent choice for his clients across Southern New Jersey. Buttari also leveraged his roster of long-term clients who were looking for new ideas and services. Polished concrete was a natural extension of his existing work and he began recommending it thanks to its longevity, durability and unique aesthetic.
Buttari became somewhat of a pioneer in the concrete polished world. He developed a unique formula and process and discovered that you can create a smooth yet vibrant floor installation by adding glass or mirror chips to the overlay, finishing it off by polishing it.
"Adding glass to overlay is a great technique for clients who are looking for ways to help reinforce branding in floor design," Buttari said. "It allows you to perfectly match school colors (and spirit) as well as create brand specific logos or color palettes."
While adding glass to overlays create impressive installations, they represent only 10-15% of his work depending on the year. That is mostly because it is an expensive process. Buttari tried to convince his casino clients of the benefits of polished concrete, but because the casinos already have a system of purchasing product independently, he can't get them to budge.
That said, most of the polished concrete work is in the education vertical, where it provides budget-conscious school districts with a maintenance free and hard-wearing solution to traditional floorcovering materials.
While polished concrete and pourable wear toppings have helped Buttari identify new sources of revenue and grow his business, they came with a price.
"If you want to get into concrete polishing it all starts with the right machinery, you can't take short cuts when it comes to getting the right equipment," Buttari said. "This includes HEPA vacuums, which are very important for controlling dust and ensuring a safe jobsite. While the initial investment up front is expensive, if you want to do it right and make a profit, the right equipment is key."
In addition, Buttari said that no matter how good your equipment is, you still need to understand how to use it properly.
"This is where INSTALL training comes in," he added. "The organization has done an excellent job incorporating new hands-on training and education surrounding polished concrete and pourable wear toppings."
Finally, Buttari stresses another important ingredient for growing the concrete polishing portion of his business: building relationships.
"From the facility managers at Atlantic City casinos to several school districts in the state of New Jersey, everything we do is backed by strong morals and ensuring we are a trustworthy partner for our clients," he noted.
"If I had one piece of advice to give to others just starting in the flooring installation field and concrete polishing, it would be to focus on growing connections. That is the key to securing more jobs, getting more hours for your employees and expanding your business as a contractor."
Addressing COVID-19 on the Jobsite
Part of expanding one's business as a concrete polishing contractor also comes down to safety. Since grinders and other equipment create a significant amount of dangerous silica dust, team members are already used to using high-power HEPA filters, wearing N-95 respirators and donning personal protection equipment (PPE) to keep dust off of clothing and soft surfaces.
"While installers are already used to wearing masks, there are still challenges on the jobsite," said Martinez. "Since grinders and concrete polishing machines are expensive, team members share equipment. It's important that a safety lead is determined at each jobsite, and ensures all equipment is sanitized between users," he added.
Martinez also noted that training centers like his are installing plexiglass dividers between mock-ups, handing out additional PPE to apprentices and instructors, and requiring all personnel to complete a four-hour COVID qualification course before returning to the building. They have also reduced class sizes to allow for social distancing.
No Longer a Fad
Despite the uncertainties of COVID-19, polished concrete and pourable wear toppings continue to rise in popularity. Highly cleanable, durable and aesthetically pleasing, they represent a shift in commercial interior design, and are no longer just a trend. While it requires the right skills, organizations like INSTALL and contractors who value education and certification are making the investment in installation excellence.
Explore More News from INSTALL