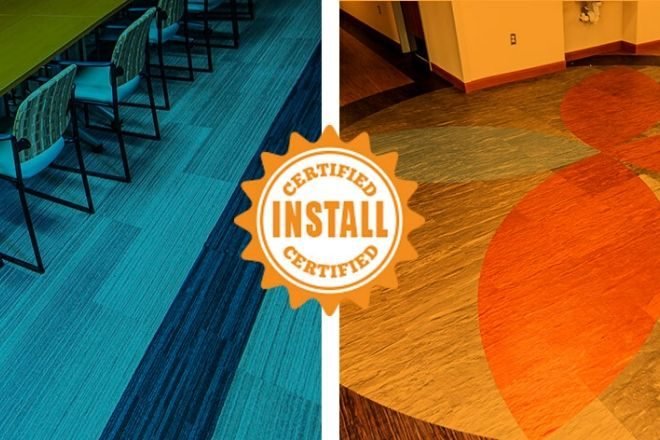 INSTALL, aligned with the United Brotherhood of Carpenters and Joiners of America (UBC) continues to assist the architecture, design and construction community with industry-leading education and training to combat the spread of COVID-19. From specialized courses on infection prevention and control to cleaning and disinfection practices developed by healthcare experts, the organizations have worked tirelessly to ensure the safe specification and installation of floorcovering throughout the pandemic.
Recently INSTALL put even greater emphasis on working hand-in-hand with commercial architects and designers to develop best practices for specifying flooring throughout COVID-19 and beyond. While these rules mainly apply to healthcare facilities, they can be used in several commercial applications including hospitality settings, institutional design and more.
Specifiers should involve and work directly with each client to analyze the facility, patient and staff needs and identify the best combination of attributes for each specific project. By focusing on these five areas, architects and designers can ensure safe and healthy facilities, balance aesthetics and cleanability:
Five Best Practices
Compatibility with Disinfectants:  Ensure the finish or texture of the flooring will not be ruined by disinfectants and cleaners that can kill surface bacteria. While the CDC recommends standard disinfectants or soap and water for general businesses and home environments, hospital-grade disinfectants are much stronger.
Cleanability and Maintenance:  Not only should flooring be able to stand up to disinfectants, it should be easy to clean quickly and efficiently multiple a times a day without disrupting operations or special equipment.
Aesthetics:  The goal in healthcare environments is to make a facility look and feel like home so it is more comfortable for patients and visitors. The flooring should provide the right aesthetics to promote healing and create a restful and calm environment.
Porosity:  Porous surfaces are a haven for germs and bacteria, including COVID-19. Contractors recommend non-porous or semi-porous sheet flooring that can be heat-welded, or flash coved. Polished concrete and epoxy flooring provide a non-porous surface as well.
Facility Benefits:  Finally, does the flooring provide the right benefits for the space? Factors to consider include acoustics, rolling loads, traction, long-term maintenance, replacement costs, etc.
"There are a variety of challenges when specifying flooring in healthcare environments," explained John T. McGrath Jr., Executive Director, INSTALL. "While the overall aesthetic is increasingly important, specifiers have to consider acoustics, cleanability, durability, performance and the impact of new disinfectants that combat the spread of COVID-19. It's a major balancing act, but there are several ways specifiers can increase longevity and improve safety."
Contractors Play an Important Part in the Equation
"You need to look at all of these best practices equally. Every space is unique, and it's important for architects and designers to lean on manufacturers and contractors to glean the most important information and look for cohesive product lines that allow you to achieve specific needs across the facility with one aesthetic," said DeAnn Richards, Infection Preventionist and ICRA Consultant, North Central States Regional Council of Carpenters. Richard's comments highlight another important part of this conversation— It's critical that the A&D community work with trusted manufacturer partners and trained, certified and educated contractors.
"Contractors know and understand product durability, how to clean and maintain that product, and how to install it in the safest way possible," said Jayson Karas, ICRA Facilitator, North Central States Regional Council of Carpenters. "Preventative maintenance is another key consideration here. Architects and designers should be good stewards of the flooring system they specify. They should share maintenance and cleaning practices directly from the manufacturer. After all, the manufacturers know what works best for their own flooring," he added.
A Longtime Focus on Infection Control
INSTALL and the UBC have long understood the importance of health and safety on the jobsite, especially when it comes to mastering Infection Control Risk Assessment (ICRA) standards and protocols. ICRA focuses on how to contain pathogens, protect patients, and work without disrupting adjacent operations.
"Through ICRA training, our members learn to minimize risks, understand and adhere to ICRA protocols and communicate with a facility's ICRA team," McGrath added. "That's why as COVID-19 began to spread throughout North America in February and March, we worked directly with our ICRA program creator, the Carpenters International Training Fund, to expedite online courses for our contractors in the field."
The Work is Only Beginning
As the response to COVID-19 evolves and we learn more as an industry, floorcovering professionals will continue to make changes and updates to best practices for healthcare facilities. INSTALL's goal is to empower architects, designers and contractors to become more educated, brainstorm new ideas and continue to review infection control protocols. The work is only beginning, but together we can save lives and minimize the spread of infection.
Explore More News from INSTALL