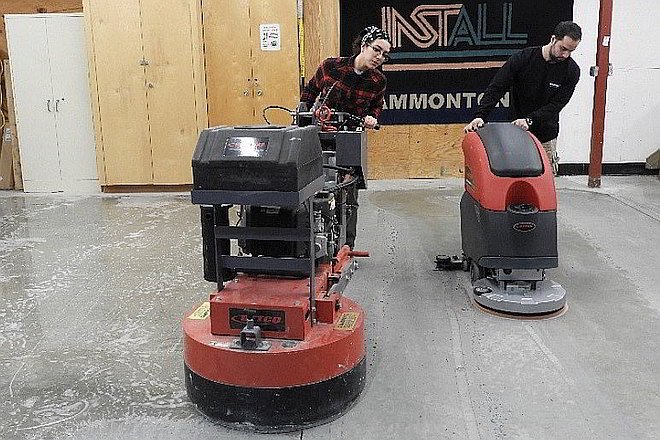 "Engaging and detail-oriented." That's how Susan Espinoza described the Concrete Floor Polishing training she recently received at the Hammonton, New Jersey Training Center. Three other Sisters, Emily Huber, Ebony Burke, and Leondra Charleau, joined Susan and several Brothers in the one-day training class on December 18, 2017.
During the training, they learned how to operate specialized equipment involved in the floor polishing process. The training required using three machines: one to clean the debris and one to sand the concrete. "We did this three times, horizontally and vertically", explained Leondra. The third machine was used to spray the concrete, which was the last phase.
Offering additional praise for the training, Ebony said, "The teacher was patient, explaining everything clearly and making sure you understood." Emily added, "The class was very educational", which is evidenced by the photos that show Sisters and Brothers engaged in hands-on learning.
As first year apprentices, all four Sisters appreciated the opportunity to learn a new skill. They were also very grateful to Susan Schultz, Council Representative and International SIB member, for encouraging them to attend the training.
Ebony offered one bottom-line sentence to describe the training, "It was a remarkable and rewarding experience."
You can also learn more about reducing maintenance costs and earning LEED credits with INSTALL's polished concrete floor training here.
Explore More News from INSTALL