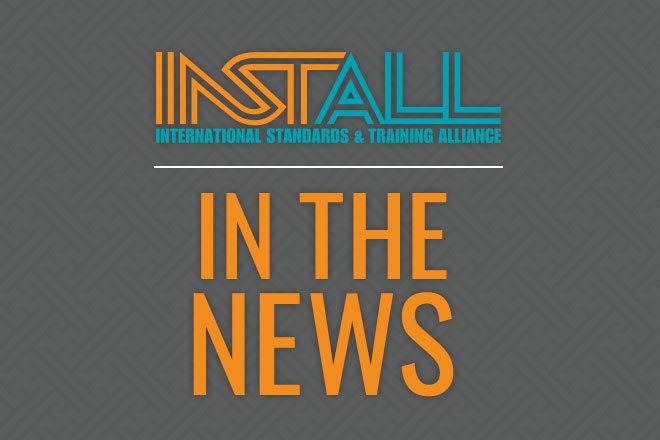 USG Releases Durock Brand CoverPrep MVR
USG has launched Durock™ Brand CoverPrep MVR (Moisture Vapor Reducer) is a universal, low-prep moisture vapor barrier engineered specifically for the most challenging concrete substrate conditions.
This water-based epoxy is incredibly versatile and can be applied directly over various adhesive residues, old vinyl tiles and cutback, chemically abated slabs, asphalt-based products and other well-bonded solid surfaces (including chemically abated slabs), all while managing moisture levels up to 25 lbs. of moisture vapor emissions per ASTM F1869 or 99% RH.

Find More on the Latest from USG
Wagner Meters Waives the $75 Fee for Rapid RH Training and Certification During COVID-19 Lockdown
Wagner Meters, a worldwide provider of wood and concrete moisture measurement instrumentation, has announced that effective immediately, and for a limited time during the nationwide COVID-19 lockdown, the $75 fee for their online Rapid RH® Training Course and Certification for concrete moisture testing will be waived.
The fee waiver is part of Wagner Meters' overall effort to provide floor covering industry professionals with more training and education opportunities to prepare for the imminent and possibly dramatic return of business when lockdowns are lifted. The Rapid RH Training Course features video presentations by experts such as Howard Kanare on topics such as "RH Testing for Concrete Floors", "The Most Useful Method", and "The Most Accurate Measurement Device".

Get Full Details from Wagner Meters
Wagner Meters Offers New Webinar That Explores the "Why, What and How of Concrete Moisture Testing"
Wagner Meters is pleased to offer an all-new training webinar that gives contractors, flooring installers, and building inspectors who work with concrete the essential information they need for reliable testing of moisture in concrete floor slabs.
This free hour-long online presentation, titled The Why, What and How of Concrete Moisture Testing, will help industry professionals avoid a flooring disaster due to excess moisture in concrete.
The new webinar covers a wide range of topics and answers many key questions, such as:
What influences the rate at which concrete dries?
What are today's best options for concrete moisture testing?
What is needed to comply with ASTM guidelines?
The highly informative webinar is presented by Jason Spangler, Flooring Division Manager for Wagner Meters.

ARDEX Americas Introduces New Installation Solutions
As the construction industry ramps up, installers are getting back on job sites, but are faced with challenges that include tight turnaround times and new safety protocols. There is a growing need for installation solutions that are not only reliable and easy-to-use, but also deliver unprecedented speed.
To help installers build their business and deliver excellent results, ARDEX has launched Need for Speed™. Focusing on eight different types of systems, Need for Speed gives installers a range of ARDEX products that deliver both the outstanding performance you expect, with the incredible speed you need.

DiamaPro Systems' UV-HS Plus Floor Coating Protects Against the Heaviest Foot Traffic
Protecting your concrete floor has never been easier than with DiamaPro UV-HS Plus. This protective floor coating cures instantly with a UV light source, allowing the floor to be returned to service immediately.
Other benefits of UV-HS Plus are incredible durability and chemical and abrasion resistance.
Infused with Microban technology, UV-HS Plus has added antimicrobial protection. By using DiamaPro Systems' UV-HS Plus, you will keep floors cleaner by preventing damaging microbial growth before it can start. Perfect for applications where floor sanitation is critical.

See the UV-HS Plus Floor Coating System in Action
Explore More News from INSTALL