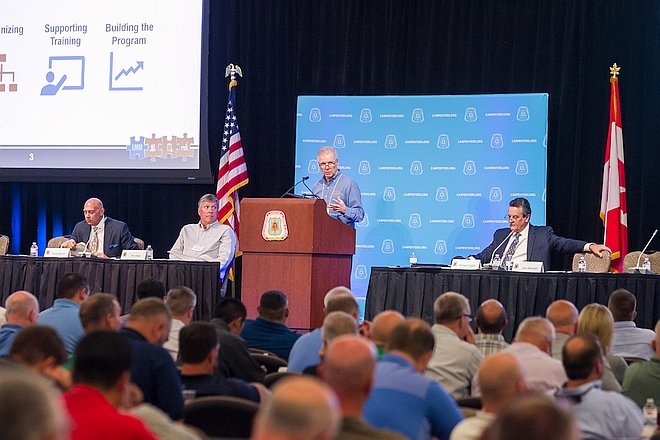 The United Brotherhood of Carpenters and Joiners of America (UBC) recently announced several high-profile retirements and promotions within its executive leadership team. The organization, which has over a half-million members, also reaffirmed its commitment to key INSTALL initiatives and programs that play a critical role in training and certifying labor across 26 regional and district councils in the United States and Canada.
Retirements and Promotions Punctuate the Exceptional Talent of UBC Leadership
UBC General Vice President Douglas J. Banes and General Secretary-Treasurer Andris J. Silins announced their retirements earlier this year. Throughout their careers, Banes and Silins facilitated significant contributions within the UBC and throughout the floorcovering industry.
Banes was a longtime proponent of the development of training for UBC membership. His efforts paved the way for innovative industry training taught at the Carpenters International Training Center. Silins served as the Labor Chair for INSTALL and with the Interior Systems Labor-Management Committee. In addition to his responsibilities and commitment with the UBC, he served as chairman and trustee for a number of UBC-related pension funds.
On April 1, 2019, Second General Vice President Frank Spencer assumed the office of General Vice President, Midwest District Vice President David Tharp moved up to Second General Vice President, succeeded by Mark McGriff. Of special note, Eastern District Vice President Mike Capelli stepped into a new role serving as General Secretary-Treasurer of the UBC and INSTALL Labor Chair. Capelli is a 3rd generation carpenter who has been a member of the UBC since 1986. Bill Waterkotte succeeded Capelli as Eastern District Vice President.
Capelli will play a critical role in overseeing the future of INSTALL. His support and direction alongside the INSTALL Labor-Management Committee will only strengthen and bolster the organization, and he seeks to uphold key initiatives and programs already underway, including:
INSTALL Expansion Partnership Program
Concrete Polishing Training and Certification development
Educating the A&D community, along with other floorcovering specifiers, on the importance of specifying trained and certified labor
Key INSTALL Initiatives for the Future of UBC Labor
The INSTALL Expansion Partnership Program is a time-tested method of collaboration with flooring contractors to grow their business in new territories. From locating key geographic hot spots of construction growth to offering in-the-field expertise, the program helps members expand their reach, grow revenue streams, and cultivate industry relationships.
A key component of this initiative is the inclusion of INSTALL certified labor in the U.S. Department of Veterans Affairs (USDVA) Master Specification. With the recent enhancement of the Resilient Sheet Flooring Quality Assurance requirements to the Master Specification, the USDVA now compels the vast majority of floorcovering projects to be completed by INSTALL certified installers due to specific language on training and certification.
INSTALL is also leading the charge in developing and implementing a comprehensive concrete polishing curriculum. Leadership has worked hand-in-hand with manufacturers, contractors and industry influencers over the past few years to craft a new curriculum based on real-world challenges. Today, this landmark curriculum is nearing completion and will soon be implemented across the United States and Canada.
Finally, INSTALL remains committed to educating architects, designers and other specifiers on the importance of specifying trained and certified labor. By developing CEUs, influencer engagement events and other learning opportunities, the organization will continue to spread awareness of the INSTALL Warranty Program and will deliver value to stakeholders through properly installed flooring that is "done right the first time."
A Bright Future
As the floorcovering industry's most endorsed and specified training program, INSTALL continues to push the envelope when it comes to training and installation excellence. As a united team, Capelli and the INSTALL Committee will work together to ensure a bright future defined by industry-changing initiatives and a dedication to quality that is unmatched by other organizations.
Explore More News from INSTALL