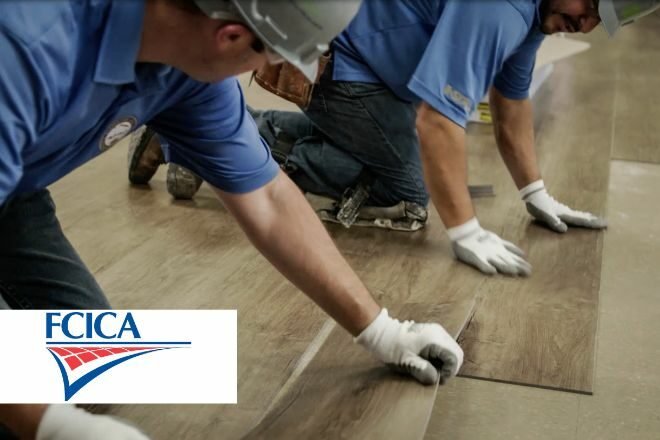 *This article by INSTALL executive director John T. McGrath, Jr. was originally featured in the FCICA's Flooring Contractor Magazine.
Floorcovering installation is a complex, multi-stage process that requires training and experience to master. Missteps at any stage of the process can lead to costly rework and create health and safety hazards for building occupants. The best way to ensure installation crews deliver beautiful, healthy, and safe installations is by providing them with proper training. To help understand the difference training can make, here are two common health and safety risks caused by flooring failure due to improper installation, plus some tips for what to look for in the right training program to help installers prevent them.
Tackling Trip Hazards
Trip hazards are one of the most common signs of improper floorcovering installation. While some trip hazards are caught and corrected during installation or final inspection, others may not appear until weeks or months after installation is complete. For flooring contractors, mistakes that are caught after the fact can mean costly corrections and schedule disruptions. For building owners and occupants, trips and falls can result in a range of consequences from minor property damage to more serious occupant injuries or even death.
Uneven floorcovering gradations, deficient trims and transitions, blown out seams and corners, and adhesive failures are just a few of the many poor installation results that create trip hazards. Each of these is largely preventable by training or retraining personnel on proper installation techniques. To help installers perform installations that result in safer environments free of trip hazards, training should include how to:
Review the manufacturer's guidelines. Every floorcovering product has its own set of installation instructions, and these instructions are frequently updated as new materials are developed and techniques evolve. Routine review of these guidelines will help every installer, from novice to experienced, best utilize the materials and help ensure short and long-term installation success.
Assess the installation site. Installers should be taught to evaluate conditions like temperature extremes and variations between the substrate and ambient temperatures, as well as moisture readings before installation begins. These factors will impact the materials, bonding, and the techniques they use for installation.
Allow the flooring material to properly acclimate. Flooring materials are sensitive to environmental conditions and need time to adjust to the conditions where they will be installed. Taking the time for acclimation allows the material to expand or contract before installation for a better and safer fit. Carefully consider trims and transitions. In areas where heavy loads and foot traffic both take place, the difference between rubber and metal trims/transitions can be significant. NOT knowing the performance capabilities between what, where and how they can withstand and be installed can create tripping hazards.
Many health and safety risks due to poor floor covering installations are the result of installer inexperience or lack of proper training. While some installers may learn a few skills on the job, they may be learning from others who have bad habits or who were never properly trained themselves. Proper, formal training from professional certified instructors can help build skills faster. You can be confident and depend on the industry-recognized training to reflect the best practices recommended and endorsed by the industry.
Mitigating Moisture
Controlling moisture is a major consideration in every flooring project. But while the average commercial client may only be concerned with moisture in relation to material failure, those in the healthcare and foodservice industries view unchecked moisture as a serious health risk.
Ultimately, moisture that collects in, over, or under any floorcovering can become a breeding ground for mold, bacteria, and viruses, as well as a cause for flooring failure. As such, training installers to recognize and mitigate sources of moisture is essential for protecting the integrity of the flooring installation and the health of building occupants. Even though floor preparation and moisture testing are considered best practices among installation professionals, tight schedules and strict budgets often create other working challenges that can lead to rushed installations or shortcuts that result in moisture problems.
For instance, many resilient commercial flooring products are designed to be installed over a concrete slab subfloor. Depending on environmental conditions, a slab can take weeks or months to sufficiently dry, and as it dries it releases moisture. When non-permeable flooring is installed over a concrete slab before the drying process is sufficiently complete, the continuous migration of moisture to the surface can cause the flooring to fail. Specifically, floor prep and adhesive degradation can occur causing bubbling in sheet flooring and gaps between tiles or planks.
Another installation shortcut that can cause flooring failure is a concrete slab that has been power troweled. This technique is often specified to be performed by concrete contractors who are in the position of having to install and finish large areas in a short amount of time. Like flooring installers, concrete contractors are also under a tremendous amount of pressure to meet tight schedules and strict budgets; however, this quick finishing method can lead to various problems with moisture and adhesion. The finished concrete looks moisture-free at the surface, but the power troweling locks moisture inside the concrete, delaying its drying and eventually finding its way to the installed flooring. In addition, the smooth surface may be incompatible for some adhesives needing a porous surface.
To resolve these and other moisture-related issues, installers must be trained to recognize sources of moisture and instructed on proper mitigation techniques. These include waiting an appropriate amount of time for materials like concrete to dry, as well as understanding moisture mitigation systems and how to use them in different commercial settings
What to Look for in a Training Program
Identifying a training resource that is guided by industry leaders, manufacturers and technical experts is the first and most important step installers can take to ensure a proper installation and prevent health and safety risks like moisture and trip hazards. When programs have stakeholder buy-in from all corners of the floorcovering industry, it's a good sign that the training is reputable, comprehensive, and continually updated with the latest standards.
An effective training curriculum starts with standard skills that help new installers master the fundamentals of floorcovering installation before they move on to higher-level skills and techniques. Furthermore, training should include lessons in safety, fundamental skills, and productivity to teach novice installers how to work efficiently and effectively without cutting corners.
An expert training program will also offer continuing education opportunities to keep installers up to date on the latest products and installation techniques. In some cases, flooring contractors can partner with training organizations to ensure that every installer is trained in the same standards—which offer the added benefit of an extended warranty on the installation and labor, beyond the flooring manufacturer's product warranty.
Together, all of these learning opportunities can produce skilled installers and safer floorcovering installations.
About the Author
John T. McGrath, Jr. is the Executive Director of INSTALL – the International Standards and Training Alliance, which is the construction industry's best industry-endorsed floor covering installation training and certification program.
McGrath has helped to increase installation standards and expectations in the flooring industry by playing a leading role in facilitating communication and cooperation among mills, manufacturers, specifiers, contractors and installers. All of these groups regularly come together to review and revise the INSTALL curriculum and certification standards.
Explore More News from INSTALL