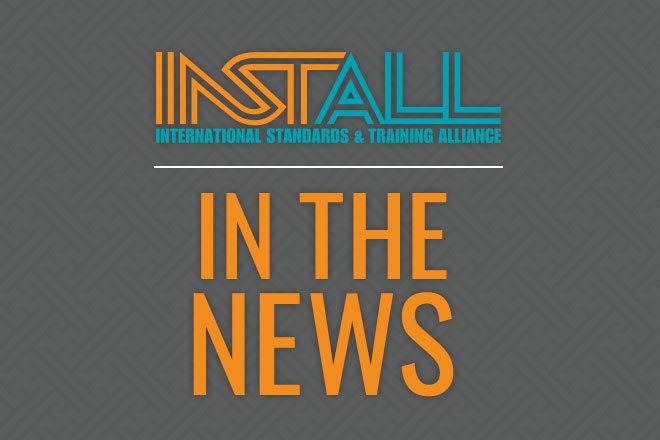 INSTALL Alliance Partners represent the top mills and manufacturers in the floorcovering industry. Partners contribute to training and ensure that INSTALL members are the most highly trained and respected in the industry.
Contact us today for information on joining the INSTALL Alliance. All mills and manufacturers in the floorcovering industry are invited to join.
The Future of Real-Time Flooring Installation Quality Management Is Here!
Floorcloud™ from Construction Connectivity, Inc is the only SaaS solution built specifically for the flooring industry using IoT sensor technology. Monitor, communicate and archive essential jobsite conditions and product data in real-time using our fully integrated solution.
Construction Connectivity, Inc. was founded by a team of construction industry veterans to better connect installers and manufacturers using mobile technology. Our goal is to help the industry improve jobsite quality assurance so that installations can be completed successfully, on schedule and within budget.
ARDEX is Recognized at 2022 Starnet Design Awards
ARDEX Americas was grateful to be part of the Starnet Commercial Flooring Annual Meeting in Colorado Springs, Colorado, to celebrate the commercial flooring partnership's 30th anniversary this past week. ARDEX has been a vendor partner with Starnet from almost the beginning and is honored to be associated with this inspiring group of commercial flooring professionals. Starnet is a network of independent flooring contractors and manufacturers aimed at fostering industry partnerships and supporting the highest standards for flooring projects.
Tramex Meters Installation Quick Check for Concrete Moisture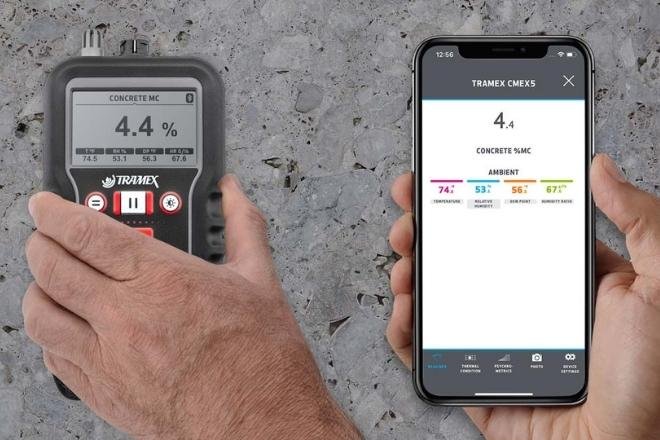 Avoid dew-point moisture related floor failures at the time of installation with this quick concrete moisture test method from Tramex, developed for professionals in the concrete and floor covering related industries.
Even when pre-installation relative humidity and concrete moisture content testing has been successfully performed, ambient conditions can change at the time of installation.
This can cause condensation on the concrete floor and bring the concrete back up above the specified "dry enough" threshold.
If this condensation goes undetected it can affect your flooring or coatings, causing floor failure.
In fact, it is believed that this is actually the cause of the vast majority of floor failures.
Concrete moisture testing is only valid at time of testing, which is why a concrete moisture test should be conducted immediately before and during the flooring installation.
By implementing this fast and easy Installation Quick Check, you can identify condensation at dew-point and prevent failures before they happen.
Find the Tramex Meters Quick Check Here
The Latest From Küberit USA
Küberit Product Samples Now Available Via Swatchbox®
Küberit USA, designer and manufacturer of innovative floor and wall profiles, has extended its focus on an efficient product specification pathway via its partnership with Swatchbox®, the premium sample fulfillment platform for building products. "Küberit designed our product specification and selecton process, understanding the many decisions architects, designers, and project owners face when planning," explained Karen Bellinger, Executive Director, Küberit USA. "Swatchbox will play an integral part in that process, getting the right Küberit samples into the hands of these busy design and construction professionals in minimal time."
Küberit Wins Silver Award Honor at First Best of NeoCon COmpetition
Küberit USA won the Silver Award in the Best of NeoCon competition for its Küberit Expansion Profile product. This is the first year the company has shown at NeoCon and it first participating in the competition. "We are delighted to see Küberit's hard work and innovation recognized by the commercial interior design community and the Best of NeoCon jury," commented Karen Bellinger, Executive Director, Küberit USA. "Our thanks to everyone within the NeoCon organization and the design professionals who made up the 2022 jury."
The Küberit Expansion Profile competed in the Specialty Flooring category, featuring the product's solution to installing floor coverings over expansion joints and saw cuts. The unique construction of the profiles allows movement of the joint, while making a strong style statement available for use with floor coverings from 2mm (1/8") up to 15mm (9/16"). Küberit Expansion Profiles are new to the market, solving decades-long flooring problems with an innovative design and functional solution for use with any floor covering.
"As we travel the US meeting with design professionals and project planners, it is exciting to present the Küberit product series with its innovative solutions, specification method, and aesthetic presentation," commented John Solberg, Sales & Business Development Manager, Küberit USA. "Seeing Küberit innovation affirmed by the Best of NeoCon jury with a Silver Award encourages us even more to help customers with profile solutions for every project, design, and surface."
Schönox Need for Speed™ and Hands on Training Met the Porsche® Track Experience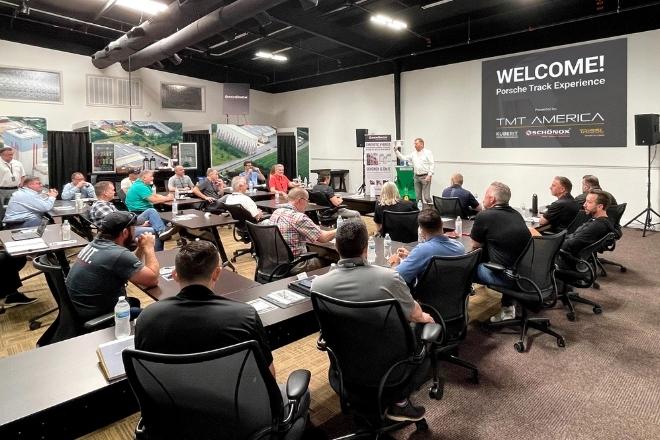 Customers and colleagues attending a recent Schönox Hands ÖN Training session at the company's Florence Support Center split their week between learning the speed and performance characteristics of both Schönox and Porsche®. Both experiences were hands ÖN. At the end of the week, all agreed you can make a lot of money with one, a lot of memories with the other, and both are really, really fast.
"The Porsche Track Experience was one of the best times of my life," commented Les Lippert, President, Lippert Flooring and Tile. "It was a great opportunity to meet more of the Schönox and Küberit team and see their facilities."
Hosted by Schönox, Küberit USA, Trissl Sports Cars, and TMT America, the weeklong event's pace was set from the beginning with guests picked up at the airport in a series of Porsche Macans and Cayennes. Schönox Hands ÖN training followed, introducing attendees to Need for Speed™ products and strategies. Küberit USA staff shared the company's rapidly-growing line of floor and wall profiles, providing solutions for all projects and floor coverings. The training later moved from the Schönox Support Center to Barber Motorsports Park, home of the US Driving School of Porsche.
"It was a fantastic event, showcasing outstanding technologies in the hands of so many leaders in the flooring industry," said Mike Penney, Senior Vice President Sales, Schönox HPS.
The Schönox Florence Support Center hosts flooring contractors, installers, distributors, and specifiers on a weekly basis, providing comprehensive training covering the uses, benefits, installation details, and project strategies of the entire Schönox subfloor series.
Trissl Sports Cars, a division of TMT America as is Schönox HPS North America, hosts several events at Barber Motorsports Park and at the Trissl Sports Car facility each year. The Porsche Track Experience is designed to put drivers in Porsches on a world-class track, learning quickly, while safely testing their limits. "There's little doubt that I want a Porsche now, but what made me happiest was the opportunity to have these experiences with my father (Dan Ulfig)," remarked Garrett Ulfig, Southwest Director, Master Craft Floors.
Explore More News from INSTALL