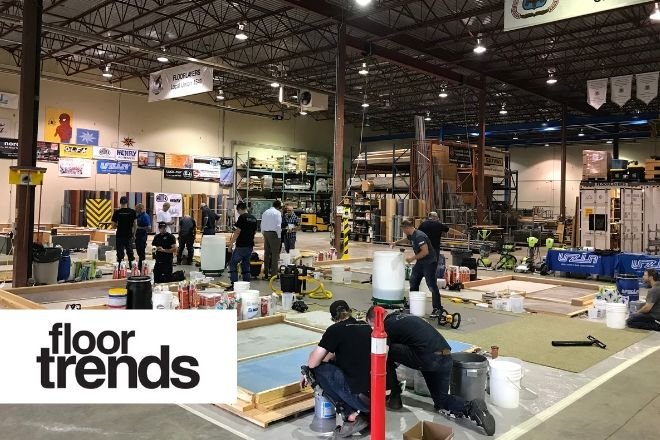 *This article by INSTALL executive director John T. McGrath, Jr. was featured in the June edition of Floor Trends Magazine.
Comprehensive Education and Certification for Floorcovering Professionals
As a contractor, you know that your installers are the face of your business. You want the best out there representing you, but hiring trained, certified installers is more challenging than ever. With an aging labor force, full employment in many markets, a lack of awareness of the trade and a continued move from skilled labor professions by our youth, we are facing a multifaceted threat.
Now more than ever we need to increase both the availability and awareness of formal training programs for the floorcovering industry. Organizations like INSTALL have been at the forefront of this movement for decades. As the industry's most endorsed and specified training program, it leverages long-standing manufacturer partnerships to bring together field know-how and in-depth product expertise.
INSTALL's renowned training program is based from an industry-driven curriculum that produces reliable flooring installers ready to face any challenge. Floocovering installers can stand above their peers and show professional credentials by becoming INSTALL Certified. This helps installers gain access to a world of continued education, certifications, industry connections, and a promising career that comes along with INSTALL and the United Brotherhood of Carpenters – including healthcare, retirement and competitive wages.
Despite the benefits delivered by formal training programs, there are numerous challenges. While some of these issues are nationwide, a number of regional challenges have made it hard for INSTALL and other programs to recruit young talent, enroll apprentices and help cultivate the next generation of floorcovering professionals.
Unique Challenges Threatening Formal Training in the Floocovering Industry
Today, there remain major challenges in the industry that have stymied INSTALL and other training and certification programs from gaining traction in certain parts of the country. While the Northeast is home to hundreds of INSTALL Contractors and INSTALL Warranty Contractors, Southern California for example, has just a handful. When considering that nearly 25 million people call this region home, this is a big deal.
"Before INSTALL, there was never a major push for formal training in this part of the country," explained Thomas Rodriguez, Southwest Carpenters Training Fund. "This is an area that experienced tremendous economic growth but independent installers, family-owned businesses and even large contractors and installation companies have little knowledge of INSTALL."
This is a major problem for the region because it leads to sub-standard installation work and a general distrust of the contractors and installers who lack basic skills.
In addition, while local and regional training centers offer courses in flooring, the interior systems, finish work, carpentry and other programs are more well-known and popular. Because of this, there are less flooring apprentices. This ultimately leads to less word of mouth for the trade, a major driver of new apprentices and industry connections for INSTALL and other organizations.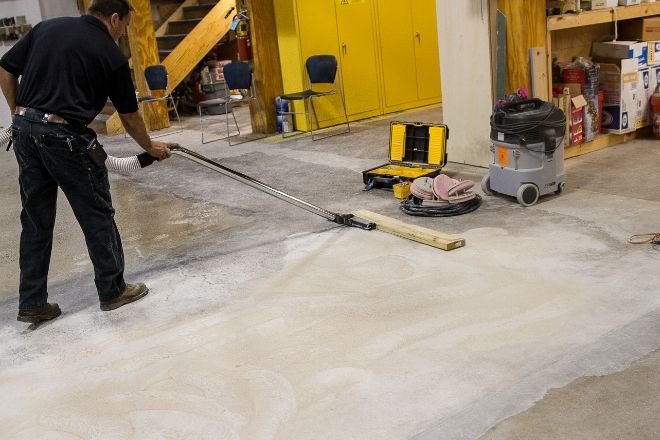 Metropolitan regions in Canada are also dealing with a lack of apprentices and a continued move away from trades and blue-collar positions. "A myth we have been challenging is the long-standing perception among young people and their parents that going into a trade means you weren't smart or talented enough to go to college," said Cristina Selva, executive director of the College of Carpenters and Allied Trades.
"Trades have opportunities and career paths like any other profession," shared Selva. "You can become an instructor, small business owner, project manager, educator, union representative, really anything you can think of. This growth potential can translate into a happy, successful career where men and women can support their family, earn a competitive salary and continue to learn and grow every single day."
Journeymen, installers and contractors fail to realize the host of benefits that come with certification and training from a program like INSTALL. From helping create a better trained and more skilled labor force to offering business development and leadership practices, INSTALL Contractors are better equipped to win bids, turn customers into long-term clients, and provide stable employment and a wealth of union benefits.
This venerable commitment to excellence is why the organization has been at the forefront of training and certification for decades.
A Long-Standing Commitment to Excellence
Since its inception, INSTALL made the decision to build a comprehensive training program that is without peer in the flooring industry. This decision has created the kinds of opportunities for members and partners that would not be possible without continuous involvement from its expansive network of Alliance Partners and members.
The organization's training program focuses on floorcovering best practices and stays up to date with emerging trends in flooring. With an ever-evolving curriculum designed to teach foundational basics and sophisticated skill sets, INSTALL is dedicated to keeping flooring installers up to date with cutting-edge technologies and installation techniques.
The organization boasts a group of more than 100 expert, veteran flooring instructors who train installers in training centers around the country. These professionally accredited educators keep up to date with all the latest trends, technology and techniques through INSTALL's extensive "train-the-trainer" program.
Courses build core skills for proper floor preparation, installation and finishing procedures for carpet, resilient, resinous, hardwood, concrete polishing, artificial turf and more. Installation procedures for each of these flooring types, including theory and practice for proper installation, are also part of the INSTALL curriculum.
"These types of courses are absolutely crucial to the future of our trade," explained Selva. "Many students coming out of high school have terrible hand skills. They have never held hand tools since shop class is a thing of the past in many school districts, so the manual dexterity isn't there. They are literally starting at ground zero," she added.
Rodriguez shared her sentiment, saying, "We work as hard as possible to contact contractors and set up tours of the facility to show them the program and training. Once they see the classes for themselves and the critical skills they are building, they are extremely receptive. They need to see it to understand its impact – that's the challenge. We have to raise awareness."
Laser-Focused Market Specialization
Another benefit of INSTALL is its dedication to the multitude of flooring installation projects. Varying in size and scope, each with its own unique challenges and solutions, these projects test the limits of even the best flooring installers.
One of the organization's greatest strengths is its key understanding of specifications and distinct requirements for individual market segments. As a result, the organization helps contractors build laser-focused specialization skills across education, healthcare and corporate markets.
Designers working in the education market, for example, use colors and patterns to enhance the learning environment in classrooms and to facilitate wayfinding in corridors. Installing such patterns requires the highest level of skill and experience to ensure that they stand up to the high traffic and abuse they will receive.
Because school schedules are tight, there is very little room for repair or replacement. Facility managers need a contractor that will do the job well and do it right the first time. INSTALL provides the expertise, knowledge and quality assurance that they need for their education facilities.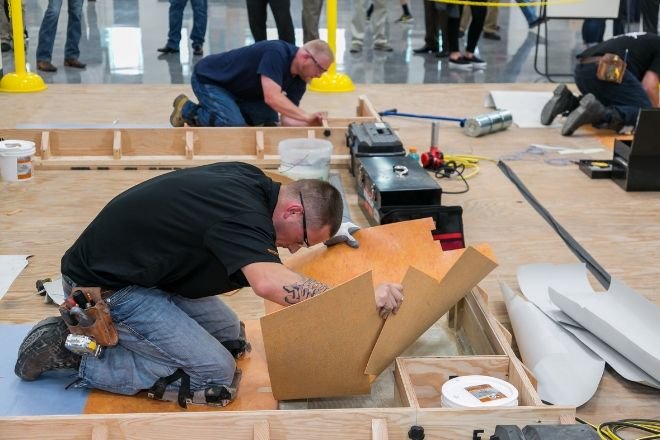 Similar challenges face contractors and installers working in commercial facilities like offices, airports, arenas and retail stores. With minimal downtime and high amounts of foot traffic, INSTALL certified contractors understand that quality and consistency are vital on these large-scale and time-restricted projects.
Healthcare facilities, on the other hand, present more specific challenges to flooring designers and installers alike. Product selection must take into consideration noise reduction, cleanability, and colors and patterns that support an age-appropriate healing environment, from the cheerful palettes designed to lift spirits in the pediatric ward to the subdued tones that reduce fall risks in senior care facilities.
Floors must also perform at a very high level, responding to strict sanitary and infection control needs. There is no room for error. Gaps and spaces in a floor can be havens for mold and infection-causing bacteria. In addition to the highest level of installation training, INSTALL installation teams are trained and certified in Construction Infection Control Risk Assessment (ICRA) Best Practices.
Because of these rigorous demands, the United States Department of Veterans Affairs (VA) wrote INSTALL into its Master Specification for floorcovering installation in 2015. The sprawling organization, which includes 1,700 hospitals, clinics, community living centers and other facilities throughout the US, effectively directs that every VA carpet, resilient tile and athletic carpeting job specified must be completed by an INSTALL certified installer.
Take the First Step in Becoming INSTALL Certified
As a leader in the floorcovering industry, INSTALL is passionate about improving the reputation and performance of contractors by increasing the availability of comprehensive training and certification programs. By becoming INSTALL certified, journeymen, installers, and other industry professions become part of an elite group of floorcovering professionals, one that is dedicated to excellence and the future of our trade.
However, the only way for us to move forward as a community is to raise awareness of formal training. From high school graduates to experienced professionals, it's never too late to get involved with INSTALL or become INSTALL certified. Take the first step towards your future today:
Explore More News from INSTALL