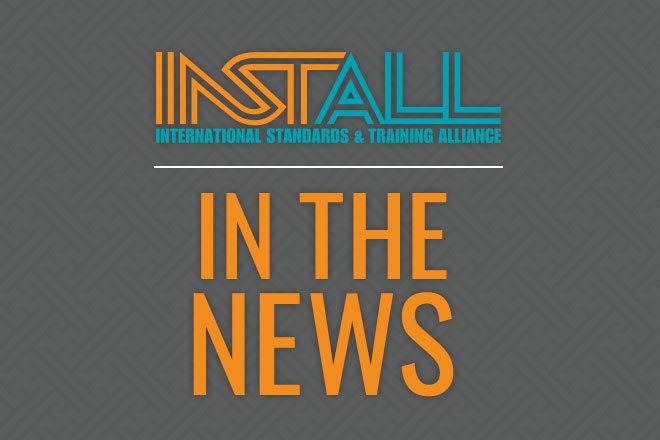 INSTALL Alliance Partners represent the top mills and manufacturers in the floorcovering industry. Partners contribute to training and ensure that INSTALL members are the most highly trained and respected in the industry.
Contact us today for information on joining the INSTALL Alliance. All mills and manufacturers in the floorcovering industry are invited to join.
Custom Launches Faster, Easier to use Website for Construction Professionals
Redesigned Site Created as Information Hub for Contractors, Architects and Distributors
Today's construction professional realizes that their most valuable tool is not on their toolbelt, instead it's in their pocket – a mobile phone. Using their phone as a gateway to the internet, these pros rely on online resources to learn about, specify, and install the right products for any size project. Today, North America's largest manufacturer of tile installation and flooring preparation products, Custom® Building Products launched an entirely new internet experience designed by construction pros for construction pros.
"Tile and flooring professionals trust Custom's line of products because we listen to them and consistently innovate to meet their needs, and our redesigned website is evidence of that," said Reeve Haldeman, vice president of marketing, Custom Building Products. "Our improved website ensures our customers have the information they need for their current projects. Our new online university is designed to provide continuing education using concise and information-packed videos, it's all part of our efforts to continue to be the pros' first choice."
Ardex Acquires Majority Stake in Wedi With Biggest Acquisition in Company's History
Ardex continues to grow: the German-based construction chemicals specialist is taking up a majority shareholding in wedi GmbH, a leading manufacturer of system solutions for high-quality wet room solutions based in Emsdetten, Germany – it is the largest acquisition in the company's history. The management made it clear that wedi will continue to operate independently. In addition, Stephan Wedi and Fabian Rechlin will remain in place as the Managing Directors of wedi.
SPUR Technology in Stauf's PUM-950 Power-Mastic
PUM-950 is Stauf's premium Moisture Cured Urethane/Polymer product. PUM-950 has always had the strength of urethane coupled with the cleanliness of MS Polymer. PUM-950 is a Patented SPUR technology that was developed over 10 years ago that has both MS Polymer and Urethane in its molecular chain. This allows for the strength of Urethane and the ability to clean the floor like an MS Polymer without etching the finish of fine wood flooring.
Stauf has over 20 years of experience in MS Polymer technology – the first company to bring you easy clean, moisture barrier, and sound barrier all in one. PUM-950 brings new advantages, again, to the flooring adhesive market.
Explore More News from INSTALL