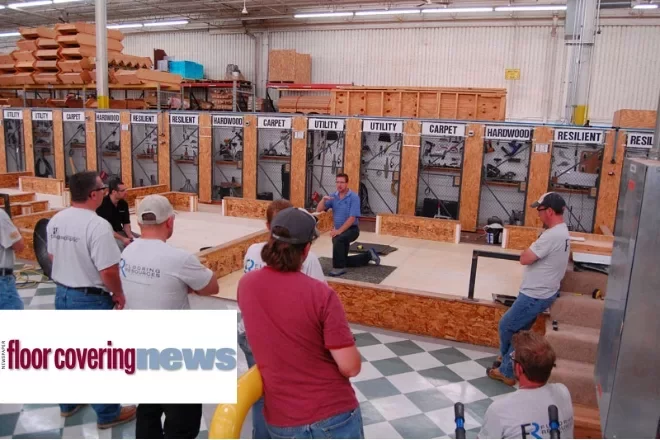 *This article by INSTALL executive director David Gross was originally featured in the latest edition of Floor Covering News.
INSTALLments: A Series on the Challenges & Opportunities in the Floorcovering Trade
Recruitment has been a longstanding challenge in the floor installation trade for quite some time, and now, it frequently continues to dominate many conversations. While specific challenges vary around factors like geographic location, industry sector, and the number of retirements, what these issues all illustrate is the industry's common problem: a shortage of available skilled labor.
Undoubtedly, the available talent pool has shrunk. An aging workforce, the great resignation, and even a shift in attitudes about work in general have made successful hiring feel like a problem that is nearly impossible to solve. Add the relative obscurity of a career in the floorcovering installation trade — especially among younger demographics — along with the physical demands, and the task of developing future professional installers becomes even more daunting.
Still, there is reason to be hopeful.
As the cost of a four-year bachelor's degree continues to skyrocket, the floorcovering installation trade is in a unique position to appeal to ambitious, mechanically minded high school graduates and semi-skilled twenty-somethings with a rewarding and significantly less costly path to a fulfilling career and healthy paycheck. To do this, we need to focus on education.
Right now, companies are investing heavily in skills training in an effort to bring early- and mid-career installers quickly up to speed to replace the exiting masses that are taking years of knowledge and experience out the door with them. Skills training is certainly part of the solution, but as an industry, we need to expand our ideas about education much further.
Formal education is not required for all floorcovering installer roles, but it can have a measurable impact on career progression. Creating a clear path of advancement for new recruits, paved not just with upskilling opportunities but also with options for professional development and advancement, is key. Why? Because that path conveys two important messages to career seekers: you will not be in the same entry-level role forever, and you are worth investing in.
People want to learn. They want to grow. They want to be challenged. Providing the context and structure for them to do exactly that is what attracts interest and turns new recruits into long-term professionals.
What does an education-focused career path look like in our industry? Here's an overview of the essentials.
Fundamental knowledge. Whether derived from vocational training or apprenticeships, new hires should be equipped with the foundational principles that are essential for floor installation. These principles include the mathematics and blueprint reading skills necessary to perform installation tasks accurately and efficiently.
Safety training. Teaching proper safety protocols helps protect floorcovering installers from injury and reduces the risk of accidents and liabilities in the workplace. It also helps installers feel more confident and perform competently in their day-to-day tasks. Also, an OSHA 10 or OSHA 30 certification is a requirement on many job sites.
Certification and licensing. Certain floorcovering installation specialty roles and products require specific certifications and licensing. Obtaining these credentials through an employer's educational programs can improve an installer's professional standing and open up new opportunities for advancement. These programs also help installers set new goals and remain engaged.
Skill development. Task-oriented education in the form of skill development targets the knowledge needed to perform a specific job. Adding skills in small, manageable steps can help installers build confidence, add variety to their workday, and improve daily performance.
Critical-thinking and problem-solving opportunities. Educating new recruits in real world problem-solving situations builds critical thinking skills, analytical abilities and problem-solving strategies that generate confidence and competence. It can also lead to innovations in the field.
Overall, organizations that create a culture of education with structured opportunities for learning and growing are more likely to attract top talent that is motivated by these values. Having an education plan will increase your chances of recruitment success. It will also help your organization keep up with industry trends, expand its knowledge base and build a stronger professional reputation.
Explore More News from INSTALL