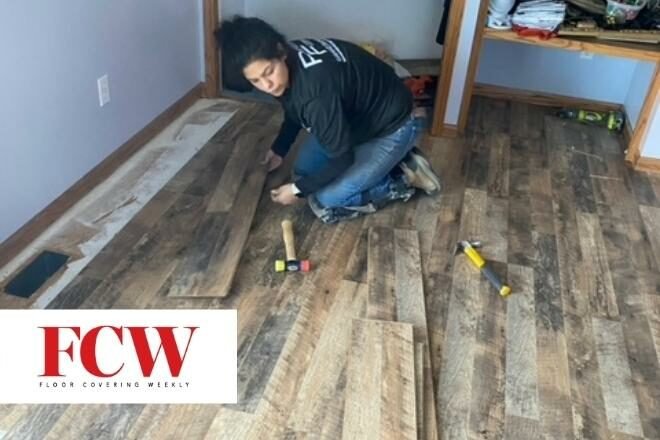 *This article features contributions from INSTALL and was originally featured in Floor Covering Weekly (FCW).
The shortage of qualified installers is an issue that has been plaguing the flooring industry for decades. Now, many in the industry are stepping up and working together to help solve this crisis, thinking outside the box to entice new recruits to join the fast-growing flooring industry. One such endeavor is reaching out to women who are looking for new opportunities and sharing all the flooring industry has to offer them.
Growing a Female Workforce
Flooring installation is a skill that doesn't get as much exposure as other trades, but the industry is working hard to change that. Industry organizations are endeavoring to attract new blood to the world of flooring and more than ever are extending their reach to include women. "Flooring gets overlooked but it is a very skilled trade and people can make a great living doing it," noted Laura Butchers, continuing education coordinator at College of Carpenters. She said when trying to reach women, the most successful initiative she's seen so far has been tours that feature a hands-on component to illustrate different aspects of the trade such as layout, prep work and install.
Director of operations for the Floor Covering Education Foundation (FCEF) Kaye Whitener said the industry has never before tried to target individuals and attract them to join. "We are an old industry, but women have always been an integral part of the successes we have all enjoyed. Installation has been a male dominated field because it is a trade. We never marketed the design aspect to young females looking to find a place they could create and build beautiful spaces."
To showcase the opportunities available to women in the industry, Whitener said FCEF is working with women influencers in the flooring industry. "We asked the women who are currently making a difference in this career path to step up and help us speak to a new generation of young women. We asked these women to lend their voices, images, stories and experiences through our awareness campaigns." This, she said, helps during presentations at high schools to show young people that women have a place in our industry.
"Most women are looking for a career pathway that feeds their soul. Whether that stimulates from the desire to be their own boss and oversee their own destiny," offered Whitener. This could be finding their potential to create, design and build in the world of installation. "We have seen a shift in all trades who are now realizing the contributions that women will make in these careers."
Butchers said when trying to reach women to fill careers in flooring, the messaging isn't that different from the one directed toward men. "It's just showing women that flooring is something that they can do, yes, it is a tough trade. It's heavy and back-breaking if not done right, but there are tools out there to make the job better. We need to work smarter, not harder," she said.
At this time, the number of women in the trade is still 1 percent or less compared to the number of men, said Butchers, but that more women are beginning to take interest in the trades. "I think the trades is an untapped industry that women could thrive in, and that the industry would thrive to have more women a part of."
Whitener added, "I would challenge anyone looking for a career to consider the floor covering industry. Examine all the opportunities this industry can provide and create a place to grow."
Finding Your Passion
Getting involved in the flooring industry as a woman can be both challenging and rewarding. The women FCW spoke to who are working as installers said the good far outweighs the bad.
Co-owner and certified hard surface installer with Precision Surfaces, LLC in Slinger, Wisc., Jen Zurn has been installing flooring for more than 21 years. Her career began when she met her now-husband, who is a second-generation hard surface installer. "I have always enjoyed working with my hands and have never shied away from hard work, so when an opportunity came along, I was happy to help. Little did I know this would be the beginning of my career in the floor covering industry," Zurn said.
Crystal Sims, crew leader for Preferred Flooring, in Grand Rapids, Mich., has been installing floors for over a decade now, starting as temporary summer help for her two older brothers. It was not an easy training process given the circumstances. "I was a 21-year-old female with no construction experience whatsoever, who just started working for her two big brothers! Let's just say, they did not take it easy on me. I was 'grunt' for a little over a year, working underneath seven installers who had 10+ years of experience," Sims said.
Samantha Brito, recording secretary, New York City District Council of Carpenters with Local 2287 got her start in the trades because she saw there was an opening for a flooring apprentice on the news. "I stood in line overnight. At the time I was a waitress at Applebee's," Brito said, noting she had also just finished her bachelor's degree. "I was considering [the apprenticeship] or getting my master's degree," she said, ultimately deciding to give the trades a try because the training was more affordable.
One thing that Sims said held her back in the beginning was the pressure she felt not to make a mistake. She shared, "I do believe the way I was trained has helped me become the person I am today. Without the push and the hardball brothers who constantly nagged me to be my best, I wouldn't even know that hand skills were a thing and that I'm actually a natural born leader."
At first, said Brito, she was nervous about lifting heavy things or facing judgment from male peers on the job site. "But there's really nice people that help you, these guys would say, 'You're my sister, don't worry about it.' Everything has been great. I had a great apprenticeship and have been a journeyperson for two years now." She said too that she has been fortunate to have steady work, even throughout the pandemic.
Finding Success
There are many facets of flooring that new installers must become accustomed to in order to succeed, such as safety, tools, processes and protocols, Zurn explained. She started off with small tasks but quickly took on larger jobs as her skills grew. "Eventually I was managing crews and an equal partner in a successful installation company for 18 years." Zurn also noted that throughout her career, she has stayed on top of the demands in the industry through continued training and obtaining certifications through manufacturers and respected organizations like Certified Flooring Installers (CFI).
It hasn't all been easy, but Zurn said she enjoys challenges because they help encourage personal growth. "One obstacle I faced early on in my career is I often had salespeople or customers confused to see a woman on the job site. Likely because it was not a common occurrence in a very male dominated field. Now, most people I encounter are supportive to see me on site," she said.
Sims offered, "The advantages far outweigh the bad. I think my biggest advantage though, is my ability to resonate with a diverse range of people. Job bosses, other trades, building owners, designers, my coworkers, etc. I am really good at making people happy with their desires, while still fulfilling my job in a timely manner."
Zurn agreed that her people skills are an advantage, and likely one that many women share. "It is not uncommon for customers, more often women, to speak with me regarding their project or ask questions because they feel more comfortable. While it may be stereotyping women, there are inherent biological traits that come more easily to women than men. As such, I would consider my patience, attention to detail, keen memory as well as interpersonal communication invaluable to my installation skill sets, as well as working with customers."
Both Zurn and Sims told FCW that one of the greatest benefits of being a professional installer is the satisfaction and sense of pride that comes with completing a job. Sims shared, "It's such a sense of pride, that you can show up to complete chaos, but when you leave, it's a completely different atmosphere."
Brito added, "The thing I like most is going to different job sites. The job I'm working now, I'm in the tallest residential building in New York City — the apartments are worth $3 million. If I wasn't an installer, I'd never get to see these apartments." The constant changes in daily tasks and never working one job for too long help keep work interesting, she added.
To those women considering a career in the flooring installation, Sims advised, "Flooring is hard work, but it's equally rewarding. Being in the flooring trade has taught me more life lessons than I could have imagined. These skills can take you anywhere you want to go, as long as you're willing to learn and work hard." The opportunities afforded to new installers through the FCEF, CFI and National Association of Floor Covering Technicians (NAFCT) she said, include scholarships and training programs.
The floor covering industry is very inclusive, Zurn noted. "Women have just as much of a place in the trades as men, so don't let stereotypes or gender roles determine what you are capable of. Pursue your passion and you will find the industry will be supportive in your endeavors." She urged anyone who is interested in a career in floor covering installation to seek out an apprenticeship through a reputable installer or find an education program such as those mentioned by Sims.
"My advice to other females is go for it. Don't be scared. I was nervous at first, going from job to job meeting new foremen and coworkers … It's a path you should take. It's a great opportunity benefits wise, and you get great pay. I was scared with the lifting, but I never ran into a guy who wouldn't help. Instead, I found brothers who were willing to help me through this," shared Brito.
"There are many reasons to pursue a career in floor installation. Choosing a career in floor installation will allow you to enter the workforce sooner, avoid student debt, and begin earning money faster than some of the more traditional options. A successful career will not only be personally fulfilling but has an income earning potential which could provide a comfortable lifestyle," Zurn asserted.
Explore More News from INSTALL