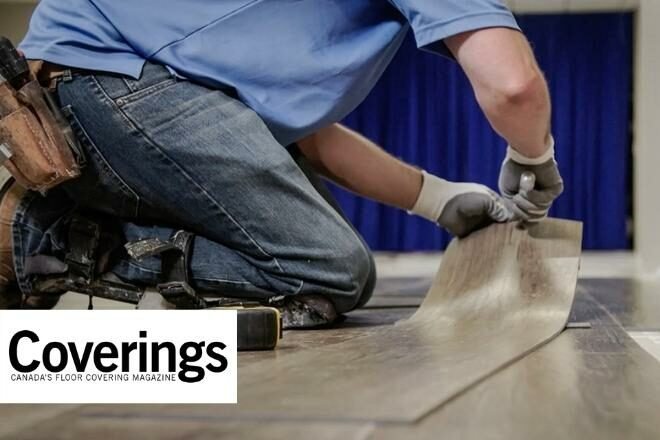 *This article by INSTALL executive director John T. McGrath, Jr. was originally featured in Coverings Canada.
Even though the flooring industry has decades of luxury vinyl plank and tile installation knowledge, achieving optimal results can still be a challenge. This can be attributed to a variety of factors, including an incomplete assessment of the installation site, changes to a manufacturer's install specs, acclimation and fit missteps, and insufficient installation training.
To help contractors perform luxury vinyl installations that exemplify high-quality workmanship and ensure consistent results, here are four tips that address these common issues.
Fully Assess the Installation Site
Assessing the site involves more than taking a set of measurements. Every site assessment should start with collaboration among the installer, general contractor, designer and owner. Communication at this stage is critical, as information gathered will directly impact the product selected for the project, site preparation techniques, adhesives and the final appearance of the flooring.
The condition of the subfloor, environmental factors like light and moisture, and whether underfloor heating will be used should all be considered before the luxury vinyl product and corresponding adhesive are selected. This allows relevant parties to identify products that will offer the best combination of looks and performance.
Any specific requirements, such as those that might accompany installation in a healthcare facility, should also be noted during this preliminary phase. This provides an opportunity for the general contractor and owner to verify that the selected product can perform under the specified conditions, and it alerts the installer to any special precautions required for installation.
Additional site factors like traffic flow and volume will also have a direct impact on the luxury vinyl's performance and lifespan and should be addressed, too.
To ensure client satisfaction with the appearance of the luxury vinyl, aesthetic options like plank or tile randomization should be reviewed prior to installation. That way design expectations can be met by the material orientation and pattern laid out by the installer. Gathering all these details about the site allows the installer to advocate for the proper resources to perform the installation correctly, and will go a long way to preventing any unnecessary surprises for the general contractor and owner once installation begins.
Review Manufacturer's Installation Guidelines
Because luxury vinyl plank and tile are not new products, it is tempting to skip reviewing the manufacturer's installation instructions. This can be costly, as specifications frequently change.
Ignoring manufacturer guidelines and using the same adhesive for all luxury vinyl products to reduce costs and simplify installation is also a common but ill-advised shortcut. Applying the wrong adhesive invariably leads to improper adhesion and immediate or latent flooring failure. The flooring itself and subfloor may be further damaged if the vinyl needs to be removed and reapplied — an expensive and time-consuming exercise.
Spread rate is another guideline that is often modified or ignored. Proper installation requires installers to evaluate substrate porosity and select the corresponding metering device (trowel) to meet site conditions. The installer should also evaluate the trowel notch size throughout the installation because as the trowel is being used, it is ground down by the substrate, reducing the amount of adhesive being applied. Compensating for this by starting with a trowel notch size greater than what is recommended can result in applying too much adhesive. It only takes a moment to verify the trowel notch for consistency and keeping additional trowels on hand is worth the few dollars in cost.
In short, it never pays to cut corners. What may save time and money up-front can be pricey later on when the result is rework and reputation damage. When it comes to surface prep, priming, spread rate, temperature, relative humidity and dry time, all the manufacturer's instructions must be followed to protect the integrity of the material and installer.
Ensure Proper Acclimation and Fit
Flooring should never be installed immediately after it is brought in from the delivery truck. In summer, the internal temperature of a delivery vehicle can climb to more than 65.5 C, according to a study by General Motors of Canada, and heat materials to extremes. In winter, temperatures can be well below freezing.
If luxury vinyl planks or tiles are glued down when too warm, they may shrink slightly as they cool, resulting in gaps throughout the entire installation. The opposite may occur if materials are installed when too cold. They may expand as they warm, causing adjoining planks or tiles to peak and not lie flat on the floor. Acclimation allows materials to settle into a more predictable state for installation, leaving less room for surprises later.
Once luxury vinyl flooring is acclimated, installers can use the proper cut and fit for the installation space to further account for natural expansion and contraction within the install environment. Installers should avoid compressing the fit whenever possible but particularly when using luxury vinyl planks. Forcing planks down along walls or other permanent fixtures like islands and bookshelves can cause them to buckle, arch and bubble at the seams. When luxury vinyl responds this way, it doesn't properly adhere to the subfloor. This poor adhesion can lead to a variety of problems, including unsightly appearance, safety risks, material damage and penetration of unwanted substances into the subfloor.
For best results, properly cut the material for a net fit. This will allow the flooring to expand and contract freely without disrupting the visual flow or causing buckling and damage that may result in rework.
Invest in Proper Training
Learning on the job is common in the flooring industry. Often, what is learned 'on the fly' is the fastest way to get the job done. But this isn't always safest or the way to achieve the best end result. Proper training focuses on best practices for quality workmanship and safety.
Many luxury vinyl product manufacturers provide online installation training videos and literature. These resources are great for quickly solving specific installation issues but they aren't a replacement for comprehensive hands-on training and certification. Installers who obtain training certification soon realize the return on their investment in the form of more efficient installs, fewer corrections and reworks, and more satisfied clients. And nothing is more valuable than a happy client.
About the Author
John T. McGrath, Jr. is the Executive Director of INSTALL – the International Standards and Training Alliance, which is the construction industry's best industry-endorsed floor covering installation training and certification program.
McGrath has helped to increase installation standards and expectations in the flooring industry by playing a leading role in facilitating communication and cooperation among mills, manufacturers, specifiers, contractors and installers. All of these groups regularly come together to review and revise the INSTALL curriculum and certification standards.
Explore More News from INSTALL