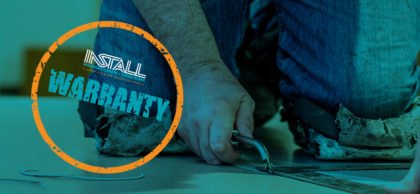 The INSTALL Warranty Guarantee
Being an INSTALL Warranty Contractor is its own insurance policy — your customers buy the peace of mind and a guarantee that flooring projects are installed correctly the first time every time.
It all comes down to training and certification for their installers. INSTALL Warranty contractors employ the most highly trained and most qualified flooring installers in the business. INSTALL Warranty Contractors have an impressive performance history, proven financial reliability and good payment history, and all of their installers carry an INSTALL Certification in substrate prep, carpet, resilient or hardwood that verifies they're the industry's best.
Connect With INSTALL For Warranty Benefits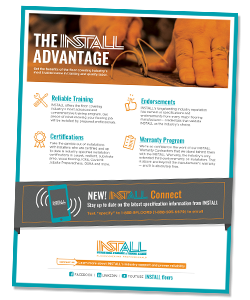 Let INSTALL help do the selling
Use our exclusive IWC sell sheet to help market your business and win more bids with GCs, facility managers, developers and other floorcovering decision makers.
INSTALL Warranty Program Support

When an INSTALL Warranty Contractor wins a new project, INSTALL backs the flooring installation. That's above and beyond the flooring manufacturer's warranty. And it's free.
INSTALL has underwritten $1 billion in floorcovering installations by INSTALL Warranty Contractors since the inception of the INSTALL Warranty on Labor, and there hasn't been a single claim made to-date against our warranty.
Access Exclusive Flooring Specifications & Endorsements
INSTALL's Alliance Partners represent over 100 of the industry's top mills and flooring manufacturers, and INSTALL is endorsed by every one of them because they believe strongly in INSTALL's quality and value. INSTALL certifications and INSTALL Warranty Contractors are specified by scores of manufacturers and customer groups.
Thanks to these industry relationships and influence over product installation specifications, INSTALL Warranty Contractors win bigger, better contracts.
Healthcare Certifications & COVID-19 Training
The COVID-19 pandemic has taken an enormous toll on North America. During this time, the proper training to protect patients and staff in occupied healthcare environments during construction has become even more critical. Certified installers can save countless lives and help mitigate billions of dollars in added costs to our healthcare system.
INSTALL Warranty Contractors have access to the most comprehensive and endorsed training program in the floorcovering industry, including the latest protocols to safely prevent the spread of healthcare acquired infections.
INSTALL Marketing Support
As an INSTALL Warranty Contractor, your credibility is backed by the most trusted and widely respected name in the floorcovering industry. Plus, INSTALL Warranty Contractors get direct exposure to INSTALL's inside network of thousands of floorcovering decision makers.
The INSTALL Alliance spans across all of the United States and Canada, providing safe, highly skilled and certified floorcovering professionals. As market demands continuously evolve with preferences for new products and needs for new training, only INSTALL can provide the support needed to help your business win new projects and attract new, highly-skilled labor.
Submit your info below and we will work with you to help leverage the benefits of the INSTALL Warranty Program.