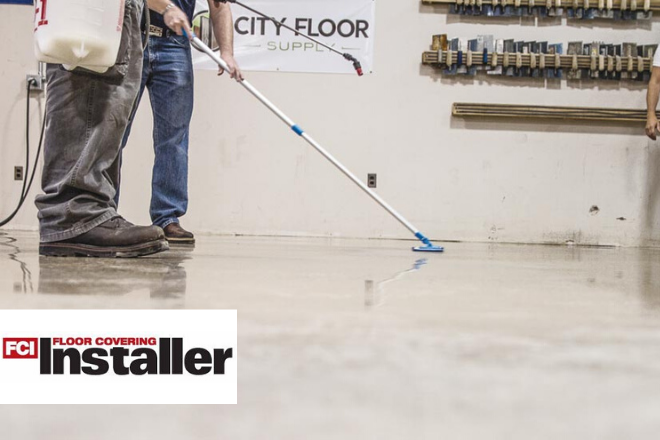 While polished concrete floors have been around for years, the material has recently seen a dramatic increase in popularity among specifiers working in commercial and industrial spaces. The growth in demand can be attributed to its durability, sustainable selling points, and improved technology and grinding techniques.
As polished concrete continues to trend and rises in prominence, flooring contractors and installers must understand the do's and don'ts of this tricky medium in order to complete projects on time, on budget and without callbacks.
David Gross, an INSTALL instructor based out of Hammonton, N.J., knows what it takes to get the job done right. He has taught concrete polishing training sessions in collaboration with manufacturers such Niagara Machine and Concrete Polishing Solutions (CPS) for years.
This article shares key lessons Gross has taken away from his training sessions, including his unique take on top tips and tricks to ensure concrete polishing jobs are done right the first time, every time.
Watch: Installers Lay Groundwork to Support Concrete Pours on the Jobsite
Highly trained polished concrete flooring installers lay concrete forms that serve as the foundation for new bridges and buildings, as well as to reinforce existing structures. When the flooring installation is complete, concrete polishers maintain the integrity of the floors for years to come. Source:  The Carpenter Contractor Trust
Not all training is created equally
Each manufacturer has unique equipment and corresponding guidelines on how polished concrete work is to be performed. This ensures installers produce the right look while staying safe and injury-free. That's why INSTALL is partnering with top manufacturers to develop training sessions that are designed for specific types of machines and product lines.
A typical polished concrete INSTALL training session with manufacturer input spans three to five days and includes a combination of in-class time and on the floor time. Across the country, INSTALL training centers are taking advantage of a win-win scenario: apprentices need practice on concrete floors and by happenstance, the majority of the training centers do have concrete floors. That means that apprentices are getting the training they need, while the training centers are getting a facelift. Gross said this strategy will provide several years of training while at the same time giving each center a freshly polished floor.
Because there is a need to comply with the manufacturer's industry standards, INSTALL is ramping up its dedication to concrete polishing training and developing an official curriculum. This commitment has been demonstrated by INSTALL and the United Brotherhood of Carpenters through several collaboration and curriculum development sessions with industry experts and third-party players in 2019, with more to come in 2020.
One of INSTALL's goals for 2020 is to have these industry stakeholders sign on and endorse the to-be-completed curriculum through a memorandum of understanding, effectively directing that these manufacturers endorse and support INSTALL's concrete polishing curriculum.
Gross adds that developing a standardized curriculum with the manufacturers has been challenging due to the proprietary nature of the concrete polishing industry. However, INSTALL and the UBC are working hand-in-hand with these manufacturers to develop a consistent and uniform curriculum that can apply to the entire industry, across all manufacturers' equipment and products.
While some other organizations may offer online courses, Gross stresses that there is no replacement for in-person training. "You can't expect to have successful jobs if you don't partner with the manufacturers or organizations like INSTALL to experience hands-on training needed to complete projects," he added.
Building Blocks of Concrete Polishing Successful Installers
There is a learning curve to concrete polishing and if you do not understand the fundamentals, installers will fail. If installers are not trained properly, the penalty and cost can be severe. Gross says there are three key things to keep in mind: proper equipment, proper tooling to do the job and handling the edge work properly.
While these three things sound simple, understanding how to differentiate them is the key to success. Knowing what products to apply and when, what machine to use at what point, and figuring out the difference between a good job and a bad one is the difference between success and failure.
Tip #1 – The First Cut: The first initial cut on the floor is the most important. The first grind installers perform sets the stage for success- it levels the floor and exposes the aggregate. It is so critical to take your time on the first cut and do it correctly. This is key because if you have deep scratches after the first step, you might not see it until the end and the only way to get it out is to redo the entire space.
Tip #2 – Management of Silica Dust: There are two different ways to manage dangerous silica dust: wet brine or dry polishing. The wet brine technique uses water to capture the dust as you go. The key thing here is to ensure the job stays wet 100% of the time to trap all of the particles. If using this method, you must properly collect and contain the slurry which may be treated as hazardous waste.
Dry polishing uses a HEPA filter/vacuum (collecting 99.95% of contaminants) hooked up to the grinder to capture particles. The key thing here is ensuring it is properly assembled to prevent particles from becoming airborne.
No matter which option you choose, this is a very important health and safety measure to consider. The installer must also protect themselves on the job by using the proper personal protective equipment (PPE) which is an N95 face respirator.
Tip #3 – Edgework is key: While doing the larger sections of the floor requires machines that may weigh more than 1200 lbs., completing the edges of the job requires different, more compact equipment and different tactics. When you do edgework, you are only using a 4-7-inch grinder with hand pressure. That means you have different pressure, different tooling and a completely different system. In addition, if an installer accidently grinds too deeply on the edges, the entire team has to go back and re-polish the entire floor down to that same level- wasting time and burning profitability.
That is where proper training really comes in. It takes a skilled journeyman to reproduce the same look on the edges as the large areas. There can be a distinguishable difference if installers do not blend properly. Edging is one of the major complaints in concrete polishing, but with the right training and practice it can be accomplished flawlessly.
As with any flooring installation, the success of each individual installer means the success of the contractor and his or her business. But there are additional steps a business owner can take to ensure that concrete polishing services are beneficial rather than burdensome to their bottom line.
How to Prep for Adding Concrete Polishing to Your List of Services
Be prepared for the cost: concrete polishing equipment and tools are an expensive investment. Just to do one small job may not be that expensive, but if you take on larger more frequent jobs with more square footage, contractors need to be prepared with the right equipment sizes and quantity (three machines vs. one).
Concrete Polishing as a Lucrative Business Model
In addition to concrete polishing being a "green" product, it is a great low-cost option for clients because of its low maintenance- no more flooring to rip up, replace and send to the landfill- not to mention polished concrete doesn't deteriorate or break down like other flooring materials.
All you have to do is a re-polish – which is simple, easy and creates a new revenue stream for contractors. The long-term cost benefit makes it an attractive option for end-users, but also provides an opportunity for flooring contractors to cash in on future re-polish jobs.
While Gross stresses that if done right the first time, which can only be achieved through proper training, and with the right maintenance plan, that re-polishing may be rare. However, he added that with the prevalence of spills, wear and tear, in commercial spaces and a higher chance for lack of maintenance, contractors can still generate revenue from re-polishing jobs.
Defining Success with the End User
The first step in having a successful job, starts with a conversation. Contractors need to clearly define with the end-user what they anticipate and what they expect to get for the money. One thing that Gross says is rising is the necessity to measure success.
Because concrete polishing can achieve a variety of looks, you must be able to define with the client what a correctly completed job looks like to meet the customer's expectations. Since polished concrete is "new-ish" choice for end-users, they may not be as familiar with concrete polishing outcomes the same way they would if they had selected carpet, tile, etc. That means educating clients is key, so they understand cost and associated outcomes.
In addition, Gross also believes the industry is going to need to start standardizing and measuring whether or not a job was done properly. He added that developing some type of performance metrics would help to keep end users' expectations in check.
Another challenge with managing end-user expectations comes in the form of how concrete flooring impacts acoustics. Most end-users are not aware of how hard surfaces lead to sound reverberation. To address this issue, Gross recommends providing mock-ups, samples and taking the time to sit down with end-users to explain how polished concrete affects acoustics.
Specifiers can also turn to ceiling manufacturers for innovative new baffles, clouds and ceiling panels that provide acoustic control and increase sound absorption. CertainTeed is one manufacturer leading the charge – providing commercial designers with a wide variety of products to create acoustically balanced spaces that provide occupants with an optimized environment that blends acoustic control, comfort and design.
The Bottom Line
Fundamentals are everything in the flooring industry. Contractors must get installers trained in order to be successful, and they have a powerful ally in INSTALL. While proper edgework, using the correct tools and managing the customer's expectations throughout the job are the keys to a successful job, the buck doesn't stop there. The world of concrete polishing is only getting bigger and the more educated a contractor is on the business opportunities and challenges that come with this growth the better off the entire industry will be.
Explore More News from INSTALL