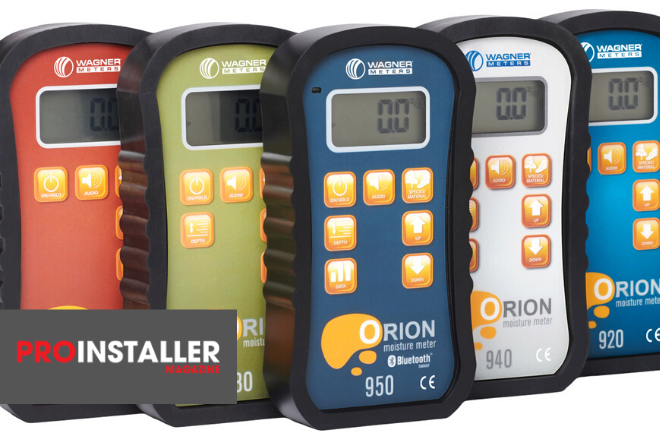 *This article by INSTALL executive director John T. McGrath, Jr. was featured in ProInstaller Magazine.
Tips and Tricks from Contractors Who are Implementing New Technology to Save Time and Money
It's impossible to avoid advanced new technology and trendy devices in our industry. Sure, there are some things better left unchanged but most of us can learn a thing or two from industry leaders who have embraced these technology trends and used them for good.
From ergonomic tools to wearable technology that helps cut down on worker compensation claims to 3D scanners, new products, machinery, processes and devices can help you save money and time by increasing jobsite efficiency. They can also open new revenue streams and change the way you staff your teams as we navigate the continued labor challenges.
Here's what contractors are implementing around the country, including best practices that are adding to their bottom line.
Wearable Technology and Improved Connectivity on the Jobsite
While the majority of contractors have focused on finding the latest and greatest tools that keep installers safe on the jobsite, there are a few who have pushed the envelope in terms of technology.
"I am constantly looking for new safety and personal protective equipment along with tech products that help keep our team connected on the road," said Andrew Meyer, secretary/treasurer, Flooring Systems, Inc. St. Louis, MO. Meyer handles risk management, financial systems, safety and training for the company – meaning, he has an intimate understanding of the financial burden of jobsite accidents, worker compensation claims and wasted time due to project oversights, installation errors and poor planning.
One of the things on the horizon in this area is wearable technology that can transfer employee information to key people in the office. While this isn't commonplace in the flooring industry, it is starting to get noticed by people like Meyer.
"With wearable technology, you can track employees through their smartwatch to make sure that their vitals are healthy, and they aren't over-exerting themselves on the jobsite," explained Meyer. "For example, I can identify elevated heart rates and body temperature. This could help save someone's life in the event of an emergency. I can also track employee movements and make sure they are on the right job, which is an added benefit."
While wearables are yet to become standard employee gear, nearly all installers, foremen and project managers have a powerful device in their pocket that can mean the difference between success and failure – the smartphone. As such, manufacturers continue to devote resources to developing and producing training materials, videos and product installation guides that are smartphone friendly.
"If you are working with a new LVT product or are unfamiliar with a specific carpet tile product that has unique installation requirements, you can watch a short YouTube video," explained Meyer. "This doesn't replace INSTALL and other in-person training sessions, but it helps provide people with a quick reference."
The real challenge for manufacturers is making sure videos and other materials are updated along with product changes in real time. It's easy to find a three-, five- or even 10-year-old YouTube video by mistake, and unless the contractor has the correct link or an updated PDF, they might be led down the wrong path.
"Floorcovering products are changing so rapidly, it's important that online training manuals, videos and product guidelines do too," said David Furlano, vice president, Centa Construction, Limited, Concord, ON. "Eco-friendly adhesives that are latex based used to have low tolerances to humidity, new adhesives are changing for the better and are able to function up to 99% relative humidity. Unless you have the right documentation and training to understand how this impacts the installation process, you are at a disadvantage," he added.
While Furlano stresses technology can't replace in-person training and traditional values such as hard-work and communication, he does agree its uses are helping create efficiencies from the top down.
"This shift started within the office for us as we recently transitioned to cloud-based programs that update all of our project and budget information in real-time," he explained. "When drawings are marked up and changed, they are sent out to the site instantaneously. These programs are easy to use on a phone or tablet, allowing our team members in the field to choose whatever device they are comfortable working with."
This has added benefits for Centa Construction, which does a lot of work in the retail sector. Many installation teams work overnight shifts when the stores are closed. However, a cloud-based system gives them access to key documents and important project information even when there aren't people in the office or able to respond to emails or questions.
"We have roughly 15 tablets that our foremen use on bigger jobs for this specific reason," added Meyer. "At the moment, it's something we utilize from time to time, not on every single job, but it's becoming an important part of our process."
One of the challenges Meyer has seen with tablets and digital plans is that it's easy to overlook details on a small screen. "With larger plans you can't see footnotes or call-outs since you don't have the full print out in front of you," he explained. "You can miss notes from architects and designers or small, hand-written changes so it's important to sweat the details."
Advanced New Tools, Machinery and Processes
From polished concrete grinders to ergonomic hand tools, there are a host of new and exciting products on the market today. One that has the greatest potential to save time and money is the 3D scanner. Ranging in cost and available from a number of trusted brands, these scanners are easy to use and replace time-consuming labor practices for estimators and installers.
"We recently purchased a 3D scanner and have used it on a variety of different jobsites in recent months," explained Meyer. Aside from the obvious benefits, Meyer and his team have found additional efficiencies. "Say we have a team member in the office with no installation experience but is tech-savvy and eager to work, we can send him out to run the scanner and develop a layout of the floor and show all of the undulations in the substrate. This saves on labor since we can keep installers on task – focusing on the installation process rather than estimating."
Based on this layout, Meyer and his team can develop a discussion to have with the architect and contractor on how to give the floor the best appearance – including what self-leveler to use and an accurate estimate on cost.
"In the old days we did this with a laser level and a ruler," remarked Meyer. "This new technology saves an incredible amount time and because of the labor shortage, we are able to use a younger person who is tech inclined and more affordable – saving us on two ends."
In addition, new trends in automation and fabrication are helping to provide efficiencies for installers and project managers. Some products come pre-labeled and marked based on their exact location in a project. This is taken care of by the manufacturer – saving time and labor for the contractor. When a project has intricate angles and sizes, there are products pre-cut, labeled and delivered directly to the jobsite. Fabrication off-site is difficult, but as products change, this may change in the future.
Another trend Meyer pointed out are new developments in batteries and remotely operated tools and machinery. These items offer exciting opportunities and efficiencies as they can be operated from nearly anywhere using a remote or smartphone. "Think robotic surgical solutions but for flooring," he remarked. "The possibilities for increased efficiencies are endless." However, we don't have to look too far into the future for time-saving technology.
"Grinding systems are becoming more and more efficient every day," added Furlano. "This helps us remove existing flooring efficiently and effectively while reducing jobsite prep time. On the sheet vinyl side, we have invested in robotic welders and power groovers. This also saves time, which saves money and makes our teams more efficient. It also reduces the amount of dust and cleanup – keeping our team members safe from harmful particulates."
This is an area where Vince Buttari, chief operating officer of Heritage Flooring, LLC, Lansing MI, has also noticed major changes in recent years. "Just this year we started using advanced HEPA vacuums to remove silica from the air," he explained. "Silica dust is a major health issue for not just flooring installers, but other trades on the jobsite as well. With new products we have more options than ever before to combat silica dust and other airborne contaminants."
Another change Buttari has noticed is an increase in the demand for new polished concrete effects and overlays – especially in the education and corporate sectors. "We have developed a half-inch overlay with glass chips and just completed an education project that matched the school colors with red and burgundy and mirror chips," he said. "It was a learning process, but we now know what diamonds to use and the appropriate timeline for completing the rough cut thanks to input from the manufacturer and industry experts."
These new installation techniques and finishes are helping open lucrative revenue streams for Buttari and other contractors around the country. It's also helping showcase the unique design opportunities that flooring experts can bring to the table.
Explore More News from INSTALL