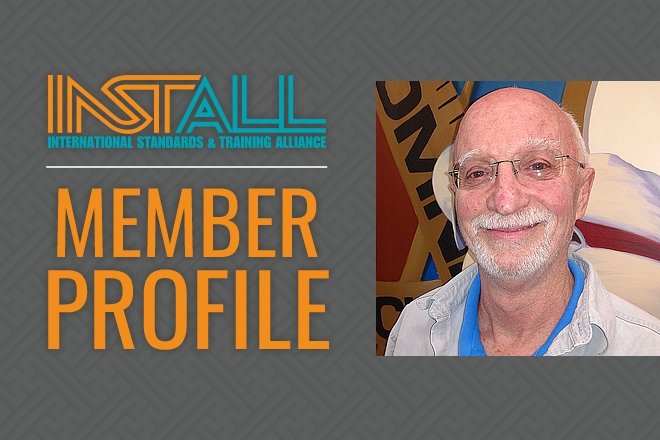 Some of us are born with a higher calling in life. Whether it's giving back to the industry by becoming an instructor, volunteering our skills to non profit organizations, or running for public office we all have the potential to make a positive change in the flooring community. Mike Maguire is taking this to a new extreme through a life-changing opportunity that will take him to Africa for two years.
A union carpenter for 45 years (he first joined Local 141 in 1973), Maguire spent 14 years as a residential carpenter and 25 years as an instructor at the Carpenter Training Center in Chicago, IL. He was also heavily involved with curriculum development at the International Training Center in Las Vegas, NV.
Now retired, Maguire is about to set sail aboard "Africa Mercy," the largest floating hospital outside of the federal government. Africa Mercy is part of the Mercy Ships fleet, a non-profit, non-denominational Christian organization that focuses on providing medical services to the poorest nations on earth.
Maguire will serve as the ship's carpenter, helping to maintain multiple facilities and serving as the "wood doctor" during his two-year embarkment.
"When I retired six years ago there was plenty of stuff to do in my life," said Maguire. "While working on my home and rental property were great, I eventually got caught up on everything," he added. "Since 66 is the new 40 I have plenty of life left, and thanks to our industry's retirement and pension benefits, I am able to contribute to society and give back what I have been given."
Maguire knew about Mercy Ships for several years and decided to get online and see if there were any volunteer opportunities. "At the top of the organization's website was a posting for the ship's carpenter. Right next to it there was an urgent sign. To me, this was a literal sign of what I was meant to do."
Today Maguire is making final preparations for his trip. He leaves in June and will return home in the summer of 2020. His ship will take him to ports of call through the West Coast of Africa, where it will serve communities where surgical and medical facilities are virtually non-existent. "Every step is new, and God's grace will bring me through this incredible opportunity," he said. "Keep us all in your thoughts and prayers during this important mission.
Maguire's story demonstrates the incredible opportunities that this industry has in store for its members. We produce real, practical skills and our benefits allow many of our members to take early retirement compared to other trades. The important lesson from Mike Maguire is to find a way to give these skills back to our communities and the world.
Explore More News from INSTALL