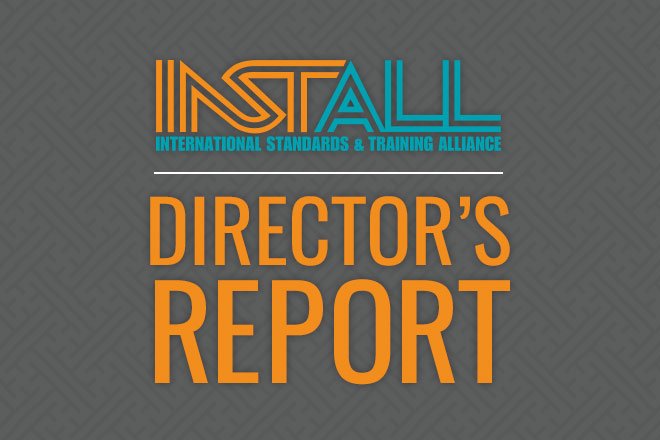 This year, INSTALL's best efforts to elevate the floor covering industry's standards ranged from initiatives to recruit and retain skilled labor, to delivering an INSTALL ICRA CEU for architects and designers, and more.
As we quickly move into 2019, INSTALL will continue to meet key flooring industry challenges head on. Before moving forward though, we should first note some of our accomplishments in a successful 2018.
Expansion Efforts
Last year, a goal of adding seven more INSTALL contracting locations to the southern and western regions of the United States was set. We're pleased to report that six have been secured to date. These include the following new locations:
Crossville Flooring Center, Tennessee
Flooring Systems, Oklahoma
In addition, three more candidates are in consideration for the western U.S. All new markets have seen significant increases in hours over the past year and each is supported by INSTALL with quarterly trainings and certifications.
Skilled Labor Recruitment
INSTALL and the UBC have stepped up recruitment efforts, prioritizing initiatives to combat the skilled labor crisis.
Career Connections is a successful program instituted that's now been launched in hundreds of high schools across North America. Other partnerships, like Helmets to Hardhats have seen hundreds of participants and provided support to veterans returning to civilian life.
Outreach through jobsites, online promotion, career fairs, vocational schools, and Job Corp occurs each month and we've had record-setting enrollment in our apprenticeships.
Concrete Polishing
Concrete polishing is the fastest growing hard surface flooring* and INSTALL is quickly growing in concrete polishing. The Carpenters International Training Fund (CITF) has created an industry-leading curriculum and training is now being delivered monthly.
We are working shoulder-to-shoulder with our contractors and manufacturers, building a trained workforce and growing market share. For example, concrete polishing hours in the Eastern District tripled from 2017 to 2018.
*Ardex 2018 ICRI Spring Convention
US Department of Veterans Affairs
INSTALL's USDVA campaign successfully changed standard operational procedures in 2018. Veterans Department contracting officers and decision-makers updated flooring specifications to the USDVA master specifications, requiring INSTALL certifications.
INSTALL specifications that were rare last year have become routine this year. Fifty three USDVA jobs were found and secured in the Midwest District in just the first half of 2018.
Substrate Prep Specifications
Seven more underlayment manufacturers implemented INSTALL's substrate prep certification requirements in their cementitious underlayment specifications. These partners included the following:
The newest additions joined Ardex, nora and Tarkett in specifying INSTALL certifications.
Explore More News from INSTALL